2.1 million exclusive parish records spanning four centuries of Shropshire history
Shropshire Parish records are now available exclusively on findmypast.
The latest instalment of our 100in100 campaign, launching 100 record sets in 100 days, this is the very first time Shropshire Parish records have been published online, a crucial milestone for all family historians with Shropshire ancestors.
The Shropshire Collection is made up approximately 2.1 million fully searchable and browse-able transcripts spanning 1538-1900.
The collection is made up of around 1,133,580 baptisms, 535,600 marriages, 42,245 banns, 800,795 burials and contains around 720,000 unique names.
It includes 155,000 scanned colour images of the parish registers, and a selection of Anglican, Methodist and Non-Conformist registers from well over 200 Shropshire parishes from Abdon to Yockleton.
Explore the Shropshire records
Charles Darwin, and other famous Shropshire names
Many notable Shropshire lads and lasses can be found within these records, including Charles Darwin, Wilfred Owen, and Clive of India, to name but a few.
A number of early industrialists such as Tom Farnolls Pritchard can also be found, reflecting the important role the county played in establishing Britain as an industrial powerhouse.
The Shropshire Collection augments findmypast's extensive parish record collection, the largest available online. These records allow family historians to go as far back as the 1500s.
With our adjoining Cheshire and Welsh parish record collections already available, these records could prove invaluable to anyone with missing ancestors who may have crossed the border into Shropshire.
A new, advanced way to browse parish records
The Shropshire collection boasts a new browse function that enables you to scroll through an individual register or go straight to a particular page.
We have also added a number of new search fields, so you can search for baptisms screen using mother's first name and father's first name.
This means you can now search for the surname of the person baptised by the first name of the parents, and find all of the children born to that couple.
You can now search a particular parish or search the whole of Shropshire and a new search field on the marriage screen, enables you to look for spouse's first name.
The advantage of local archives
They also join an ever growing resource of official parish records from local archives, including Cheshire Archives & Local Studies, Manchester City Council, Welsh Archives, Plymouth and West Devon Records Office, Hertfordshire Archives and the Westminster Archives, and there are  many more in the pipeline, due to go live in the coming months.
Discover your family's history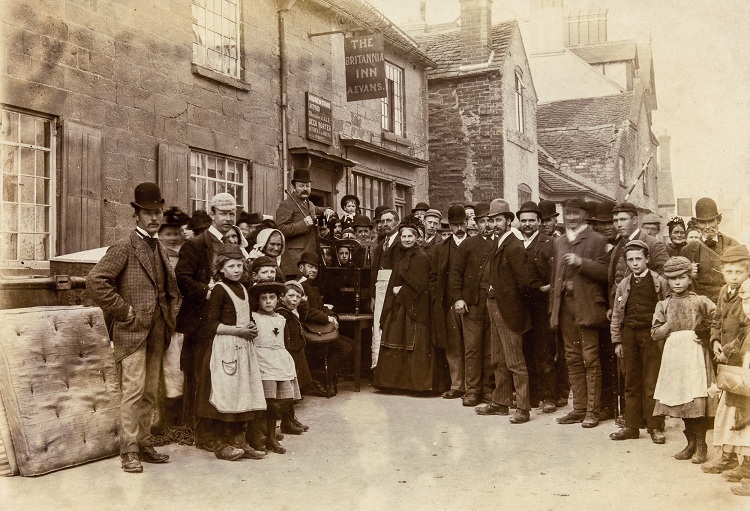 Church Stretton: Public auction outside the Britannia Inn