8 Records That May Reveal Your Female Ancestor
Tracing women in our family tree is not always an easy task. Not only do women's surnames change when they're married, but throughout history the way women were recorded and represented in the records can make it difficult to find her. If you're struggling to find your female ancestors, don't lose hope. It takes a bit of creativity and persistence and you'll be breaking through those brick walls in no time.
The best rule of thumb for genealogy research is to start with what you know and move backward from there. This rule is especially important for your female ancestors because, unlike your male ancestors, your female ancestor's name most likely changed with marriage. Marriage records are a great set of records to search because marriage records can be one of the first documents that may reveal your female ancestor's maiden name, not to mention both the groom and the bride's parents, which can also help you break through some brick walls in your research.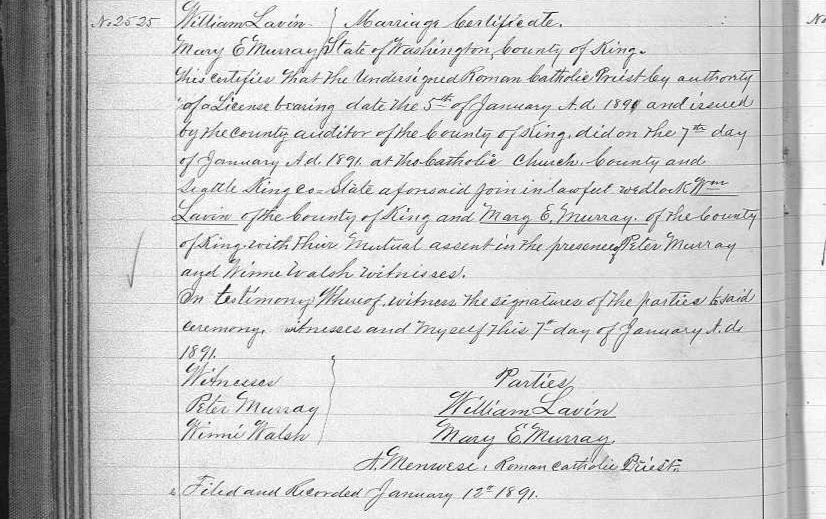 Found in our US marriages collection
If you're looking for your female ancestor and you're not sure what her maiden name is, searching for her birth record won't be much help! But what can be a great source of information is her child's birth record. Her child's birth record could provide key details such as the mother's maiden name, the father's name, dates, and location. These key details can lead you to other records to search next.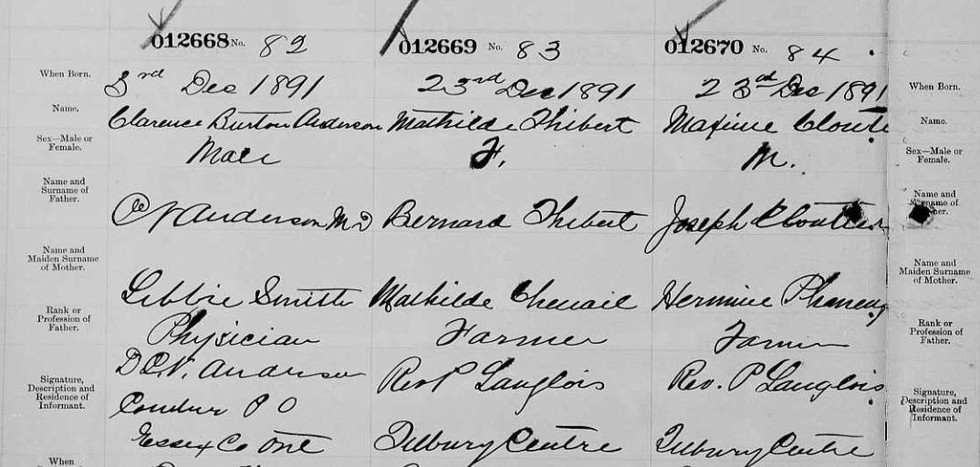 Image from the Ontario Birth Index 1860-1920
If you can locate your female ancestor's death record, then you're off to a great start, but chances are if you've located your female ancestor's death record already you wouldn't be reading this post. Sometimes when researching your female ancestors, it's best to use a bit of creativity.
If your searches for your ancestor are coming up blank, then try searching for your female ancestor's children, if she had any. Death records often indicate the parent's names, often including the mother's maiden name.
Remember, once you find your ancestor's death record, don't forget to send away for a copy of the original. Often there is much more detailed information on the document that you order than what's represented on the site.
4. Pension records
Pension records are a great place to find more information on the women in your family tree. If your female ancestor was married and her husband died in active service, then she will likely be listed in his pension files. Or, if your female ancestor had a younger son serving in the military who passed away, then there could be a possibility that she would be listed in his pension files. When looking for your female ancestors, always do thorough research on her children, often searching her children will lead you to more information and additional records to search.
Search tip: make sure to click through the document to see all the pieces of information included in the pension file so that you don't miss any key details. Click through the next pages of the file by clicking the arrow on the right of the image.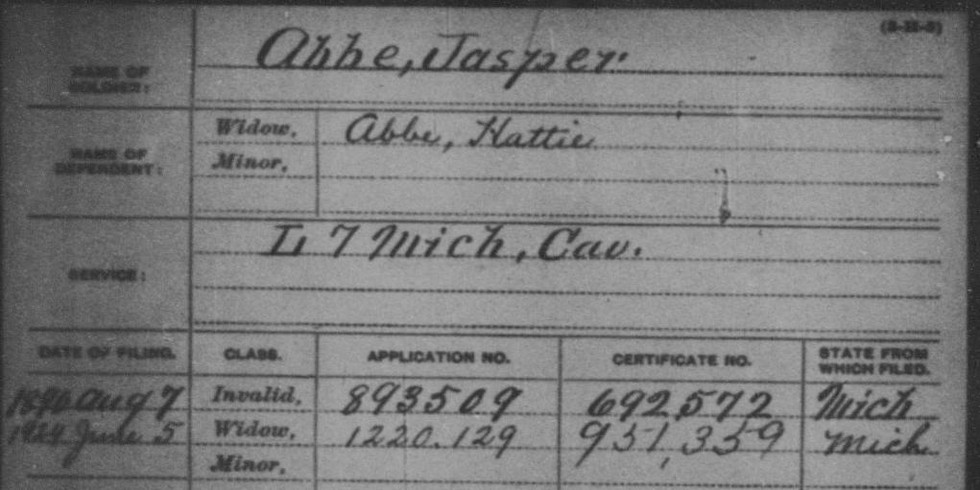 From our United States Civil War Pension Files Index 1861-1934
Census records are always a great place to search for your ancestors. It might be difficult finding your female ancestor in early census records as some only listed head of household, but as with all records, sometimes it takes a bit of creativity to interpret the data provided. Always start with the most recent census record and work your way back until you can't find your female ancestor by her given name anymore, this will give you an indication of a timeframe for when she was married.
If you don't know her maiden name, pay close attention to all members of the households. Sometimes the lodgers listed could be her relatives.

Taken from the 1900 US Census
Another place to look for the women in your family tree are the children of your female ancestor's census records. Often women would move back in with their children once their husbands died, or both parents moved back in, so you might just uncover her in one of the census records that way.
Another place to look that might require a bit more digging and research is the neighbors. There is a possibility that your ancestor's childhood neighbor might have become a spouse later on! Often families stayed at the same addresses for years and kept family close, so it is possible that your ancestor married his/her neighbor, so keep an eye out for the neighbors to see if this happened in your family history because if it did, you'll be able to find your female ancestor's maiden name in no time.
Church records are a great resource for tracing your female ancestors beyond the census records and for finding your female ancestors who lived prior to the 1800's. Finding your ancestor's maiden name prior to the 1800's can be difficult, but church records can likely help. Again, look not only for your female ancestor, but her children as well when trying to uncover more about her. Church records often reveal the maiden names of women in the church as many of the wedding ceremonies and records were kept there.
Naturalization records are a wonderful source of incredibly detailed information not only about your female ancestor, but about her family as well. Naturalization records will likely include your female ancestor's maiden name, her parents' names, her birthday, hometown, and more. Remember to use each piece of information as an opportunity to uncover more. For example, if you find your ancestor's hometown in a record, be sure to search that hometown next to uncover even more documents on her life such as church records, local census records, local newspapers, etc.
Many people don't realize that school records can be a great way to learn more about your family and uncover more details about the lives they lived. Try looking for your female ancestor's children in school records to get a glimpse into their lives and to find more information on where to search next. Keep in mind that these records won't likely reveal maiden names of women in your family tree, but it will help you verify your timelines and in some cases the guardian of the child might have transferred to an aunt or uncle if your ancestor passed away. So keep all these details in mind and use them to help craft your family history.

Finding your female ancestors can be challenging, but it takes just a bit of creativity to break down those brick walls.
Have you found your female ancestors in our record? What techniques did you try to find them?