7 Tips to Help You Find Your American Ancestors in PERSI
The Periodical Source Index, otherwise known as PERSI, is an amazing resource for genealogy research. If you're facing a brick wall, PERSI may be just the thing to overcome it. Sometimes tracing our American ancestors can have a few of its own challenges. Since the United States is a relatively young country (emphasis on relatively), many of our mandatory records didn't become required for quite some time, or not until recently in some states. To add to the trickiness of required records, timelines varied from state to state, so it can make searching for your US ancestors a bit of a challenge, especially if they lived in the United States prior to the census, but PERSI can help.
PERSI is comprised of:
over 2.5 million journal entries
entries from thousands of historical, genealogical, and ethnic publications
over 8,000 genealogy and history societies from all over the world are included in PERSI
Periodicals are important for genealogy research because they often contain indexes, abstracts, and how to articles all directly related to genealogical records. Some genealogy periodicals also consist of genealogies of families and family histories.
Could you imagine finding a published family history of one of your ancestors and how it could help you break through some of your brick walls? With PERSI that could happen.
One important thing to keep in mind when researching PERSI is that this is an index of the sources and PERSI is indexed by article titles, not names. So, unless your ancestor had an article written about him/her, doing a general surname search won't likely bring up any results that are specific to your ancestor.
You just need to remember that the strategy isn't to find a name with PERSI, the strategy is locating the periodical your ancestor may be included in , so location and time period are a great way to begin your searches.
Since PERSI is always being updated, even if you've searched it before, it's worth searching again, and again, and again, and again. Also, as you uncover more clues to your family history PERSI can help you uncover even more with additional related searches.
Here are some additional tips for using PERSI to find your early American ancestors:
1. Begin your search by location
The more specific, the smaller the location, the better. You might be surprised by the information recorded in a small town's periodical or you might be surprised at some of the information contained in a specific periodical about your ancestor.
Start specific, but don't forget to search by:
town
city
township
county
state or district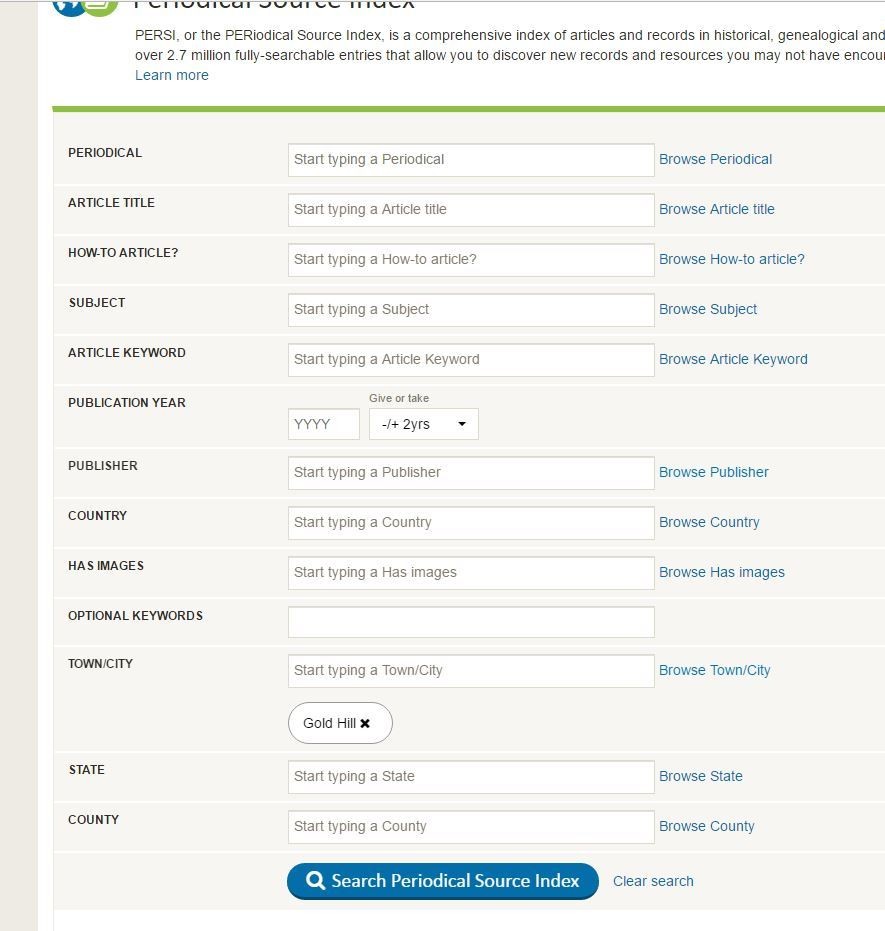 My ancestors lived in Gold Hill a small mining community in Colorado, so that's where I'll start my search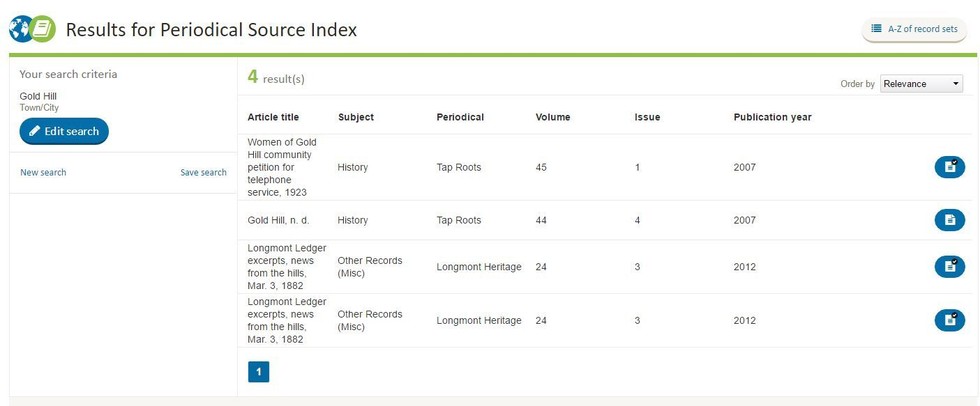 The results of my "Gold Hill" location search
The results of my search of "Gold Hill" were great since "Gold Hill" is as narrow as I can go with location. It's a very small town outside of Boulder, Colorado, so as a narrow search, I already have a few applicable sources! I'm interested in "Women of Gold Hill community petition for telephone service, 1923" because I know my ancestors were living there at the time, as well as the "Longmont Ledger excerpts" since my ancestors were also living in Gold Hill during that time frame.
2. Search by religious groups, affiliations, and denominations
It's likely that your ancestor was active in his or her church, and so there's a possibility that your ancestor will appear in periodicals or articles from the church or about the church you're looking for. If you're lucky enough, you might even find a full biography of one of your ancestors.
*Keep in mind that sister churches, or other churches with similar affiliations, may be referenced or mentioned in each other's articles, so if you can't find anything, it may be worth it to look for neighboring, sister churches.
3. Have subject search terms ready to use
Using PERSI, you will find your ancestors through articles related to subjects or topics that they're affiliated with, so you'll want to approach searching PERSI with your search terms pre-planned and well thought out.
For example: if your ancestor was a farmer in the Rocky Mountains, it might be worth looking into a search for the Rocky Mountains or even by the type of farming your ancestor did, maybe searching by peaches or corn, etc.
4. Don't forget to search your local libraries before ordering
Before you order articles, double to check to see if your local library has the periodical you're looking for. Also, don't forget about OCLC's WorldCat.org catalog, which is the world's largest bibliographic resource that can help you determine if the periodical is within driving distance. Check with the publisher listed because they might be able to send you a copy of the article for a small fee and help refer other articles for your research.

OCLC WorldCat.org
5. If you're ordering articles from PERSI order in bulk
Remember to have a list of multiple sources you want before sending off the request forms because they can take a while to get back to you, so you want to make sure you have all the articles requested at once, plus you're charged by the order form, not the articles. You may request 6 articles at once.
6. Research periodicals before searching PERSI
It's important to approach every family history search with a specific research goal and purpose in mind. The same goes for using PERSI, you must know who or what you're looking for and what you hope to find from the information PERSI can provide.
If you're looking specifically for early American records, for example, then you might consider doing a periodical research survey prior to using PERSI. You can look up different genealogical and historical societies to see what each specialize in and then browse PERSI by publication first to see if the periodical you're looking for is covered. A great periodical to search for early American records is the New England Historical and Genealogical Register. Daughters of the American Revolution Magazine/American Spirit is also a great option for early American ancestors research.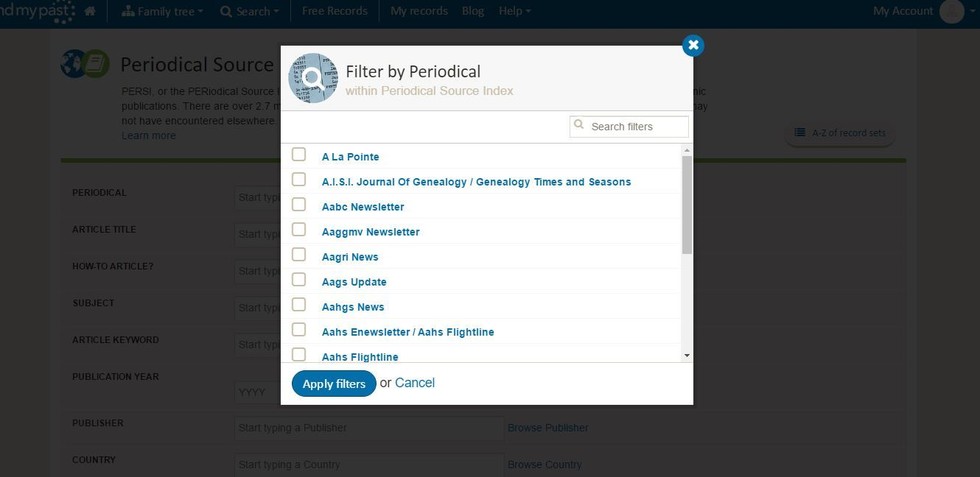 Try to browse and filter by periodical for a more targeted search
7. Watch those years
Be careful when searching years. If you're like me then sometimes you may get a big overeager to enter all your data into the search boxes and hit search, maybe sometimes without reading everything as closely as you should.
In the PERSI search, the year search box is for the year of publication of the periodical, not the year of the event you're looking for. So, if you really want to search by year, then search for the year in the article keywords box instead.

The only way to search by year is by publication year, otherwise enter your year in the article keyword search box
Whether you're looking for more information on some of those elusive more recent ancestors, or you're digging deep into your roots and are looking for your earliest American ancestors, PERSI can help you with your search. PERSI is an amazing, under used resource and with a different technique it can be a goldmine.