To celebrate the release of a groundbreaking collection of Irish Catholic parish registers this past March, we opened up a month-long sweepstakes to win the ultimate Irish family history experience.
Our winner, Brian McKeon from New York, will be making his trip next week! We're very excited to show Brian the area his family is from and connect him with some of our Irish family history experts. With their help, he could break through a tough brick wall he's facing - and it's a common one that many Irish-Americans will find familiar.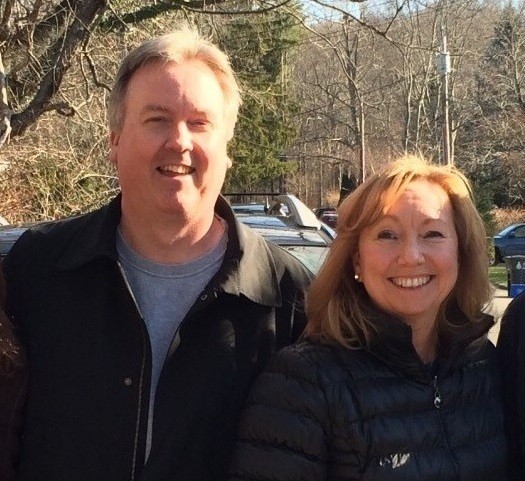 Brian and his sister, who will be taking the trip with him. Photo courtesy of Brian McKeon
Brian's brick wall
Both Brian's mother and father have Irish roots. His mother was actually born in Ireland and has well-established family roots in County Cork . She grew up on the family farm, went to nursing school in London and then moved to the United States for work, where she met Brian's father.
Since Brian's maternal Irish roots are well-established, his paternal great-grandfather, Patrick McKeon, is the target of our search. Patrick was born around 1817 and immigrated to America around 1844. After arriving in New York City, his time is well-documented but his exact birth location remains elusive.
This is an all-too-common situation for an Irish-American to encounter. Most of the 19th century Irish censuses have been totally lost, and American records don't always indicate birthplace with the specificity needed to zero in on an area of Ireland.
Where he's going and what he hopes to find
Brian will be traveling with his sister to meet with a specialist from Eneclann in Dublin, and will travel to County Sligo - according to family lore, this is where his father's line originated. He and his sister will explore some local Sligo historical locations and visit places his ancestors may have walked.
Brian and his family have always been in touch with their history. After arriving in New York, Patrick McKeon moved to a farm in Connecticut. Brian's great aunt remained in Connecticut and lived in the same farmhouse their ancestors had bought.
Brian himself became the family historian when he and his siblings organized family records and photographs collected by their father as a gift to him in his old age. When his father passed, Brian held on to the family records and continued researching himself.
In an interview before his trip, Brian said he would be happy to find anything at all about his family, and looks forward to visiting the area to learn more about it. He and his sister will also visit Epic Ireland, a brand new exhibit that captures emigration from Ireland in stunning detail and presentation.
Check back to see the results of his trip, and don't forget to follow us on Facebook and Twitter - we'll be providing live photos and updates all week!