A quick introduction to Findmypast's military records
Historical records from the Second World War, First World War and beyond
Many of us have members of our family tree who served in the armed forces. You may be aware of their military service through family stories from the two World Wars, or memorabilia and photographs.Perhaps you want to reveal more about their regiment, rank or role, or where they were active, or maybe you're looking for other ancestors with a military past.
Search your World War 1 ancestors now
Findmypast has the most comprehensive collection of WW1 service records anywhere online. With millions of Army, Navy and Air Force records, carefully indexed to include hundreds of thousands more soldiers' names than you'll find elsewhere, Findmypast is the best place to start searching for your World War One ancestors.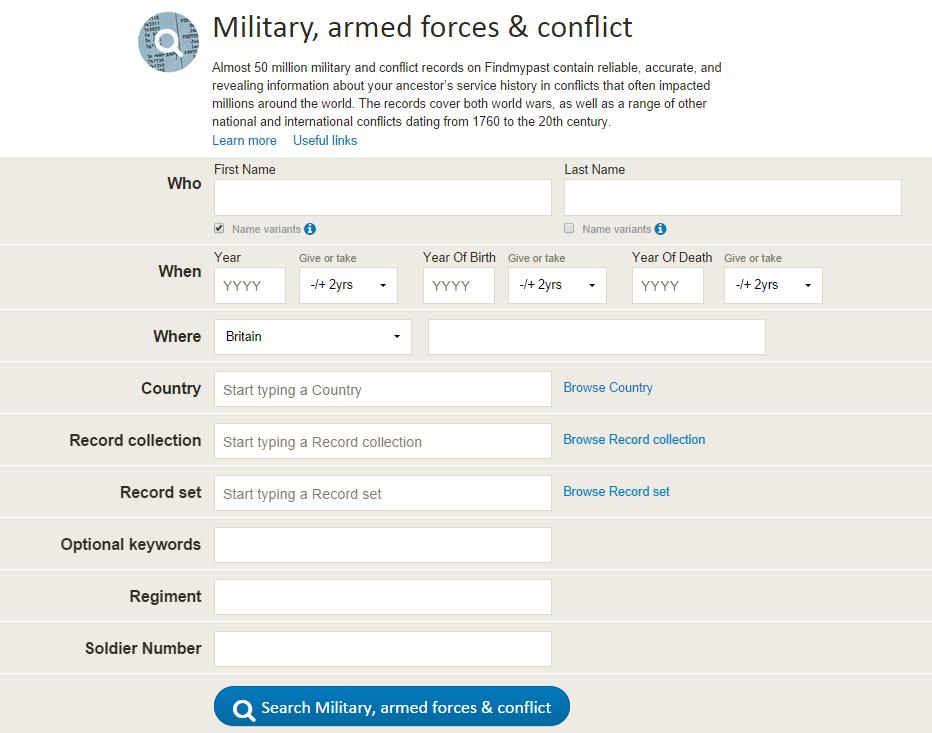 Types of military record
Findmypast has many records which can provide all kinds of detail on your military ancestors:
Medal Index Cards can tell you which medals they received, their regiment, their rank, and where they served.
Rolls of Honour list people who died in military service.
Attestation papers contain information about when and where they enlisted, along with their age (or the age they claimed to be) and where they came from.
Service records can often contain any or all of the above, and even physical details such as how tall they were. Service records can vary greatly according to how much paperwork they contain – some may even have letters and notes about your ancestor's progress in their role, health, and any injuries they received.
Pension records list the discharge of armed forces personnel.
There are also more specific records such as those for Army Deserters, Conscientious Objectors, Prisoners of War, and records of nursing staff.
War through history
Findmypast holds, among others, army records for:
Boer Wars (1899-1902)
World War One (1914-1918)
World War Two (1939-1945)
Other wars including Napoleonic (1775-1817), Peninsular (1793-1814) and more
There are not many surviving records for navy personnel before 1853, but after this date they are often very complete, and include everyone who served regardless of their rank.
You can read much more about our World War 1 records in our dedicated Getting Started with your World War 1 help section.