Revolutionary War sources available in PERSI
There are 1,275 digital articles on the American Revolution in the Periodical Source Index.
These articles contain:
Detailed accounts about the exploits of individuals, militia companies and regiments.
Original historical sources from major players like Paul Revere, George Washington and Dr. Benjamin Church.
Record indexes, abstracts and transcriptions that may help you find your Revolutionary War ancestors.
Whether you're looking for names and dates, historical context, or just for some interesting reading, you absolutely must include PERSI in your research.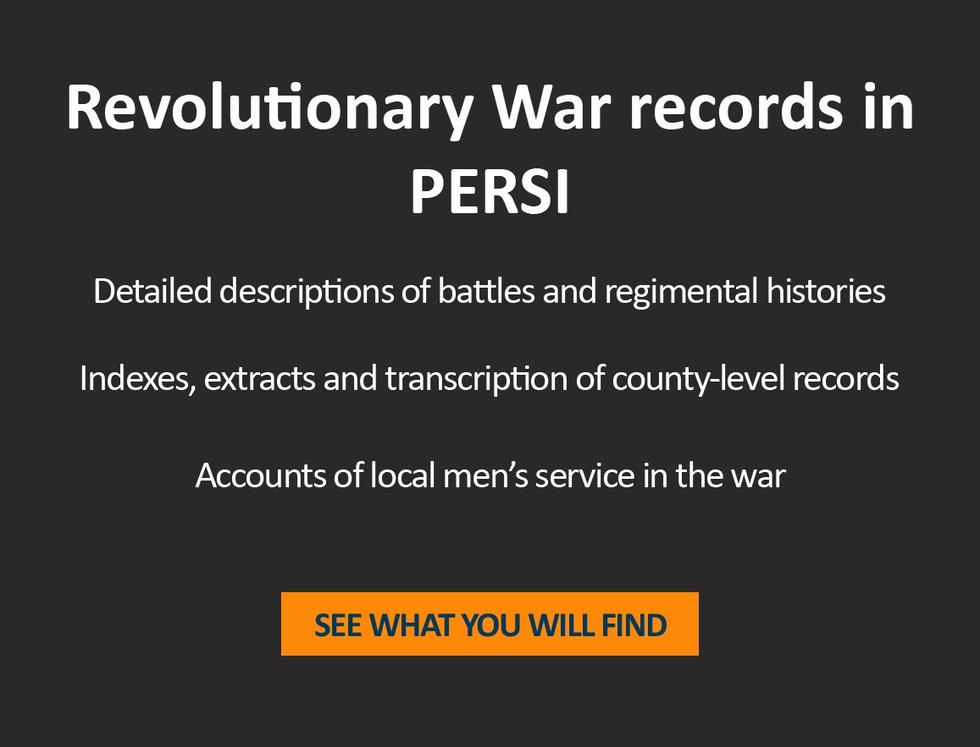 Here are a few of the interesting and useful articles we found. There are countless more just like each example listed here:

A goldmine in a pension file

This article, written by Richard Rands and appearing in a May 2011 issue of the Silicon Valley Past Finder tells the interesting story of a massive 118 page pension file that led to some amazing discoveries.
Of course, this is an uncommonly large file but it provides a great example of the surprising things you can find in these kinds of records.
Here's a snippet: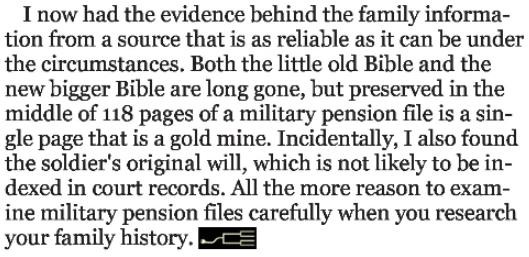 © Silicon Valley Computer Genealogy Group, Santa Clara, California
Paul Revere describes his Midnight Ride
This letter, from a 1798 issue of the Massachusetts Historical Society Collections, was written by Paul Revere himself. He describes the events leading up to and including the Midnight Ride, including some interesting details on colonial espionage.
Revere and his patriot spy ring would meet at the Green Dragon tavern to share intelligence about British plans and operations. He tells how he discovered there was a spy in their midst (which would later turn out to be Dr. Benjamin Church), though he couldn't figure out who it was at the time.
He then goes on the recount the entire ride in detail, including some of the well-known aspects:

I returned at night through Charlestown; there I agreed with a Colonel Conant, and some other gentlemen, that if the British went out by water, we would shew two lanthorns in the north church steeple; and if by land, one, as a signal
The true story of Revere's night is an absolutely riveting piece of history, and he received a lot of help from our ancestors along the way. This primary source is a great read.
Muster rolls
You can also find muster rolls in various periodicals. Here's an example from the New Hampshire Historical Society Collections:

"raised for New York out of Colonel Joseph Badger's Regiment and part of Colonel Stickney's Regiment, mustered and paid by Joseph Badger, Esq. All Mustered September 25th, 1776"
Another interesting example, found in an issue of Genealogy Magazine, is this list of Pennsylvania soldiers "not included in the regular muster rolls"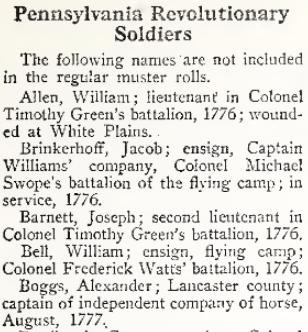 The list contains scores of names, and there's even a part two which can be found in a later issue.
Only the tip of the iceberg
These examples are just scraping the surface. Out of the 1,275 digital articles available, you're certain to find something either fascinating or useful (probably both!).
And don't forget, we're only talking about articles that have been digitized. In the PERSI index, there are more than 14,000 articles, and they're really easy to order print copies of.
A full list of digitized Revolutionary War articles in PERSI
Search tip: Before you begin perusing that list, make sure to read some tips & tricks for searching PERSI.

More American Revolution genealogy