7 Christmas toys from your ancestors' wish list
Gift giving has been associated with Christmas ever since the Three Wise Men gave baby Jesus gold, frankincense and myrrh a couple thousand years ago. Since then it has gone in and out of fashion throughout Christmas history, but really began to take off at the beginning of the 20th century.
Discover your family's story with a free trial
Since then it has exploded, and today it seems like there are just too many toys to keep track of. But your ancestors didn't have quite as many options for their Christmas wish lists, and we think that's a good thing! Check out some of the greatest Christmas toys of all time to see what may have been waiting under the Christmas tree for your ancestors...
Teddy bear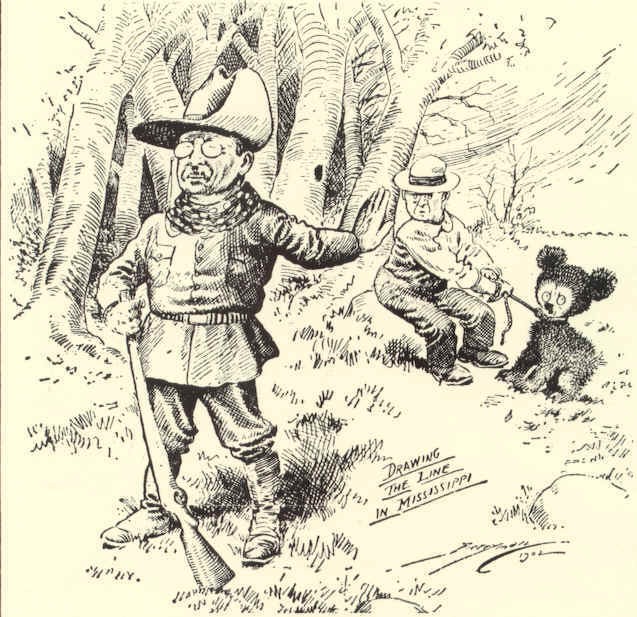 A political cartoon depicting Roosevelt's refusal to shoot a tied up bearCartoon by Clifford Berryman, published in Washington Post, 1902
This classic children's toy undoubtedly found a place on many Christmas lists throughout your family's history, but maybe not as many as you think - did you know that teddy bears weren't common until the 20th century?
It all started in 1902 when President Theodore Roosevelt refused to shoot a defenseless bear that his hunting party had subdued and tied to a tree. This incident was depicted in the above cartoon, which was seen by Morris Michtom - a Russian immigrant who sold candy and stuffed animals.
Michtom, after receiving permission to use the President's nickname, created a stuffed bear cub that he called the teddy bear. The toy was an instant success, and the rest is history.
Erector Set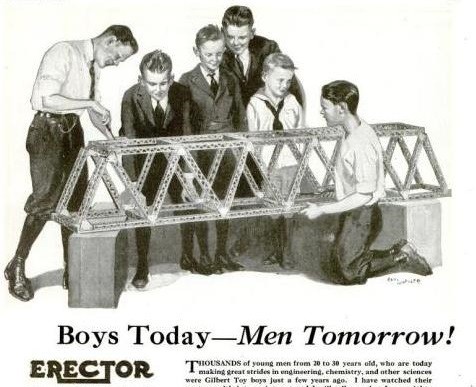 Print advertisement for Erector Set, 1922Popular Science Magazine November 1922
The Erector Set was introduced at the 1913 Toy Fair in New York City. These model construction kits quickly took the children's world by storm - many were motorized (a first at the time), and could be broken down and re-built into anything a child could imagine. Their success also belies society's utter fascination with the boom in steel construction around this time.
Erector Sets were the subject of one of the earliest national advertising campaigns. They were pitched to parents as educational and entertaining, and the slogan "Hello Boys!" became one of the first widely recognized advertising phrases.
Lionel train

Lionel advertisement from 1909Photo courtesy of Lionel
Lionel trains became popular Christmas toys somewhat unintentionally. In 1900, Lionel Corporation, a company that sold electric novelties (which included fans and lights at the time) created a small electric train to be displayed in storefront windows. The idea was to capitalize on the public's fascination with railroads and electricity in order to attract their attention to other goods displayed in the window.
But when customers began asking store owners to buy the trains instead, Lionel realized they had a great idea on their hands. As this new toy achieved immediate success, other competitors emerged. Lionel further separated itself by convincing department stores to incorporate their trains into their Christmas tree displays, forever associating Lionel trains with Christmas.
Raggedy Ann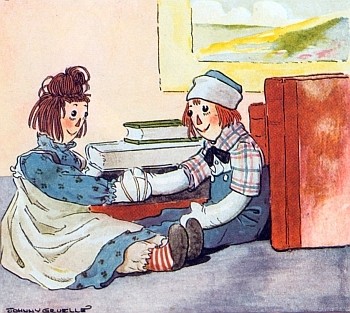 Raggedy Ann and Raggedy Andy meetIllustration by Johnny Gruelle
Raggedy Ann is a doll and storybook character that is celebrating her 100th birthday in 2015. What made Raggedy Ann unique is that she came with an extensive back-story. Raggedy Ann dolls and story books were marketed together, which was enormously successful.
These handmade dolls also hit on an undercurrent of conservative reaction in a period of intense social upheaval. The hand-crafted, folksy rag-doll and fantastical fairytale-like stories appealed to parents who wished to show their children the benefits of simpler times.
Hand made gifts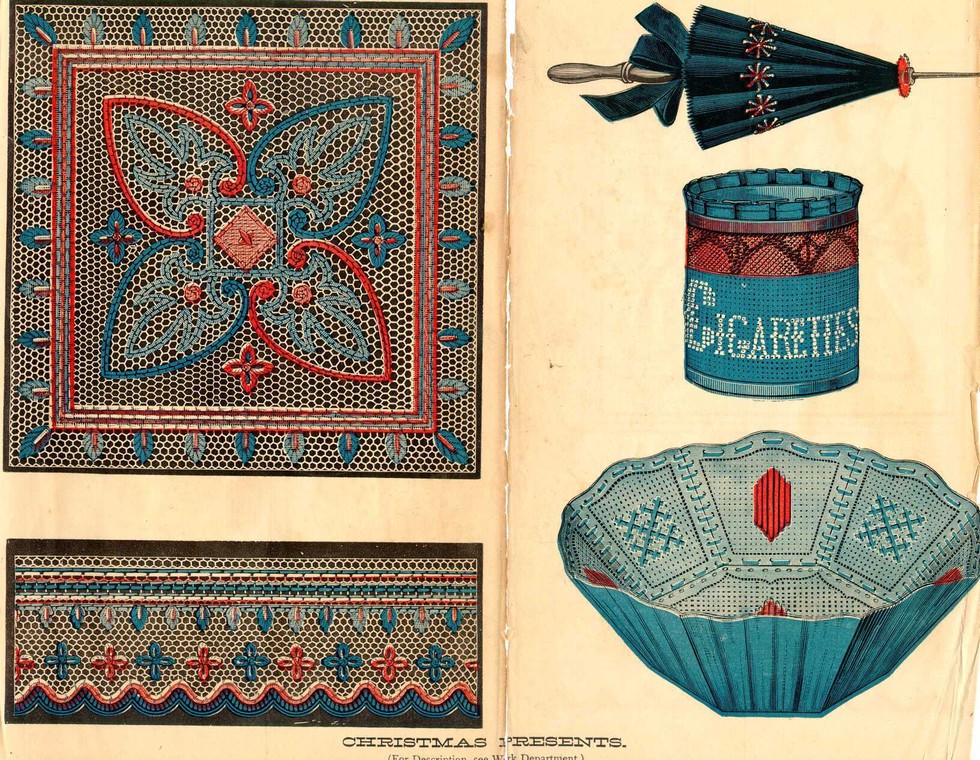 Handmade Gifts from Godey's Lady's BookImage courtesy of Accessible Archives
You may have noticed that 19th century Christmas gifts are conspicuously absent from this list. As Christmas wasn't even widely celebrated in the U.S. until after 1850, Christmas toys weren't really mass produced for several more decades.
Since Christmas hadn't yet been fully commercialized, many parents chose to make rather than buy presents for their loved ones. As usual, Godey's Lady's Book was there to advise the 19th century homemaker. The gifts pictured above - a pen-wiper, cigarette holder and card basket - are clearly adult-oriented gifts. Children would receive husk dolls, carved wooden toys, embroidered handkerchiefs or knitted clothing.
Red Ryder BB gun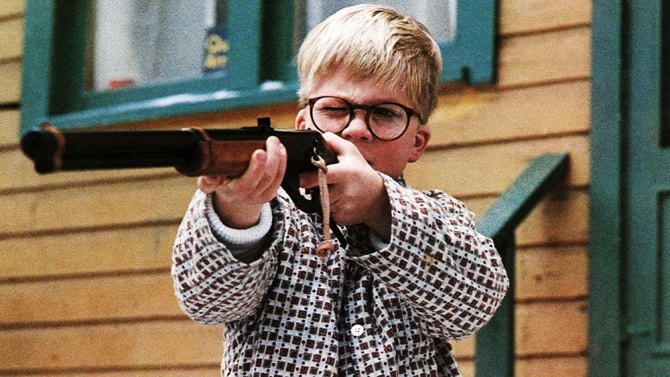 The famous Red Ryder BB gun from the movie "A Christmas Story"MOVIESTORE COLLECTION/REX SHUTTERSTOCK
This toy is widely known today thanks to the film A Christmas Story, in which the protagonist Ralphie Parker is constantly told "you'll shoot your eye out" when identifying the Red Ryder BB Gun as his main Christmas wish. In truth, the toy he describes in the movie doesn't actually sync up with any model of rifles sold by Daisy Outdoor Products, but it's very close to the real life Red Ryder BB Gun (it doesn't have all of the features Ralphie describes in the movie).
This toy, introduced in 1940, is modeled after the Winchester rifle - a mainstay in Western movies at the time. John Wayne had just burst onto the scene, and the 1939 hit Stagecoach caused a paradigm-shift in the popularity of Westerns. The gun was also named for the cartoon cowboy Red Ryder, a popular comic character at the time. Believe it or not, the Red Ryder BB gun is still in production today.
The Landlord's Game (or Monopoly)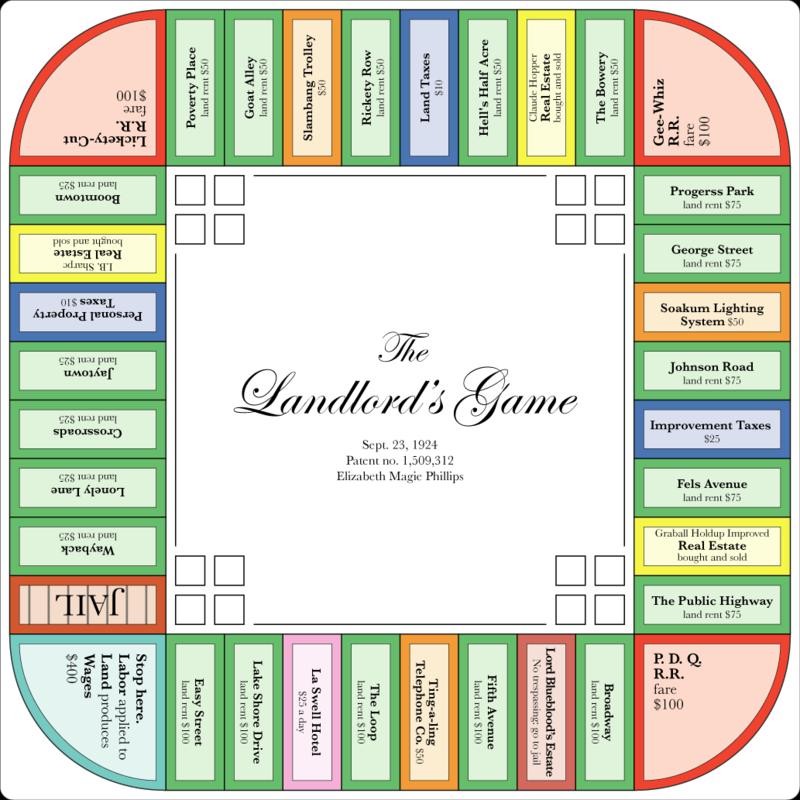 The board of the Landlord's Game
Today, Monopoly is one of the most popular board games around. Although the form we're used to playing wasn't created by the Parker Brothers until the 1930's, a similar version has existed since 1904. The original game was intended to be fun, but also to illustrate the negative aspects of many of the current economic practices at the time.
The Landlord's Game (later Monopoly) demonstrated the drawbacks of land grabbing and allowing a few private individuals to own a large amount of land. Anyone who has ever landed on a hotel-laden Boardwalk space knows how renting can enrich property owners and impoverish tenants.

Though the idea behind the game was complicated and adult, the game was specifically marketed to kids in order to instill a sense of fairness and a healthy suspicion of monopolies from an early age.