Daughters, Wives, Sisters, Mothers: Civil War's silent soldiers
As findmypast releases the 1890 U.S. Census, Civil War Union Veterans and Widows collection, our very own Jen Baldwin takes a look at her family's experience of war.
For countless generations, men have marched off to war. To battle the enemy over a cause believed in, to stand up for a purpose so important, they would give their lives.
Today, men and women continue to do the same thing all over the globe, answering the "call to duty" from our world leaders. In all of these engagements, one constant remains: the family left behind. In many cases, the woman of the household had connections to a military man beyond that of spouse, and the conflict would affect her entire family.
One such story is that of my own great great grandmother, Frances Elizabeth (Lawrence) Brown. She was the inspiration for my start in family history, and she continues to be an inspiration for my life many years later. She was a strong woman, with a stern countenance but a gentle soul.
We are fortunate to have numerous letters penned by Frances, or Frankie, in our family collection. These have provided a great deal of insight into who she was, the family's day to day lives after the Civil War, and the eventual move from Nebraska to Washington. However, what they did not provide was the many details of her husband's service in the Mississippi Marine Brigade, or of her own time as a widow residing in the Orting Soldiers Home and Colony.
Those gaps were filled by her Widow's Pension file. While Captain Oscar F. Brown served almost the entire duration of the U.S. Civil War, his pension file was sadly small. It was within Frankie's file that the gems were located, like the affidavit signed by Oscar's niece, which led me to discovering who his sister was. The forms from the local physician outlining his physical ailments and inability to provide for his family.
Most significantly, perhaps, was the last letter Frankie ever penned, on 31 Oct 1928. It was a plea to the Pension Board for an increase in her monthly pay to $40 a month. That was her sole source of income.
"I am a soldier's daughter, a soldiers' widow, and a soldiers' mother… and a soldiers' sister of 3 brothers."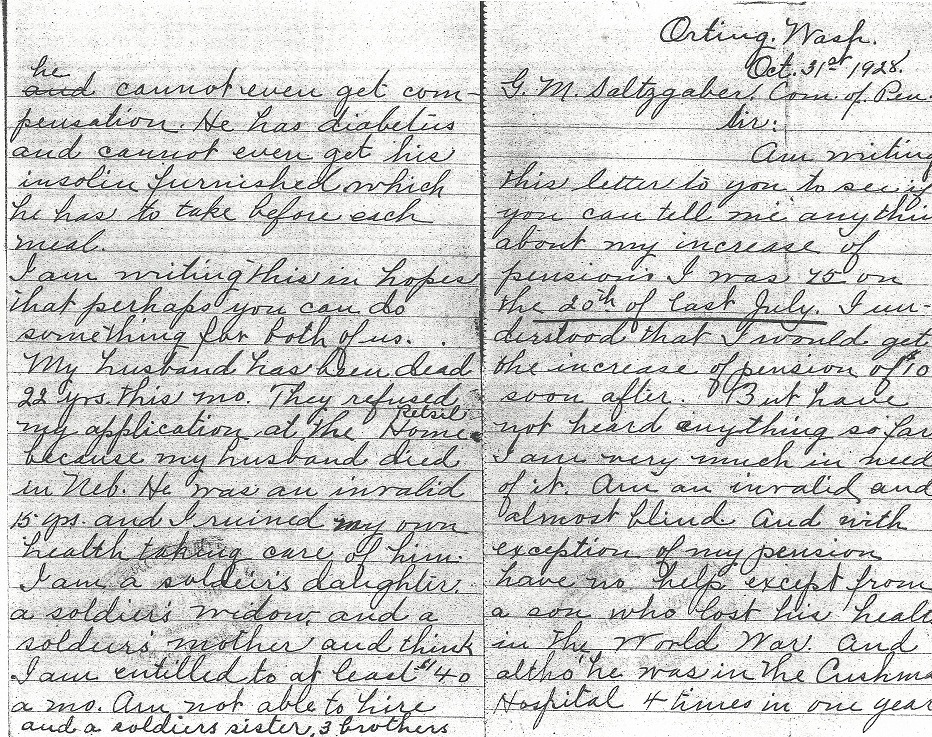 Frankie did not know it then, but she would eventually be able to add grandmother, great grandmother, and great great grandmother to her list of soldiers and sailors. It is a heritage I'm proud of, and I believe she would have been, too.
We are now more than half way through our 100in100 additions to findmypast. One of the most recent is the 1890 U.S. Census, Civil War Union Veterans and Widows collection. The possibilities for what you may find within this record set, and the original pension files, are remarkable. Pension files are well worth your time to investigate, and some of those people could be daughters, wives, sisters, and mothers.
Start discovering your family history