Explore our British Trade Union Membership Registers
Last Friday, we released over 3.4 million British Trade Union Membership registers in the latest batch of Findmypast Friday records.
The Trade Union Membership Registers consist of digitised images of original records books from 9 different trade unions. These fascinating documents include details about individual members such as payments made, benefits received and the names of spouses while a number of unions even published profiles of their members or those who held offices. Many trade unions also included international branches and divisions in at least 19 different countries, from Ireland to Australia to Spain and Belgium, can be found within the records.
It was vital for trade unions to keep accurate records of all their members and proceedings and these documents include details about individual members such as payments made, benefits received, name of spouse, etc. Some of the unions published profiles about their members or those who held offices. Further you can follow your ancestor's progress within the union through his/her membership details. Many unions kept detailed records for when a member joined, paid their subscription, applied for funeral benefits or superannuation (retirement). The documents also include details about the trade unions such as directories of secretaries, meeting dates and times and items of trade union business.
Trade unions have played an important role in British society for centuries. Trade unions grew rapidly in the late nineteenth and early twentieth century following the repeal of the Combination Acts in 1824 which had made it illegal for workers to join together to demand better wages or working conditions. Unions were first decriminalised under the recommendation of a Royal Commission in 1867, which agreed that the establishment of the organisations was to the advantage of both employers and employees. Fully legalised in 1871, the Trade Union Movement sought to reform socio-economic conditions for working men in British industries, and the Unions' search for this led to the creation of a Labour Representation Committee which effectively formed the basis for today's Labour Party. They began to expanded their memberships and set about winning political and legal recognition. For perhaps the first time in British history, the Unions gave workers a legitimate voice and allowed them to create a united front.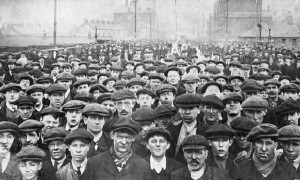 Industrial revolution era workers
In the years leading up to the First World War, Britain saw a drastic rise in union activity and industrial unrest. The period between 1910 and 1914, known as 'great unrest', saw frequent large scale demonstrations and strikes. At the time, there was a great disparity in the distribution of wealth in the country. If the British national product was divided into two equal halves, one half was shared by over 80% of the population, whilst the remaining 20% by only 5.5 million and  just 120,000 people owned two thirds of the nation's capital.
By 1911 real wages had fallen by roughly 10% while prices for food and coal were rising. Union membership increased quickly from 1,997,000 in 1906 to 3,139,000 in 1911, and the number of strikes also doubled during this period from 479 to 872, affecting three times as many workers.  Mass strikes ensued and the government's response was harsh.  During the National Railway strike of 1911, troops were marched into London and 32 other towns and Home Secretary Winston Churchill suspended the Army Regulation that had required local authorities to formally request troops before they were sent in to quell disturbances. In some instances, troops even fired on strikers, killing young men in Liverpool and Wales.
Women also began to organize themselves into trade unions and associations during this period. Many pushed for the unions to support the fight for women's suffrage, however, once war broke out in 1914, strikes were made illegal and the militancy of the unions declined as many workers went off to fight.
After the First World War ideals of Socialism and Communism spread in the trade unions especially after the Russian revolution. Post war Britain began to feel the effects of the depression and trade unions continued their fight for wages and better working conditions by holding strikes and demonstrations. In May 1926 there was a general strike which lasted for ten days. During the Second World War the country was again part of a total war effort and the vital role of the workers was recognized through joint production committees and representative bodies.