Exploring Australian Government Records
Findmypast is home to a variety of invaluable Australian resources and thousands of new additions are being added each month. Whether you want to find out when your ancestor was born, who they married, where they lived, their country of birth or where they spent their final years, our collection of over 73 million Australian records is certainly the place to look. With so much material available, it's easy to find yourself wondering where to begin. Civil Registration records are usually the best place to start.
Civil Registration Records
Civil registration is the system by which a government records the vital events (births, marriages, and deaths) of its citizens and residents. The lists kept by governments and are usually referred to as vital records as they record the major milestones in your ancestor's life. They are an excellent source of information for names, dates, birthplaces, marriages, and deaths.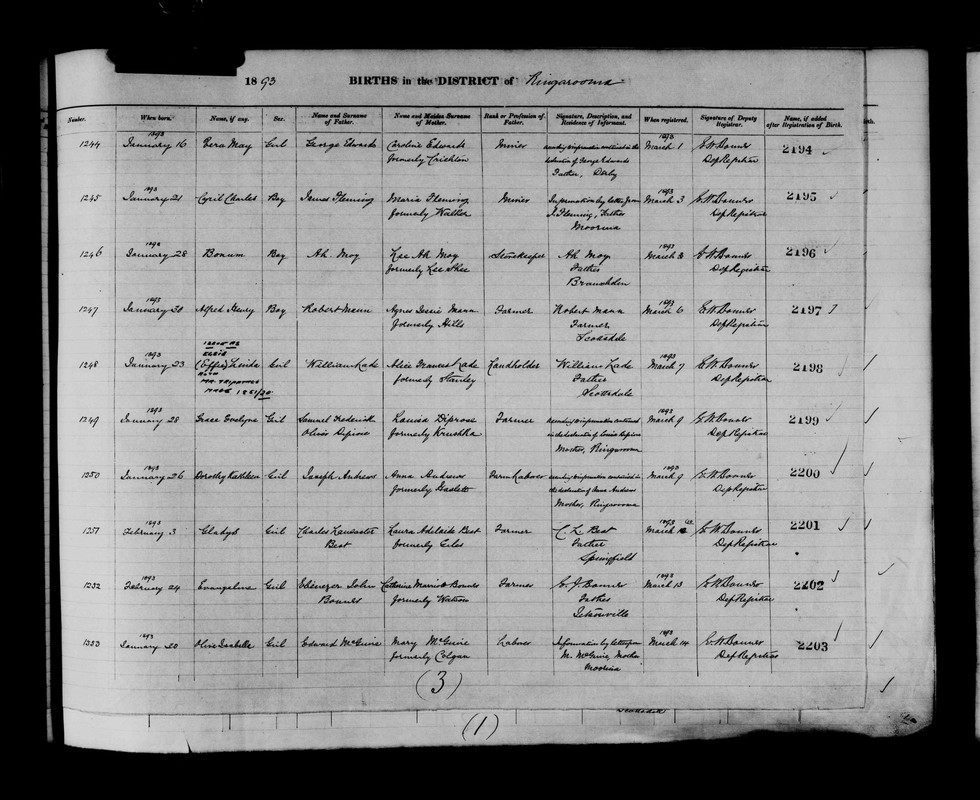 A Tasmania birth register
In Australia, civil registrations were carried out and maintained by individual state administrations. Tasmania was the first state to introduce compulsory registration in 1838, followed by South Australia and Western Australia in 1842, Victoria in 1854, Queensland and New South Wales in 1856, Northern Territory in 1870 and the Australian Capital Territory in 1911.

A variety of state and national collections of civil registration records are available to search. The National collections include;
These collections can all be searched by name, date and location while marriages can also be searched by spouse's name. Including a spouse's name in your search is an excellent way to narrow down your results. If you are struggling to find your ancestor and you know the name of their spouse, it may be worth looking for a marriage record first as you should have far less potential matches to contend with and the dates and locations listed in the marriage transcript will provide you with the information you need to continue your research.
Local & State Indexes
Indexes of vital records for all six Australian States are also available on Findmypast. These can be searched individually by accessing dedicated search pages via our A to Z of records search. These dedicated search forms are specifically tailored to each individual collection and entering your ancestors details here, as opposed to conducting broad category searches, will result in more relevant results and a much more efficient search.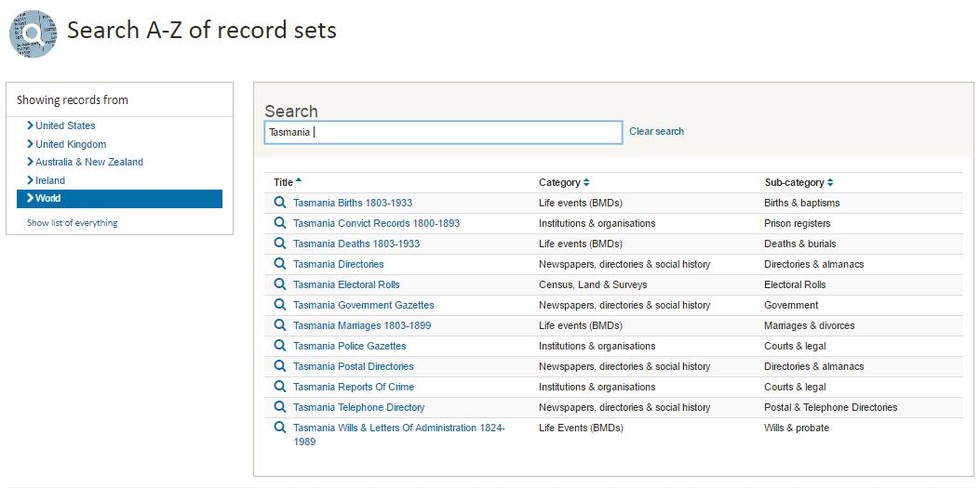 South Australia call the appropriate central registry the Principal Registrar of Births, Deaths and Marriages and in Victoria it is the Government Statist Registry of Births, Deaths and Marriages. All other states call their registries the Office of the Registrar General of Births, Deaths and Marriages. Information on how to order a certificate is included in the "Learn more about these records" or the "useful links and resources" section at the bottom of each search page.

What can the records tell me?
At first, civil registration required the clergy to make copies of marriage, baptism, and burial records. These records are known as civil transcripts of church records and early records from many towns are included in the indexes. From 1856, registration was carried out by government employees and was completely independent of the church.
When registration first began, there was no common standard of recording information, so the information listed may vary from state to state. Later records generally give more complete information than earlier ones. Most birth, marriage and death records will usually include a combination of the following information:
Birth records
Surname and forenames
Date and place of birth
Sex
Father's surname and forename
Father's age, birthplace, and occupation or rank
Mother's maiden name and forenames
Place and year of marriage of parents
Mother's age and birthplace
Name, relationship, description, and residence of informant
Marriage records
Surname and forenames of both parties
Occupations and places of residence of both parties
Ages and places of birth of both parties
Marital status prior to marriage
Date and location of the marriage
Religious denomination
Names of witnesses
Surnames and forenames of parents
Death records
Surname and forenames of the deceased
Date and place of death
Occupation, age, and sex
Place of birth
place and date of marriage
Length of residence in Australia and in what colonies, states, and territories
Name of spouse
Father's name and occupation
Mother's maiden name
Date and place of burial
Names of undertaker and informant
Residence and relationship or description of informant
Date and place of civil registration
Explore our collection of more than 73 million Australian Records