Family History Month: Connections Made, Stories Told
October is Family History Month, and we are celebrating by sharing some of the great discoveries we've made in the Findmypast collection. Reminiscent of our school days, our Findmypast Show and Tell will continue every day this month on Facebook and Twitter, with weekly recaps here on our blog. Follow with the hashtag #FMPShowandTell. 
Family History Month continues and the team at Findmypast is having a grand time with #FMPShowandTell! You can see the material chosen for week one in this post. The second week of October brought even more of the unique and interesting.
Historical gems in our US Newspapers
We pulled two selections from U.S. Newspapers. The first was a notice of a Whig Convention in 1852 held in Wisconsin, which was announced in the Wisconsin Daily Journal. At least one of you realized that just two columns over in the image from the newspaper is the death announcement of one Mrs. Eveline M. Buck, and several people commented on the Business Directory also visible in the image.
Featuring multiple attorneys, two physicians and a general merchandise store, this single clipping is a lovely example of how valuable newspapers can be for your family history.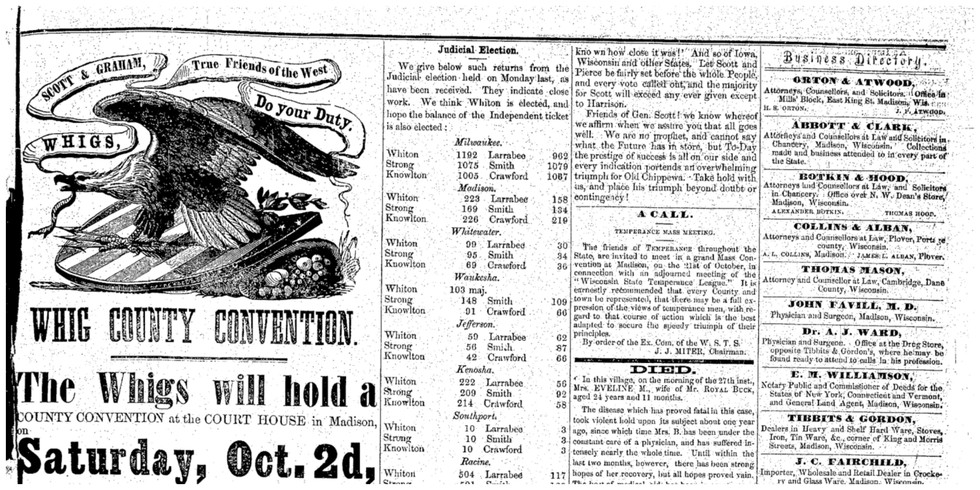 From Hawaii to Texas: the true diversity of our newspaper collection
The Hawaiian Gazette was our second newspaper choice, a semi-weekly publication. The issue we featured was from February 1895, and carried an all-too-common advert for "Hood's Sarsaparilla Cures," with a prominent image of Mrs. Isa Griggs from Ennis, Texas. As much as we enjoy the content, we also enjoy the stretch of this piece; from Hawaii to Texas, it shows us that you just never know where a name will pop up.
Our oldest piece this week was a parish register from the Diocese of Chester, dated 1634. The individual we focused on was an "Unknown" Taylor, who was buried 5 Jun 1634, but the register includes many names, and the entire collection spans from 1538-1910.
A full family pedigree in PERSI
Finding an article of interest in PERSI is praiseworthy for any of us, finding a full family pedigree, however, is monumental! The 1834 issue of Collectanea Topographica Et Genealogica features a tree from the Fulham Family of Compton, County Surrey. Included are Edward Fulham, Surveyor of Westminster Abbey, his father John, and his descendants through son Edward, who was born in 1604. The article was originally published in 1834, by the Society of Antiquities, London, England.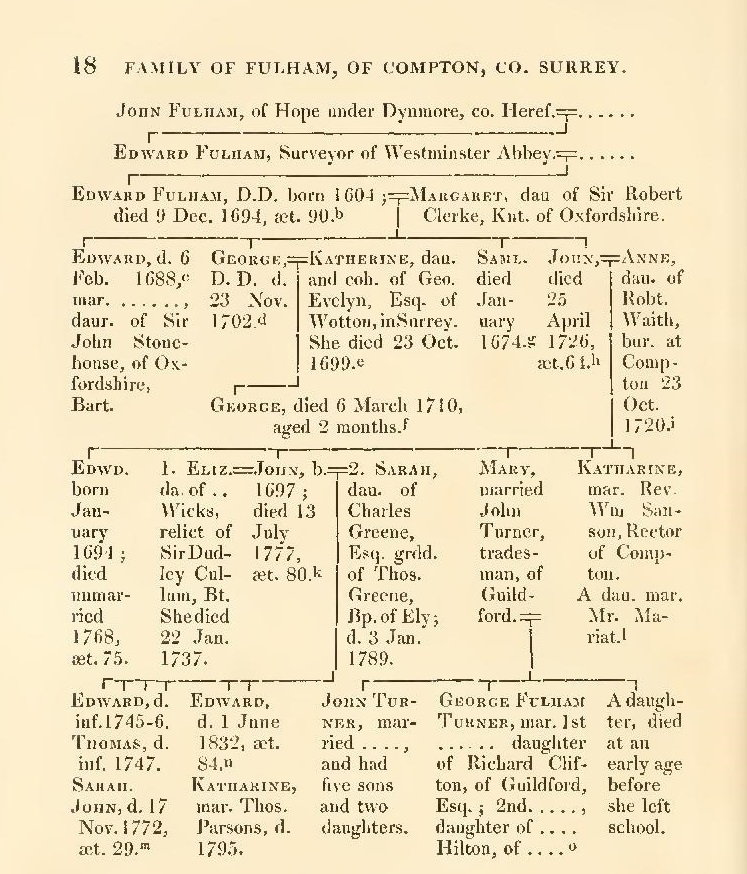 Passenger lists, and marriages dating back to 1736
Also included this week was a passenger list for the Medway, which sailed for the West Indies in 1890. The William Smith O'Brien Petition, calling for the release of Terrence McManus in 1848, along with other Irish political prisoners; "Marriage Records of the Society of Friends in the Town of Harrison, N.Y.," listing marriages from 1736-1785; and an early 1900s directory from Australia which showed us that there is much more to find in directories than just addresses, you can find information on a wide array of topics.
These are the stories that mold each of us, and our families, through history. These records are just a glimpse, a starting point, of telling the old tales and keeping them alive. This is what Family History Month is all about, sharing our stories, our discoveries; and yours. You can submit a hero of your own today for our Hall of Heroes, and share your ancestors' priceless story.
Explore your family history in October with Findmypast! Get a month of our World collection for just $5.00 using discount code FHMUS14 at check out.