Famous Couples and Court Room Drama, Historical Scandal in the Newspapers
With the official day of love around the corner, many have looked back at the past year and may have wondered if Cupid took a hiatus—at least when it comes to celebrity couples. As award season takes hold (the native stomping grounds of power couples), there will be some notable couples that will walk alone after a decade of union and a split in 2012.
This fascination over what went wrong and with celebrity culture in general is not a new phenomenon. Here at findmypast.com we uncovered some headline-making couples in our collection of British Newspapers who called it quits a little over 80 years ago. These celebrity couples could not avoid the "pathos of picture" long before the word paparazzi became part of regular speech.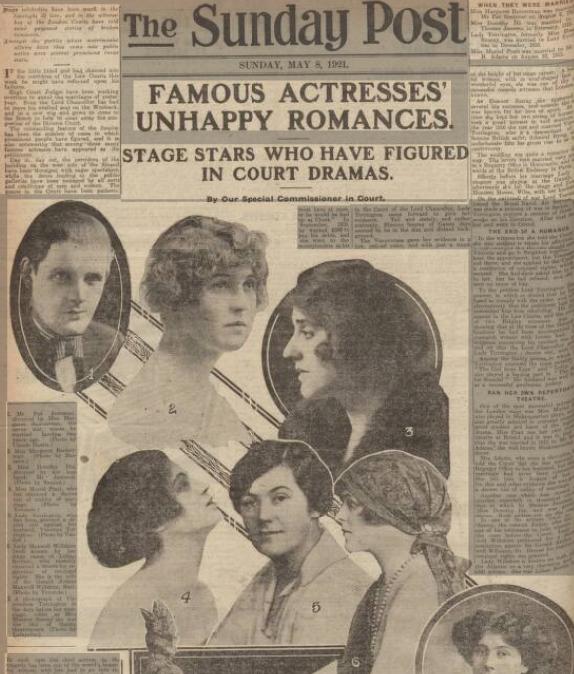 Image © D.C.Thomson & Co. Ltd. Image created courtesy of THE BRITISH LIBRARY BOARD.
The front-page article "Famous Actresses' Unhappy Romances" from a 1921 Sunday Post shows photographs of stage stars who are chronicled for "broken romances" that appeared before the London Courts. Seven actresses and one stage gent are detailed in some very public court battles that caused a stir in 1921.
The British revue star Margaret Bannerman appeared on the witness stand after just two years of marriage. The court reporter described Bannerman as a delicate bit of china that was out of place in the drab courtroom. She divorced husband Pat Somerset on account of his taunting and pressure to fulfill his debts. "I had to sell my pearls," she said, "to supply him with £150, which he said he must have at once or he would be had up in Court." Unfortunately for the both of them, the couple still ended up in court and the end of the road for their marriage.
The Viscountess Lady Torrington, formerly celebrated stage actress Eleanor Souray, ended her marriage amid controversy from the reportedly unfaithful and absent Lord Torrington. Souray met her husband when he was a successful as a jockey and the two bonded over the love of horses and sport. The marriage became rocky when he returned from being held as a prisoner of war in Serbia during his time in the Royal Air Service.
One of twenty divorces cases held that same day involved Shakespearean actress Muriel Pratt, who annulled her marriage of six years on the grounds it was never consummated.
This article in findmypast.com's British Newspapers goes to show that no matter what decade you are living in (celebrity) marriages don't get any easier. Even during tragedy the show must go on.