FMP Spotlight: Mildred Griffin
Mildred Griffin "started late" as a family historian yet managed to craft an entire book about the Rainsbarger brothers, her notorious ancestors who were pushed from memory after using Steamboat Rock, Iowa as a Wild West playground. Not one to be deterred it was the buried memory of her great-great-grandmother who left a gap in her extraordinary heritage. She possessed a marriage transcription indicating her missing ancestor, although her existence had all but faded from the records. To Griffin that meant her answers were still out there.
When Griffin joined findmypast.com to research her husband's English ancestry, she discovered a burial record for Tabitha Rayson, who died Tabitha Johns in 1831, just two years after the birth her great-grandfather Henry. She pursued Tabitha on findmypast and information about her missing relative started to unfold in front of her.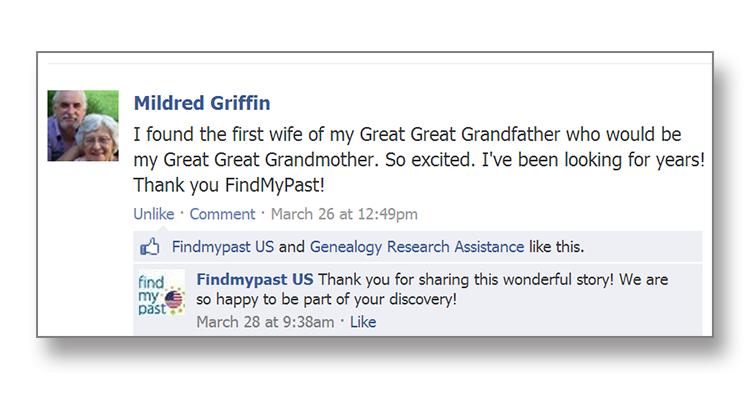 Griffin's great-great-grandfather George Johns sailed to the United States from London, England with his wife Maria and two sons David and Henry. It was the older boy Henry who became a successful land owner, brother-in-law to the Rainsbarger brothers and her great-grandfather. George registered as a widower at his wedding to second wife Maria, although no legal transcripts spoke of his first wife. It was the second marriage record that first "handed" Griffin the knowledge to find her real great-great-grandmother who had almost slipped from existence.
"I was just almost numb because after all this time I have been looking for her and here she was right in front of me," Griffin said about the search for Tabitha, "and I just found everything about her by just typing in those names. It is amazing when you see the marriage, and then all the rest of it, and how it all fits in so easily."
George married Tabitha Rayson in Middlesex county at St. Martins in the Fields in 1828. One year later, Henry was brought into the world. The Westminster marriage certificate on findmypast included signatures of the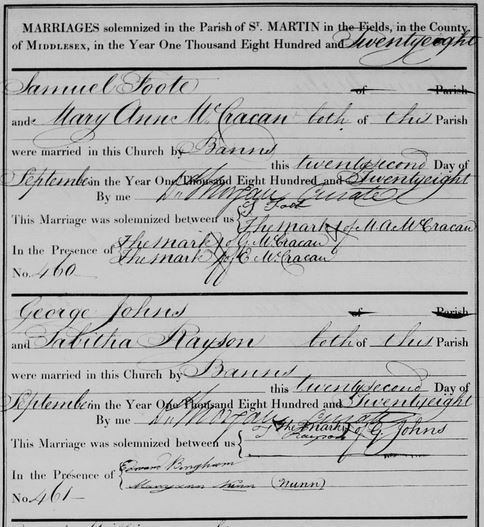 George Johns and Tabitha Rayson in the Westminster Marriages records on findmypast.
happy couple, a memento Griffin called, "just amazing."
Tragically Tabitha died in 1831, leading George to marry his second wife Maria the following year, and expand the young family before sailing to the new world. Ever the treasure hunter, Griffin pines for the ability to know more about witnesses who attended George's and Tabitha's union, which is not included in findmypast's record.
Griffin's pursuits paid off and found her true lineage and mother of her great-grandfather Henry, who Mildred believes was poisoned to death by the same doctor that gave him a clean bill of health after Henry sustained a gun shot wound. Although, that is a story for a different day.
Findmypast will offer more fantastic tales of successful family history searches in the coming months. To find your missing ancestors and stories about your family history, visit findmypast.com to get started.