Free Weekend: Use our "hints" feature to save time and work
As you're browsing the website during our free weekend, you'll probably notice our "hints" feature hard at work for you. This is a handy feature at Findmypast and our users have been raving about it since its debut a year ago.
Here's how it works.
Whenever you add a new person to your tree or amend a key piece of information for anyone already present, you may notice that a number within a circle appears on your relative's profile. This number represents the number of hints that have been found for that person.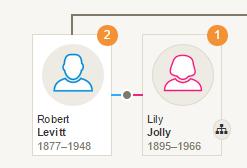 These Hints are potential matches in our records to the people on your tree. They are based on a number of factors, including names, date and place of births, marriages and deaths.
Hints is our way to help you create a brilliant family tree with half the work.
Free weekend - no credit card needed

Using Hints
Clicking on the orange circle attached to your relative's profile will take you to their Hints page. Here, you'll be presented with the records that could potentially be a match to the person on your tree.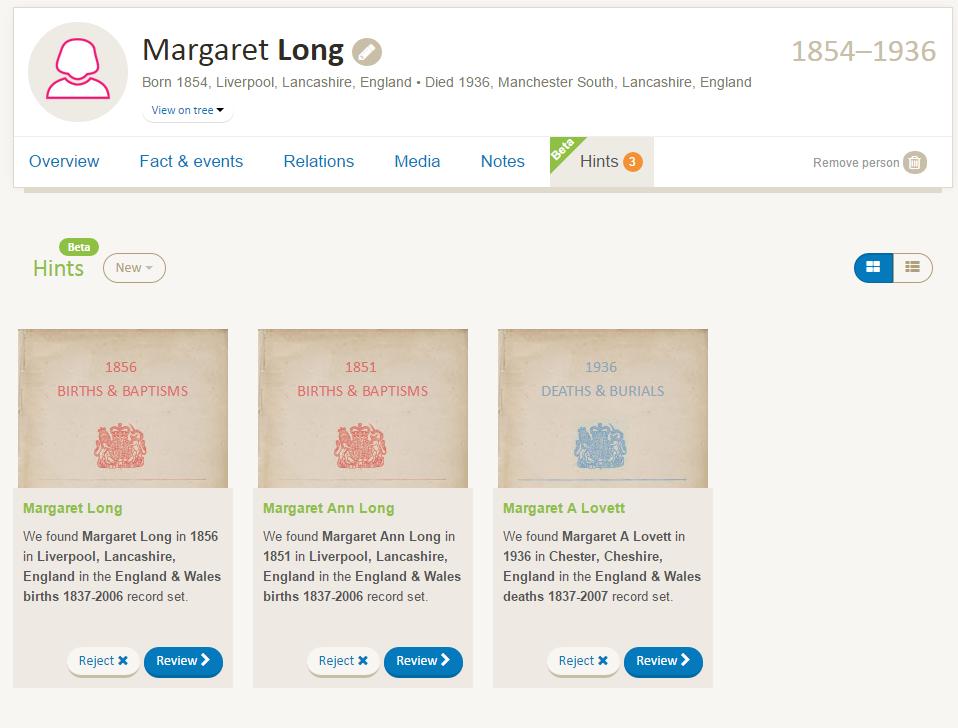 Here we see the Hints page for a Margaret Long, for whom Hints has found three possible matches. The records found correspond in color to the certificates they represent, so Birth and Baptism records are red, Marriage green and Deaths and Burials blue.
The Hints page presents a brief preview of the information in each record. If you wish to take a closer look and potentially add the information to your tree, click 'Review' to be taken to the Hints Review page for that record.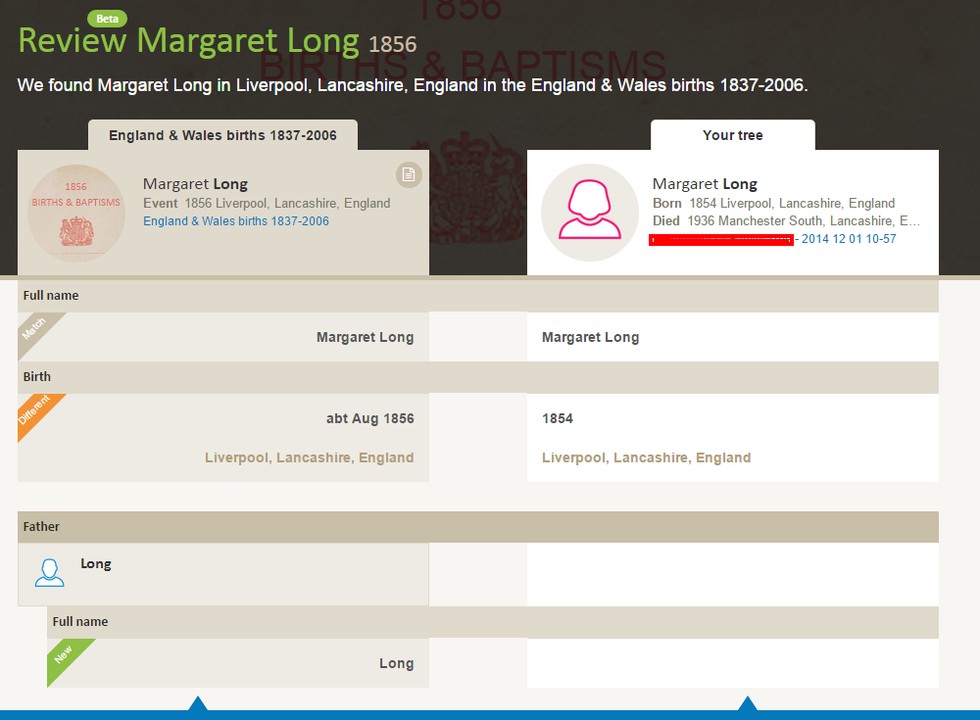 On the Review page, you can view a side by side comparison of the information found by Hints (left) and the information already on your tree (right). Information is marked as Match, New or Different.
Free weekend - no credit card needed

If you think that Hints has found a match for your relative, click 'Yes, next step' at the bottom of the screen. If not, you have the choice to reject this Hint, deleting it from your Hints, or to go back to the last page.
To check the sources of the information found by Hints, click the paper icon next to the name of the potential match. This will link you to the record set in which your potential match can be found.
Merging information
If you're confident that Hints has found a match and you click 'Yes, next step', you'll reach the Merge page for your relative.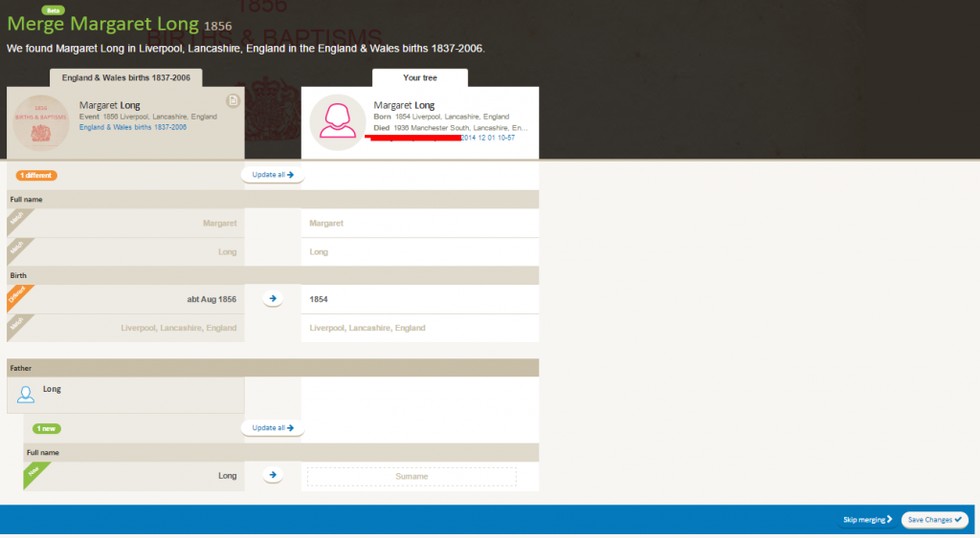 Here, you can transfer information from records to your tree with just a few clicks. Review the information on the left and click either individual arrows or 'Update all' to transfer it onto your tree.
In order to undo the addition of a fact, just click the 'undo' button. Nothing will be permanent until you click 'Save Changes'.
Once you've merged everything you want to, click 'Save Changes' in the bottom right of your screen. Once merging has taken place, it can't be reversed, so take care!
Additional People
You may find that a Hint includes an additional potential family member, perhaps a spouse or parent. If you have this person within your tree that matches this person they will appear alongside the relevant spouse or parent on the screen and who will be able to update their information as well. If the person does not exist in your tree then you will be able to create that person by moving the information across in the same way.
Let us know what you think
As you try out Findmypast for free this weekend, make sure to let us know what you think!. What can we improve? Are there any features you feel we may have missed? Thanks!