Great finds in the NYG&B eLibrary!
With the recent launch of the eLibrary from the New York Genealogical and Biographical Society on Findmypast, we have been eagerly exploring the collections! Here are some of our great finds.
We all hope to find stories surrounding our ancestors; to fill in the space between a birth and death date. The Minutes of the Orphanmasters of New Amersterdam (1655-1663) is one collection that allows us to do just that. In Volume 2 of this series, we found the story of bad bread in October of 1661. In the text, we can see that the baker, Mr. Reynier, is told, "to bake good and fit bread for the best possible accommodation of the community;" after finding a loaf that was not quite right. He argued that he was quite distracted while the bread was baking, and that others were "constantly trying to pull the bread out of the oven, even when he said, it was not done yet and must remain in the oven for another hour."
He also reported the use of grain that was not as high quality as from other sources – and baking with poor quality grain leads to poor quality bread! The entire exchange actually results in a change of process and prices of bread; a rather priceless story for those of us with connections to this early institution in America.

Many of us dream of finding a family heirloom that we believe exists, but we're just not sure where. In this case, the NYG&B; holds in their collection images from select family bibles – and what a treasure! The information provided is not only valuable genealogical material, but seeing it in the handwriting of the family, progressing through the generations, makes it all the more special.
This example, from the Kelley-Brant Bible, includes the death of Randolph Brandt, aged 6 years.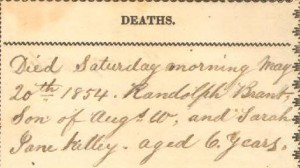 Need a bit of advice? Try browsing through past issues of The New York Researcher, a publication designed to provide advice and tools on New York family history. You'll find everything from basic "how-to" articles, to reviews of publications that may be historically or genealogically pertinent, and everything in between. In this case, we learned about the "featured repository," the Mid-Hudson Public Library System covering Columbia, Greene, and Putnam Counties. (Issue 4, Vol 23, page 79, 2012.)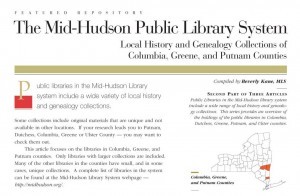 All in all, the collection from the New York Genealogical & Biographical Society has many wonderful discoveries just waiting to be made! As a Findmypast subscriber, this content is available to you in our U.S. and Canada collection. As a member of the NYG&B;, you have access to all of this and much more!
Start exploring your ancestors' story with a trial membership