Great times in St. Charles!
Last week, our US team traveled to St. Charles, Missouri for the National Genealogical Society 2015 Family History Conference. We had an incredible week celebrating our genealogy community, new partnerships, new records, and food trucks!
We were delighted to combine forces with Mocavo, and spent our week spreading the word on both online resources as tools for your family history. It was outstanding to see so many attendees recognize each brand as part of the Findmypast family.
During the conference, we announced the release of the Dublin Workhouse Admission & Discharge Registers (1840-1919) and the Dublin Poor Law Unions Board of Guardians Minute Books, both exclusive collections. We were joined on Friday morning by members of the St. Louis Genealogical Society Irish Special Interest Group to give them a sneak peek into the collection, and to help us celebrate all Irish genealogy! Having them - and their passion for this area of family history - was certainly a highlight of our week.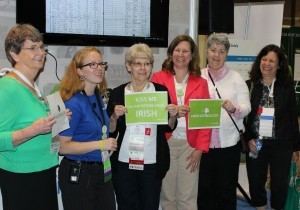 Members of the St. Louis Genealogical Society Irish SIG with Jen Baldwin.
D. Joshua Taylor, Director of Family History at Findmypast, educated attendees in an extremely well attended session on PERSI, the PERiodical Source Index. It was an informative hour, and many attendees were able to then visit the booth in the expo hall to learn even more, and to implement some of the strategy suggestions he made during the lecture. We were able to share several of his ideas and key points during the lecture on our Twitter channel.
Our team spent time exploring the Findmypast Family Tree, using Mocavo and Findmypast to tell stories of your ancestors, the Mocavo census reader, Irish genealogy, and even more about PERSI from our demo area in the expo hall.
More than anything, when we attend these events, we so enjoy getting to know the members of our family history family. It was wonderful to spend time with folks from FamilySearch, the New York Genealogical & Biographical Society, and the New England Historical & Genealogical Society, and it was truly a pleasure to talk to so many of the over 2,000 attendees! Great moments were had every day, hearing stories from the community on progress they've made in their research, helping people to learn new tricks on each site, and making discoveries right there in the booth!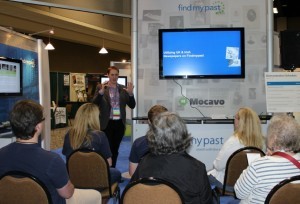 D. Joshua Taylor presenting on UK & Irish Newspapers at the Findmypast booth.
You can learn more of the National Genealogical Society 2016 Family History Conference in Fort Lauderdale, FL from their website; the event will take place May 4 - 7.