3 ways to learn the colorful details of your ancestor's wedding
Marriage records are highly sought after by most family historians because of their tremendous genealogical value - they provide an unusually high quantity and quality of vital information.
But marriage records mean more to us than just names and dates - they commemorate the moment our family tree grew another branch! And in any family's history, weddings are among the most fondly remembered and treasured events.
Unfortunately for the genealogist, standard marriage records offer little information in the how of the marriage - and that's something we would all like to know!
The good news it is possible to find out what actually happened at your ancestor's wedding, or at the very least get a pretty good idea of what the celebration was like. Let's take a look at three different ways you can do so.
Newspapers
Local newspapers are our greatest hope in uncovering the stories of our ancestor's weddings. Around the middle of the 19th century, small town newspapers began closely covering the local community. If you can locate the town or county paper in the area where your ancestors married or lived, their marriage may be mentioned in an issue.
Local papers often published marriage announcements and sometimes even full descriptions of the local wedding ceremonies and receptions.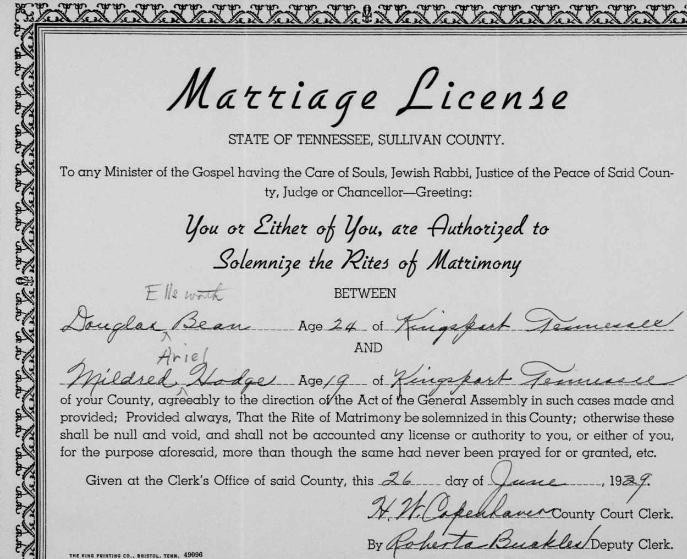 Use the information found on the marriage license to determine where and when to search in newspapers. FINDMYPAST, U.S. MARRIAGES COLLECTION
For example, we found the below newspaper article that nicely accompanies the above marriage license: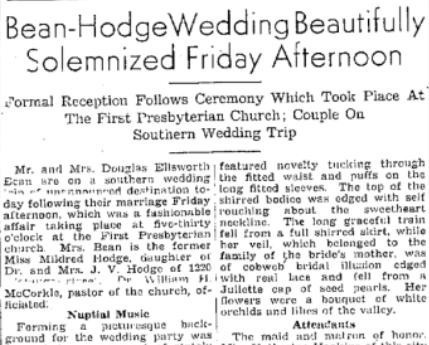 This article takes up several columns in the paper and details the ceremony, reception, guests, fashion, music and honeymoon of the couple. An instant treasure!KINGSPORT TIMES, JULY 2ND 1939
Newspaper marriage search tips:

You should first filter by state, and then select publications that covered areas close to where your ancestors were married.
Narrow the date filter to zero in on the year they were married and do a general keyword search for "wedding" or "marriage" first - this will give you an idea of how the paper covered marriages. This will help set your expectations.
Finally, search by using the names of either or both spouse.
PERSI
The Periodical Source Index (PERSI) is one of Findmypast's most valuable yet underutilized record sets. If you've never heard of it, make sure to familiarize yourself with how to use PERSI or the many things you can find in genealogy periodicals.
You will find many articles related to marriage in PERSI, including marriage records themselves. Genealogy publications are full of extracts, abstracts or indexes of marriage records: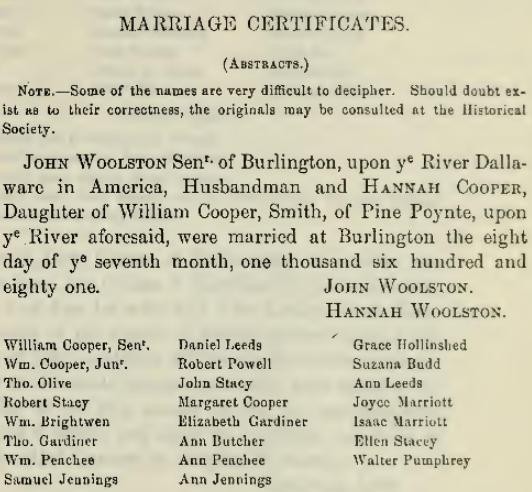 You can even us PERSI to find an otherwise elusive marriage record itself. But you'll also find written descriptions of local weddings as well.
But you'll also find narrative accounts of weddings as well. It was quite common for the member of a genealogy society to write details of weddings they had uncovered through their own research or through family knowledge. And since many of these publications were written in the 19th or early 20th century, these accounts could help you rediscover information lost over generations.
The best thing about PERSI is that it searches the publications of nearly all local societies throughout the county. This means if someone in Tennessee was writing in their local publication about your family members in Ohio, you'll find it on PERSI - but may never have known to look in a Tennessee publication otherwise.
Finally, if you can't find something written specifically about your ancestors in PERSI, don't fret. You should still take a look at any articles about marriage around the time or place they were married. You should be able to infer what their wedding was like based on other details you know about them. Lacking any specific information, this is your best bet!
Social History
Unfortunately, not everyone will be lucky enough to have a written records of their family's weddings waiting to be discovered.
But searching for what our ancestor's wedding was probably like is still a very worthwhile endeavor. With a little bit of research and knowledge about your ancestor's family, it's very possible to make an accurate educated guess as to what the wedding was like.
There is nearly an endless amount of social history written about the everyday lives of people in various locations and time periods of American history. You should absolutely search libraries and bookstores for social or local histories about the areas your are researching.
But there are hundreds of these kinds of works already on Findmypast, and the best part is that they're fully searchable. So if you're looking for details on your ancestors who got married in Tennessee, you might try entering "Tennessee" in the location field and "wedding" in the optional keyword field: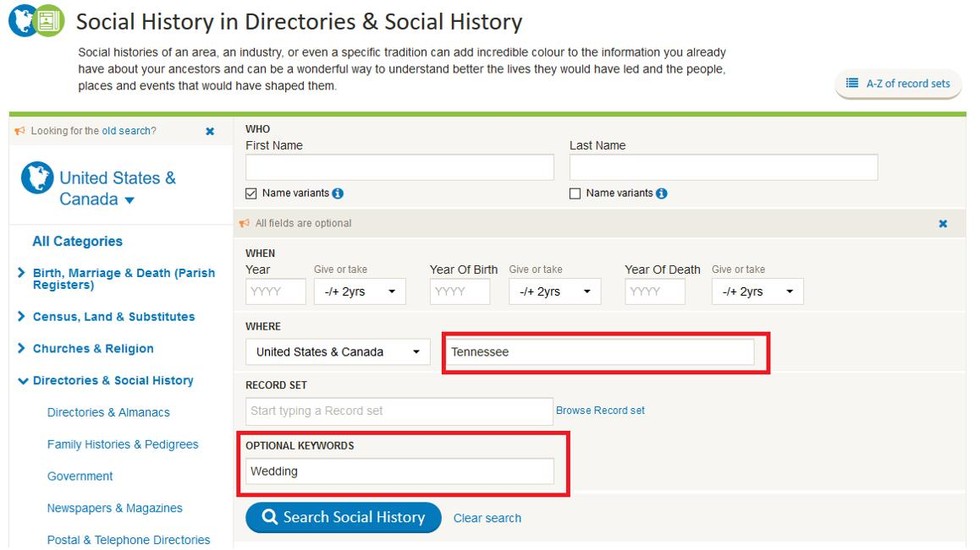 This search will search all social histories focused on Tennessee for the term "wedding"
In the results, we may be able to find passages in social histories about Tennessee that refer to weddings. While the passages may refer to the weddings of others, they will still provide valuable clues to what weddings were like in the times of our ancestors.
For instance, this history of Davidson county, Tennessee discusses a wedding: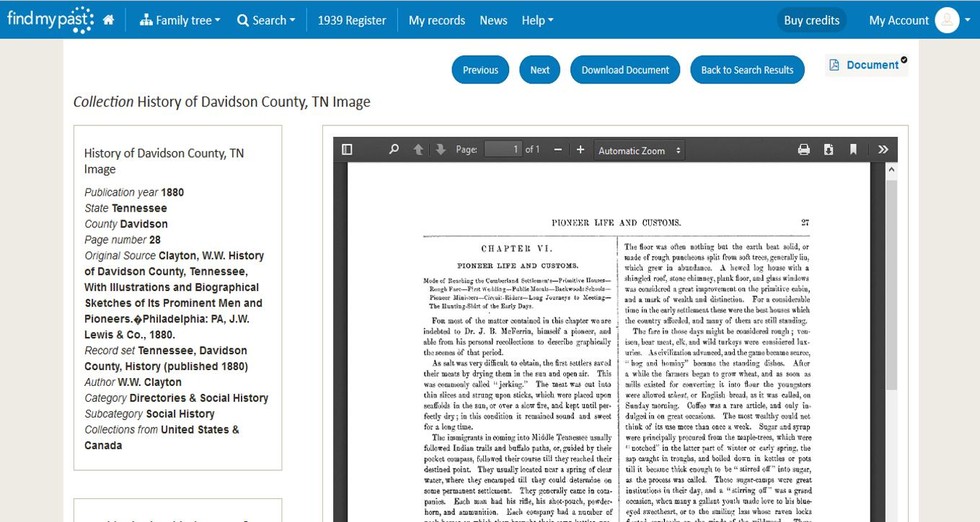 If you have ancestors that lived in this county of Tennessee, this is a really valuable and interesting source.
We find some interesting details about a wedding in 1780: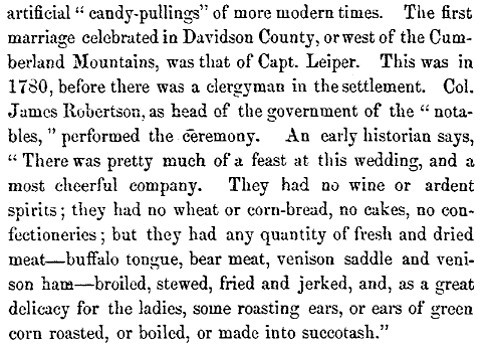 We can reasonably assume that the more our ancestors had in common (date, location and social status) as those in this passage, the more similar their wedding could have been.
There are some wonderful details here that admittedly may not deal with your specific ancestors, but can help begin to paint the picture of their life and times.