This year Findmypast is releasing more North American records than ever before, including 100 million marriage records - many of which have never been indexed and available online.

Search our US marriages collection
Once all is said and done, we'll have all states except South Dakota represented in the 100 million records. We expect approximately 450 million names in total to be included.
See our full list of state marriage records, for details on which states are currently available in the collection. We currently have over 40 million marriage records available and will be adding more throughout the year.
First step: Register and import your tree
The first thing you need to do is register at Findmypast (no credit card required) and import your family tree.
This is a very important step - because we'll be adding nearly 70 million more records to our marriage collection, you'll want to stay updated. When we add new records, our "hints" program automatically scans these records for names in your family tree.
If you don't find anything this time around, you'll get an automatic notice when one of your ancestors has been added - but only if your family tree is on Findmypast. Even though our marriage records won't be free forever, it is always free to keep your tree on our site.
To import your tree, just click on the link highlighted in red below, and follow the on-screen prompts: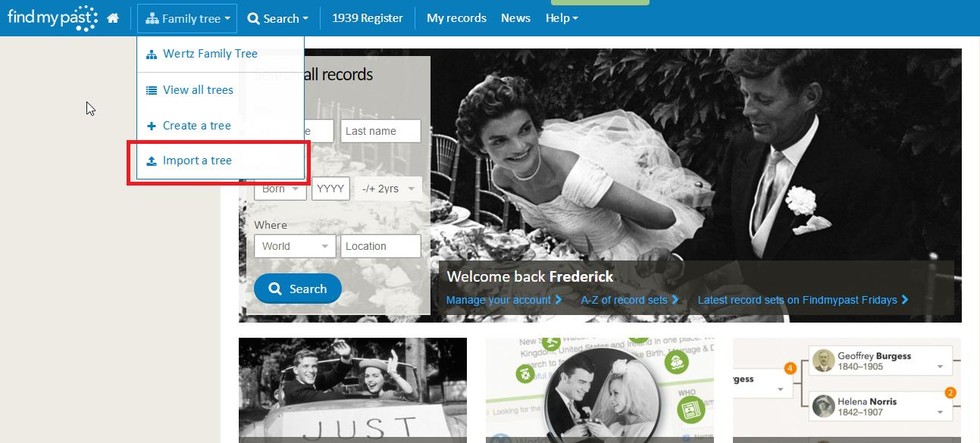 Second step: Searching the records
Start by visiting our US Marriages Collection page and entering the basic information about the ancestor you're looking for. Let's look for the well-known Scotch-Irish President, Andrew Jackson and his duel-causing marriage to his wife Rachel: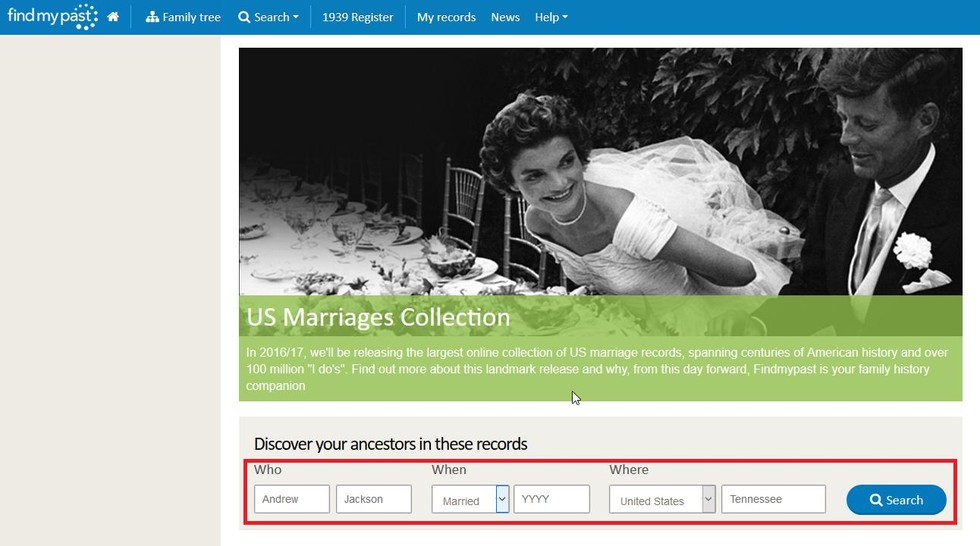 Depending on how common the last name is, you may see a large volume of search returns. That's certainly the case for our 7th President.
That's okay, though. It's easy to narrow down by hitting the "edit search" button:

Here, you'll be able to filter the results to get extremely specific. We recommend entering the state, county and approximate year (if you aren't sure, use the "give or take" drop-down menu to select a nice broad range).
The great thing about these marriage records is that they contain a wealth of information - you'll also be able to input the names of spouses and parents if you know them: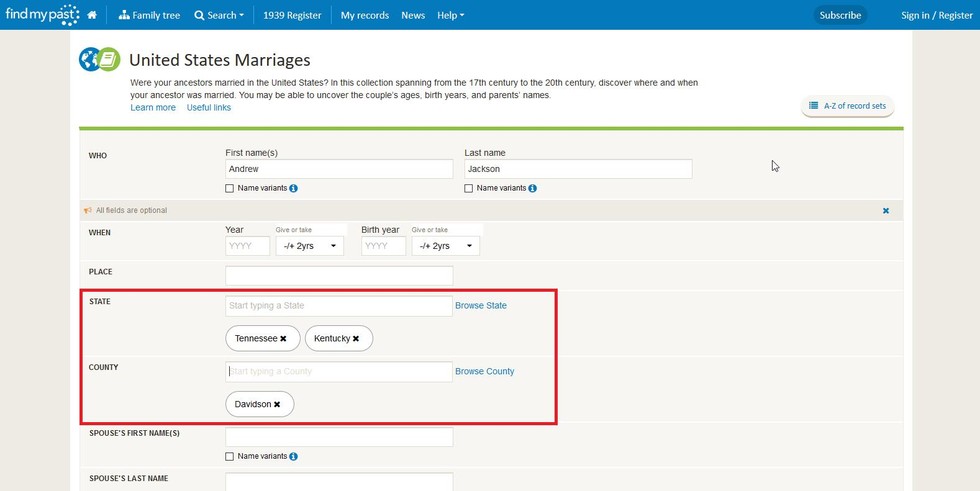 Tip: State and county filters are cumulative - use multiple filters if you aren't sure where the marriage took place
Once your results have been narrowed down, you can browse through the list to see which belongs in your family tree by identifying recognizable dates, places or spouse names:

Clicking on the icon at the far right of the listing will bring you to the transcribed details of the marriage: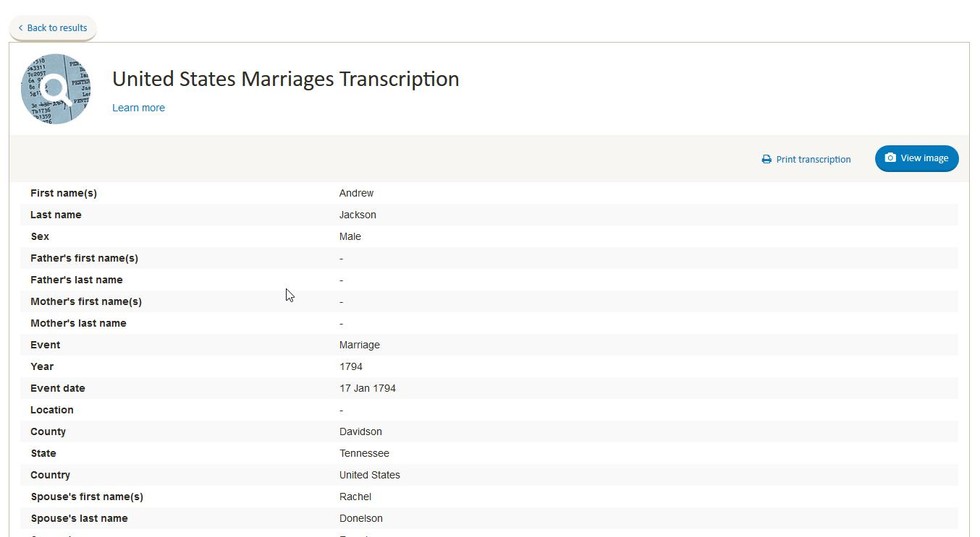 You can also view the actual image of the marriage record:

Third step: Attach the record to your family tree
At the bottom of the transcription, you'll see an option to attach the record to your family tree. Make sure to do this so your hard work is preserved.


At the bottom of the transcription, you'll see an option to attach the record to your family tree. Make sure to do this so your hard work is preserved.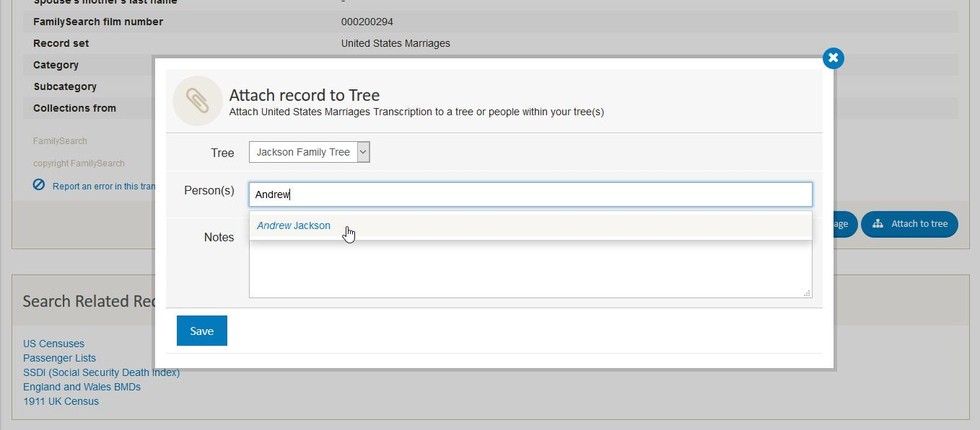 You'll be able to choose which family tree you attach it to, and search for the specific ancestor to associate with it. You can then easily find the record by looking at your family tree instead of trying to replicate your searches.
Discover the US marriage records

Fourth step: Build off of your success

Typically earlier marriages and marriages that occurred early in a state's history will have less information than later marriages will. For instance, look at all of the information contained in this record from 1916: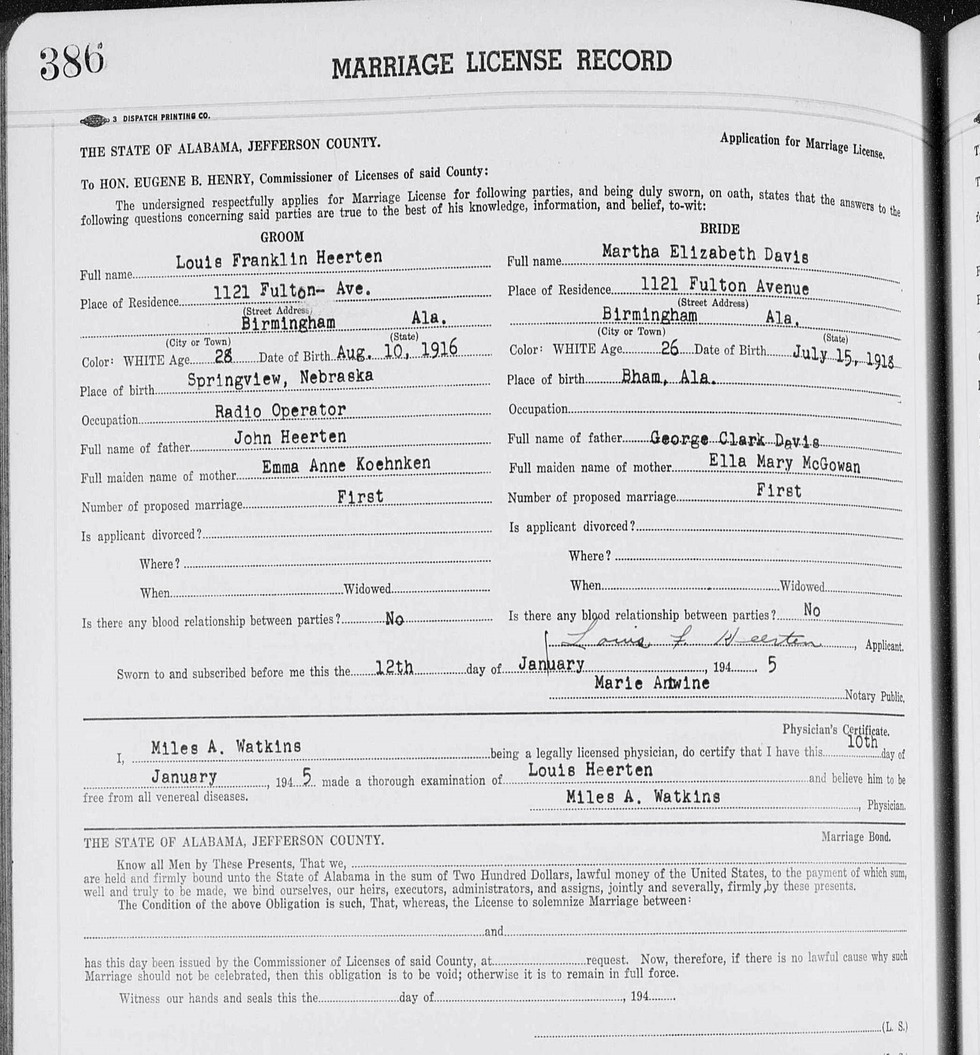 In general, you can expect to find the following information in most marriage records:
Full name
Sex
Marital status
Age
Birth year
Father's full name
Mother's full name
Marriage year
Spouse's full name
Spouse's sex
Spouse's marital status
Spouse's age
Spouse's birth year
Spouse's father's full name
Spouse's mother's full name
Place
County
As you can see in the image above, there's even more information than just this list.

And this is what makes these records so significant - aside from memorializing a significant occasion, these records provide a wealth of genealogical information.
Once you have this information, you'll be able to use newly discovered information - birth year, birth location or parent's names, for example - to search our other U.S. records and further chart your family's course through history.

Information found in these marriage records could also be key to tracing your heritage beyond America. If you have ancestry from the Britain or Ireland, our UK records will be vital to tracing your family's history further back than ever before.

The key link here is using our passenger lists and other immigration records to link your family history to the other side of the Atlantic.