How to search for your ancestors on Findmypast
As part of our commitment to ensuring our customers can always find what they need on Findmypast, we've created a series of posts on how to use the site. In this instalment, we'll be giving a few tips and hints on how to get the most out of our powerful search tool.
Once you've gone through the process of gathering all of the information you can from your relatives (you can find more tips on getting started here), you're ready to go further back using Findmypast's search facility to find your ancestors in our millions of online records.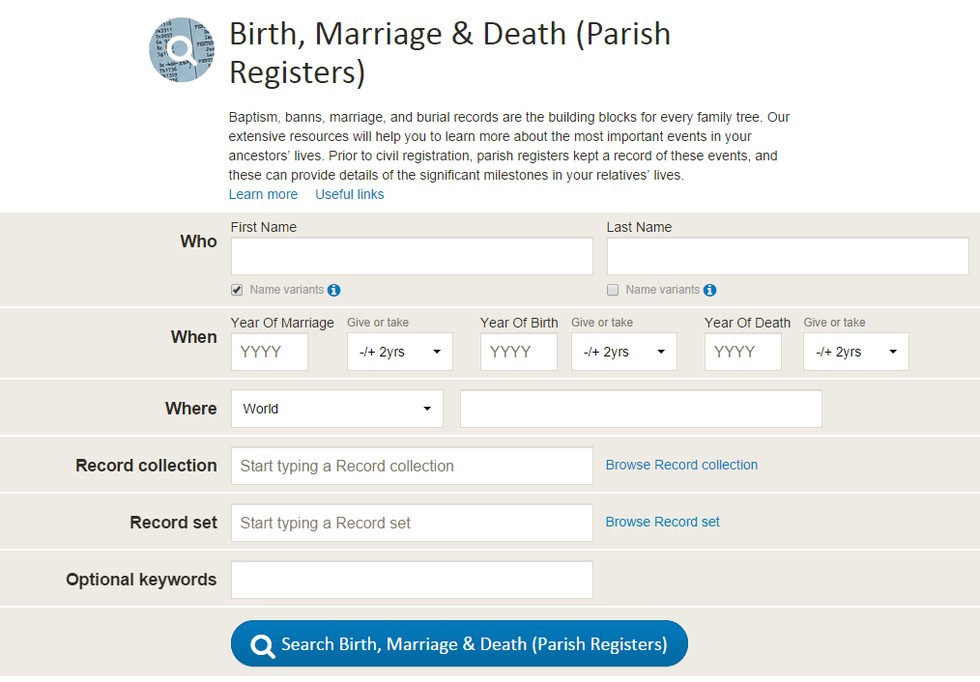 On the Findmypast homepage, you'll see a search box. Type in the name and details of someone you know (why not start with yourself?) and you'll be taken to a search results page where you can look at the dates and details to work out which are the ones you're looking for. Once you've found a birth record, you can use this information to see parent names, place and date of birth and so on. This information can then be added to your family tree with our 'attach to tree' button.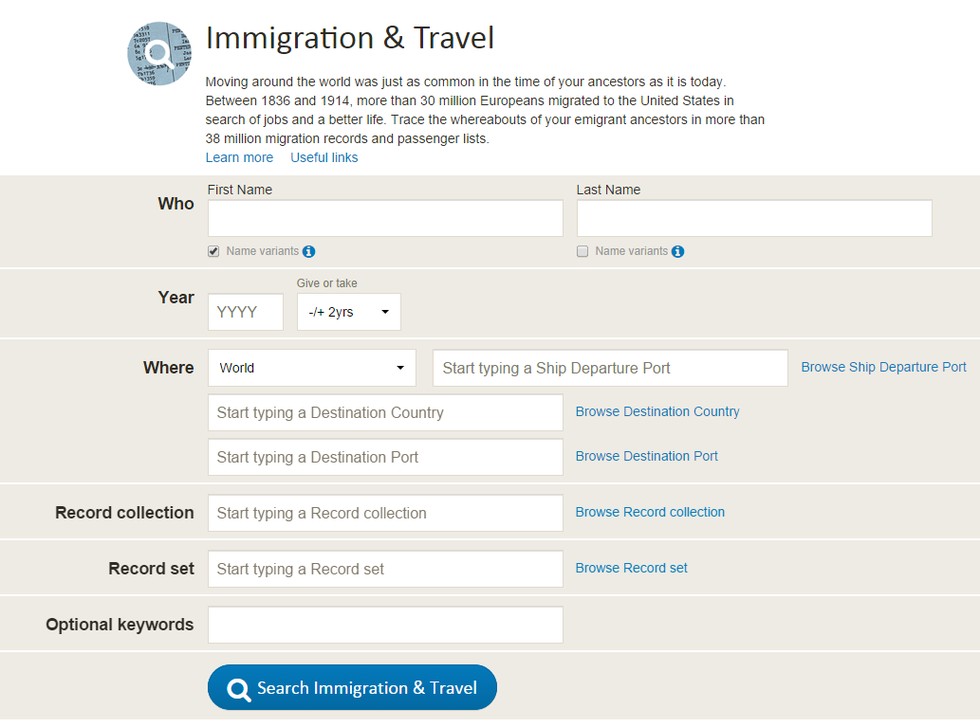 Finding the connections and working backwards is the challenge (and the fun!) of family history research.
Once you've explored the basic search fields, you can start to narrow down your search. Take some time to explore the different record collections and find out what sort of information you can find in each. From the top navigation, choose 'Search all records' then select a category ('Birth, marriage, death and parish records', for example). Try filling some of the search fields here, then click the blue search button.
You can narrow down your results by clicking 'Edit your search'. This will take you back to the search form. Choose a specific collection to search by clicking on the 'All collections' drop down. This will limit your search to births and baptisms, for example.
If you already know which precise record set you want to search, you can select that by heading to the 'A-Z of record sets' from the 'Search all records' menu in the top navigation bar. This will take you to an alphabetical list, which you can search by entering the first few letters of the name of the set you are looking for. For example, to search the 1911 census for England and Wales, simply type in '1911' and you'll see the census option appear.
Here are some handy tips for searching records at Findmypast:
Speak to your family and find out as much as you can. It's amazing what your relatives can tell you - names, dates, places and more that can help in your search.
Start with yourself and work backwards. This is usually the easiest way to build up your family tree.
You don't have to fill every field in the search form, but the more information you can provide, the more accurate your results will be.
Searches are automatically filtered by relevance, but you can change this by selecting a different option from the drop down at the top right of the screen.
To see how many records there are in a collection, leave all the fields empty and hit the search button.
Start broad and narrow down. Start with a more general search, and then use filters to eliminate results. Findmypast allows you to search across all record sets, so using this technique will make it less likely you'll miss someone.
Use a * (this is called a wildcard) when you find a part of a name that may have changed over time. For example, where you know a "Mc" surname may also have been recorded as a "Mac", you can use this to find both variants. "M*cDonald" will find both McDonald and Macdonald.
Historical records for births, marriages and deaths are located in 'registration districts', often named after the largest town in the area. Be prepared to widen your search and start with no location to see what you return with, as district boundaries have changed over time.
You can change location on Findmypast with the "where" box. If you can't find your ancestors in Britain, they may have moved abroad – see if you can find them around the world.
Start without the "variants" box ticked. If you get no results, tick it and search again to see if you can find your ancestor with a slightly differently spelled name (which happened more often than you might imagine due to varying literacy rates).
Our ancestors often lied about their age on occasion, for various reasons. They may have needed to be older to enlist in the military, or they may have married someone much younger or older than themselves and wanted to reduce the margin. Ages of death were given by using information supplied on behalf of the deceased. Give yourself some leeway either side of the birth year you think is correct to be sure that you find your record.
Re-examine your records when looking for more information about a particular person. One small error in your research can have a knock-on effect, and you may find that an incorrect name or date is the cause!
Have a look and see who was living with the family at the time of the census - it could be another relation, which may give you clues to a family name. For example, a mother-in-law may be visiting which would potentially give you the wife's maiden name.
Once you've found some of your ancestors, it's time to start building your family tree. Click here to learn more about our free family tree builder.
If you need any other advice on searching our records, feel free to ask us over on Facebook or Twitter!