In our records: Edith Cavell, the World War 1 heroine nurse executed for saving 200 soldiers
Edith Cavell was a British nurse who served during World War 1. She saved the lives of soldiers from both sides, and helped 200 allied soldiers escape German-occupied Belgium, offering them refuge in her own home.
Edith was executed for treason by a German firing squad on 12 October 1915.
Cavell's courage and fortitude during her trial, and the absolute honesty with which she addressed the accusers' questions, served as an example which reverberated worldwide.
Subscribe to discover your family's amazing story in our records
Edith was born the first of four children to the Reverend Frederick and Louisa Sophia Cavell on 4 December 1865 in Swardeston, a village near Norwich in Norfolk.
Cavell enters the nursing profession 
After working as a governess in Brussels, Cavell entered the nursing profession aged 20, and trained at the London Hospital under the renowned matron and medical reformer Eva Luckes.
Upon returning to Belgium, she was appointed matron of the Berkendael Medical Institute in 1907, where she utilised her new skills to improve and modernise the standard of Belgian nursing.
After war broke out in 1914, Edith, who had been visiting family back in England, immediately returned to Belgium and joined the Red Cross at Berkendael hospital.
Cavell treated both German and Allied troops. Many of the captured Allied soldiers who were treated at Berkendael subsequently succeeded in escaping - with Cavell's active assistance - to neutral Holland.
Edith is placed under military arrest
The German authorities became increasingly suspicious of Edith, alarmed by her outspokenness and unwillingness to cooperate with them.
Read more about Edith Cavell in our historic newspapers
She was arrested on 5 August 1915 by local German authorities, who charged with treason for having personally aided in the escape of 200 soldiers, in violation of German military law.
During her 10 weeks in prison, the final two of which were in solitary confinement, the Germans extracted the confession from Cavell which formed the basis of her trial.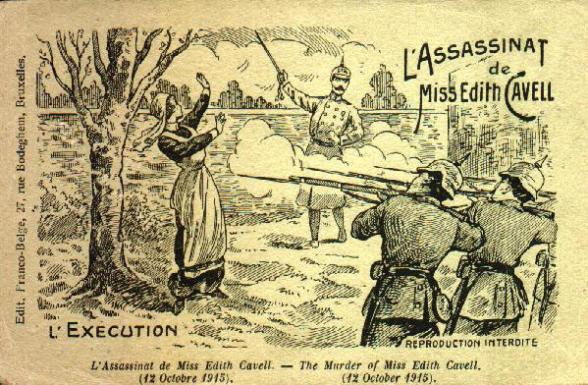 Death by firing squad
She, and her Belgian accomplice Philippe Baucq, were pronounced guilty and sentenced to death by firing squad.
Throughout her trial Cavell conducted herself with incredible bravery and dignity. She refused to deny any of the accusations and answered all questions put to her with unflinching honesty.
Edith's noble conduct during the court martial proceedings earned her great respect and significantly contributed to her heroic image.
Neutral countries were appalled by the proceeding with US diplomats unsuccessfully attempting to intervene on her behalf.
The sentence was carried out on 12 October 1915 without reference to the German high command.
Edith's legacy: An inspirational spirit
The night before her execution, Edith told the Reverend Stirling Gahan: "Patriotism is not enough. I must have no hatred or bitterness towards anyone.
These words are inscribed on her statue in St Martin's Place, near Trafalgar Square in London.
Her final words to the German prison chaplain, Paul Le Seur, were recorded as, "Ask Father Gahan to tell my loved ones later on that my soul, as I believe, is safe, and that I am glad to die for my country."
Edith's death was loudly condemned as an act of merciless brutality, and garnered sympathetic press coverage worldwide.
This stirred up further hostility against Germany among countries – including the US – who were not at the time involved in the war, and stoked up a desire for revenge amongst British troops and men at home yet to volunteer.
Edith Cavell is buried at Norwich Cathedral and commemorated in a statue near Trafalgar Square.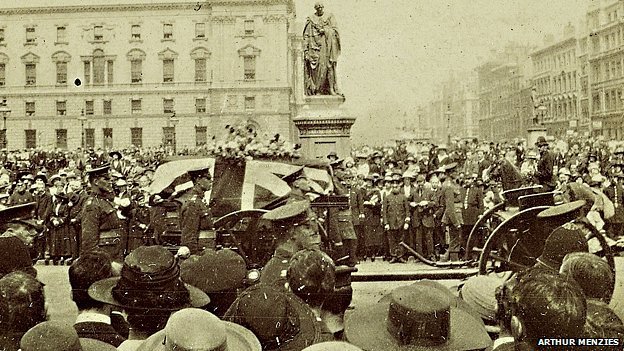 Australian soldier Arthur Menzies photographed Edith Cavell's coffin outside Westminster Abbey - his family donated the picture to the Cavell Memorabilia Collection