In The Newspapers: History's Heroic Hounds
In celebration of National Dog Day, the world's first holiday dedicated to man's best friend, we have been searching through our collection of historic newspapers for examples of incredible canines throughout history. From war heroes to daring rescuers and lovable rogues, we have put together a selection of magnificent mutts whose remarkable stories are guaranteed to warm the hearts of even the most determined cat lovers.
Start exploring your ancestors' story with a trial membership
Gander the War Dog
Gander was a large Newfoundland who served with Canadian forces during World War II. Gander started life as a family pet named Pal but but donated to The Royal Rifles of Canada after he scratched a child and faced being put down. The regiment was stationed at Gander International Airport in Newfoundland and Gander was quickly renamed and "promoted" to sergeant. When Japan attacked Hong Kong on December 5th 1941, Gander and his unit were sent to defend the Island. The battle for Hong Kong was a bloody one and after 17 days of fighting, the British, Canadian and Indian troops stationed on the Island were forced to surrender. Over 2,100 allied troops had been killed and a further 2,300 wounded, a figure that could have been even higher if it had not been for Gander's incredible heroism.
On three documented occasions, Gander bravely faced the enemy and saved the lives of his comrades. Twice he repelled Japanese attacks, protecting the groups of wounded soldiers around him. In a final act of courage, Gander picked up a live Japanese grenade and carried it back towards the enemy lines. It detonated in his mouth, killing him instantly. Gander was posthumously awarded the Dickin Medal, the "animals' VC", in 2000 in recognition of his heroic self-sacrifice.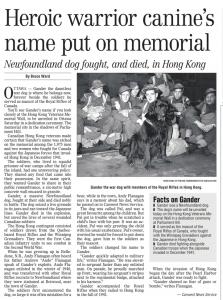 2009 article on a Gander memorial taken from our collection of Canadian newspapers
Swansea Jack
Swansea Jack was a black retriever with a longish coat who lived with his owner, William Thomas, near the River Tawe in Swansea during the 1930s. One day, Jack saw a small boy drowning in the river and ran in, pulling the boy to shore by the scruff of his neck. This first rescue went unreported but, a few weeks later, Jack rescued a drowning swimmer from the docks in front of a large crowd. His photograph appeared in the local paper and the local council awarded him a silver collar. In 1936, he was awarded the prestigious 'Bravest Dog of the Year' award by the London Star newspaper in London and, over the course of the next decade, he went on to an incredible 27 people from one of the most dangerous rivers in Wales.
Swansea Jack sadly passed away in October 1937 after eating rat poison. An elaborate burial monument was commissioned and financed by public subscription that can still be seen on the Promenade in Swansea near St. Helen's Rugby Ground. To this day Jack is the only dog to have been awarded two bronze medals ('the canine V.C.') by the National Canine Defence League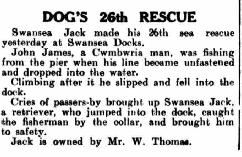 Gloucester Citizen - Wednesday 15 July 1936
Bummer and Lazarus
Bummer and Lazarus were two stray dogs from San Francisco who rose to fame in the 1860s. Bummer was a tough street dog who established himself outside the saloon of Frederick Martin in 1860 and earned a reputation as an expert rat catcher. This skill presumably spared him the fate of the former owner of the territory, Bruno, who had been poisoned with strychnine shortly before Bummer's arrival. The following year. Bummer rescued a much smaller dog from being torn to pieces in a fight and allegedly nursed him back to health by huddling next to him at night, bringing him scraps of food and coaxing him to eat. The little dog was not expected to survive but made a miraculous recovery and was named 'Lazarus' by the residents of the city.
The two dogs became inseparable and their remarkable friendship quickly came to the attention of the press. Their exploits were widely reported and exaggerated accounts of their many fights with other dogs were often printed the next day. As a result of their fame, the pair were given the run of the city at a time when any other stray dog would have been rounded up and thrown in the pound. When Bummer was shot in the leg and Lazarus didn't look after him, there was uproar and the whole city turned on Lazarus. This weird press fascination even continued after both dogs died as various newspapers accused each other of publishing false accounts of their deaths. Bummer died in 1865 after being kicked by a drunk named Henry Rippey. Mark Twain wrote a eulogy for the famous dog and Rippey had to be taken into custody for his own safety. This proved to be ineffective  as Rippey was badly beaten by his cell mates once they had learned that he was responsible for beloved Bummer's death.

The story of Bummer & Lazarus found within our collection historic US newspapers of  - Mount Pleasant Weekly News 29 August 1894
Barry the mountain dog
Barry the St Bernard was born in Switzerland in the year 1800. Barry and his ancestors had been specifically bred by the Monks of Saint Bernard Pass, a dangerous snowy divide between Switzerland and Italy, to rescue lost travelers buried in the snow. Barry worked as a search and rescue dog at The Great St Bernard Hospice in the Penine Alps and saved the lives of 40 desperate travelers during his 12 year career.
His most famous rescue was of a small child who'd become lost and trapped on a treacherous ice shelf. Barry managed to reach the boy, revive him, and keep him warm until rescue arrived. When it became clear that nobody could reach them, Barry allowed the child to climb onto his back and pulled him to safety. Barry sadly died during his 41st mission when the soldier he was sent to rescue mistook him for a wolf and stabbed him with a bayonet. Barry was so admired that the Monks promised to always name at least one dog at the monastery Barry—a tradition that continues to this day.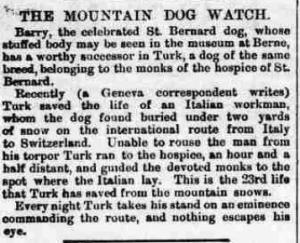 Sevenoaks Chronicle and Kentish Advertiser - Friday 04 December 1903
Just Nuisance
Able Seaman 'Just Nuisance' was the only dog ever to be officially enlisted in the Royal Navy. Ship's dogs had been used by the Navy for centuries but were never considered full members of the crew. Just Nuisance was a South African Great Dane who got his name as a pup by wagging his injured tail so enthusiastically that everyone was covered in blood spatters. Nuisance grew to be more than six and a half feet (two meters) standing up and spent his time in Cape Town's many dockyards and naval bases. He made friends with many sailors and began following them around and even catching trains with them. Despite the seamen's attempts to conceal him, conductors would throw him off as soon as he was discovered and officials of the State-owned railway company eventually warned that Nuisance would  be put down unless he was prevented from boarding any more trains. This prompted concerned sailors and locals to write to the Navy, pleading for something to be done.
Train rides were legally free for members of the Royal Navy so the popular dog was formally enlisted on 25 August 1939 under the name of Just Nuisance. He became the first and only canine member of the Royal Navy in history and was even promoted to Able Seaman. However, Nuisance's service record was far from exemplary. Aside from the offences of travelling on the trains without his free pass, being absent without leave, losing his collar and refusing to leave the pub at closing time, his record shows that he was sentenced to seven days without bones for 'sleeping in an improper place' – the bed of a petty officer!

Hastings and St Leonards Observer - Saturday 29 April 1944