How to Find Your Irish Military Ancestor
Discover the fighting Irish in your family tree with Brian Donovan's experts tips for tracking down Irish ancestors in military records
The Irish at War 1914-23
What did my people do? How were they involved? What was life like for them? We've all wondered about this, worried that a treasured family tale might turn out to be untrue, sometimes fearful for what we might find if it is true.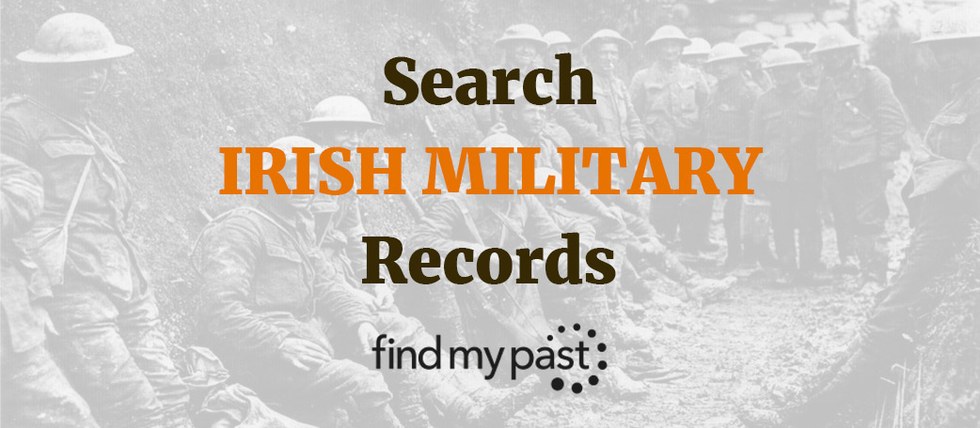 It was conflict after all, and there is nothing pretty about that. Death, broken lives, terror and trauma are the stuff of war. Moreover, Ireland faced two simultaneous interwoven conflicts, at home and abroad. While few actually fought in the 1916 Rising or the War of Independence the whole country felt the impact. But every village in the country lost a son in the Great War, with over 200,000 Irish born recruits and over 50,000 deaths. So how do we find out what happened to them?
I want to bring you on a quick overview of the principal documentary sources for this period. It is not exhaustive, but will guide you through the main avenues for research online at Findmypast and elsewhere.
While I discuss these conflicts separately you must never forget that many who fought in France or Turkey went on to fight in Ireland, both for and against the rebellion.
World War 1
First off, a lot of work has been carried out on recording those who died in the war. A committee was also established in Ireland shortly after the end of the war to record details of those Irish who died. The result was a massive 8 volume record of the 49,300 men of Irish birth or association who were killed. Entitled Ireland's Memorial Records, it was lavishly illustrated by the artist Harry Clarke. Only 100 sets were ever printed, but thankfully it is searchable and viewable on Findmypast. However it is not complete, or always accurate, but Tom Burnell has been trying to produce definitive details for every county in the country which can also be viewed at Findmypast.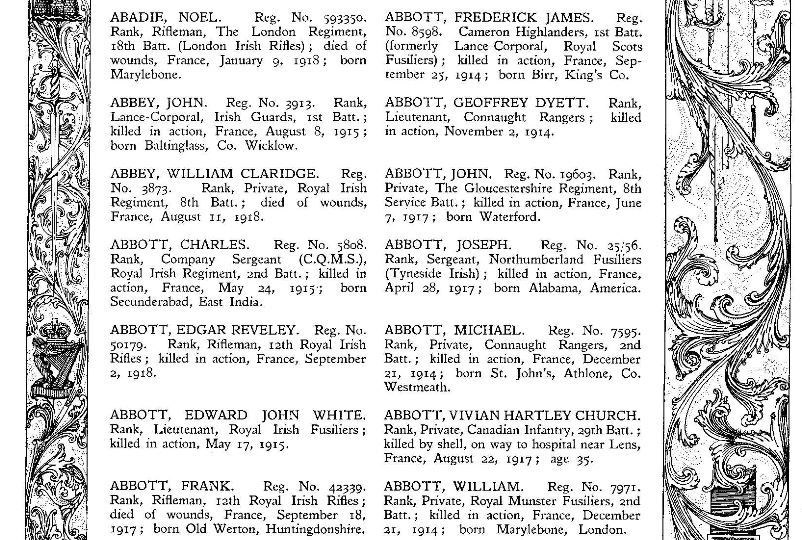 Ireland's Memorial Record
There is so much more to the history of the war that is not so easily accessible. One of the first resources which is worth looking at are the newspapers from the period. Local newspapers are especially good at reporting the activities and particularly the deaths recorded from their localities.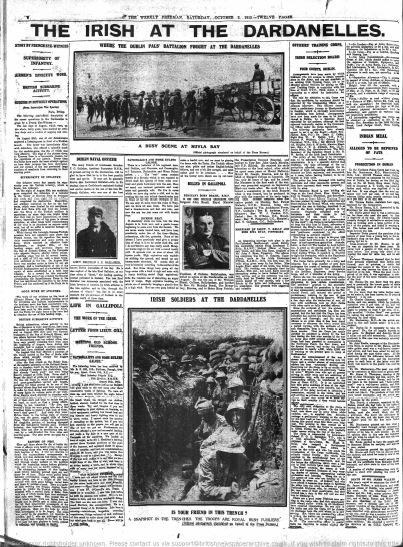 Weekly Freeman's Journal, 2 October 1915
For the lives of the soldiers in general, most will have served in the British military, and like all aspects of the British administration the records are extensive. Service records were kept for all soldiers. However many of the ones for World War 1 were destroyed during World War 2 when London was extensively bombed. Out of 6.5 million service records that originally existed, only 2 million survive. Thankfully this is just one of many sources of information about the soldiers. Over 5 million cards survive detailing what medals individual men and women were entitled to. You can also bring to life the history of any soldier's experience, as all units were required to maintain war diaries detailing what happened day by day during the war. Once you know which unit any person was assigned to you can literally track their progress through the war by using these records at the National Archives (Kew).
But the Irish didn't just serve in the British Army, they were also numerous in Australian, Canadian and of course American forces. Australian Imperial Force Embarkation Rolls record over 2,000 soldiers who list their next of kin as residing in Ireland. World War I Draft Registration Cards in the USA record some 88,000 individuals that list Ireland as either their place of residence or place birth.

Rebellion and Martial Law
We are also exceptionally lucky that so many records survive from the 1916 Rebellion and the War of Independence from both sides. One of the best sources to start with is the Sinn Fein Rebellion Handbook, a special edition issued by the staunchly unionist Irish Times in 1917 documenting the events of the previous year. While it was not sympathetic at all, it is packed with names of rebels, soldiers, police, civilians, casualties and much more besides.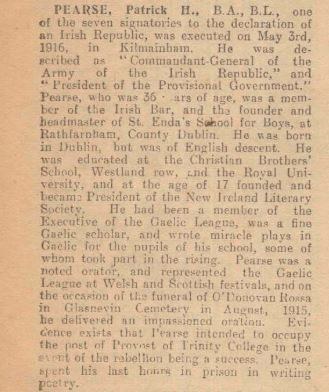 Patrick Pearse's entry in the Sinn Fein Rebellion Handbook
The Military Archives in Cathal Brugha barracks in Dublin has published the extensive collection of interviews with participants in the 1916 rebellion and the War of Independence compiled by the Bureau of Military History in the 1940s. Many of those who were active in that struggle were veterans of World War 1, radicalised like so many others across Europe by the horrors they witnessed. The Military Archives are now publishing the pension and medal files for those who were active during the revolutionary period. So far, around 5,000 files have been published online. But there are over 300,000 pension and medal applications, with over 80,000 claims of military service. So there is a lot of information to come. You can also find records of those who served in the Free State army in their 1922 Army census.
In 1916 and 1919-21 Ireland was placed under martial law. This meant that the British army took charge of all civilian matters and were given extraordinary powers to search, arrest, detain and pass judgement, up to and including execution. Fortunately (for family historians), this also required meticulous record keeping and the results are now searchable online at Findmypast.
The army files for 1916 are very informative about the suppression of the rising. They include daily situation reports from April 24 until the last execution (James Connolly) on May 12, details about the prosecution of those detained, and investigation of individual deaths. All of these files contain copious information on rebels, soldiers, police and civilians caught up in the event.
But martial law didn't come to an end until the truce on July 11, 1921. The vast majority of the army files relate to the post-1916 period and are very extensive. They also document in detail those who were caught up in events without any active involvement. In fact, the heavy-handed response of the British military, the extensive use of martial law and the operation of the "black and tans" played an important part in driving an otherwise neutral population into the arms of the rebels.
The records include raid and search reports. Under martial law, the army had the power to search and detain without a warrant. As a consequence, they carried out over 20,000 raids of premises all over Ireland, often in the middle of the night. Every raid required a report to be filed by the military squad involved. These are very informative including details of the occupants of the premises, the squad of soldiers, what was said and what was found.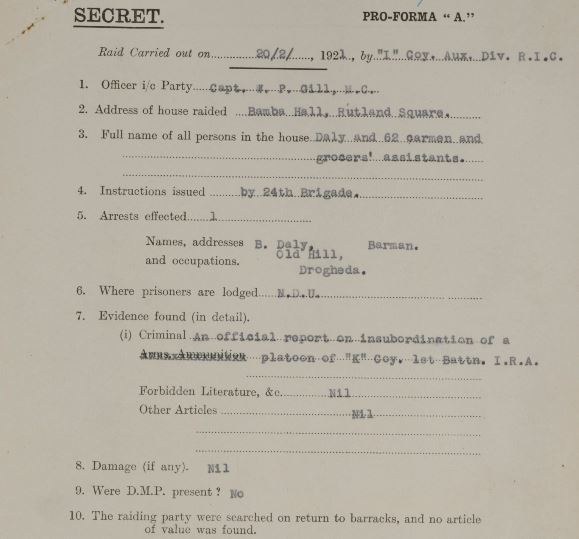 An example of the information recorded in a raid report
Once a person was arrested under martial law, they could be detained indefinitely under the Defence of the Realm Act. The army used the regular prisons for a lot of this, and those prison records for the 26 county area are online. While internment was common place, many of those arrested were brought to trial before an army officer in the local barracks and these courts martial trial registers survive too. For example, on 1st November 1920 John Corcoran of Castlecomer in County Kilkenny was caught up in an incident:
Military went to Courthouse Castlecomer to post up notices, some 20 civilians were near it. They were ordered 'Hands up' all complied except accused who rushed at one of the party in a ferocious manner, saying 'I defy the military', he was wounded by a shot.
John got 14 days hard labour for his trouble. So while few fought in the rebellion, it impacted on the lives of ordinary people in many many ways. Random arrests, raids by armed soldiers in the middle of the night, martial law "justice", intimidation under cover of rebellion, death by a stray bullet, destruction, and so on. It also happened in parallel with the First World War which left deep scars throughout the country. It was a traumatic time, but we are fortunate to have records to make sense of it.
Ready to Discover Your Family's Irish Past?