Jennifer Grey stars on Who Do You Think You Are?
Season nine of TLC's wonderful Who Do You Think You Are? continued last night, and featured the family history of 1980s movie mainstay Jennifer Grey, star of Ferris Bueller's Day Off, American Flyers, Red Dawn and, of course, Dirty Dancing.
Grey's immediate family history is easy to trace. She's the daughter of Joel Grey, an Academy Award-winning screenwriter, who in turn is the son of musician and comedian Mickey Glatz. Jennifer's mother Jo Wilder was also in the industry, working as an actress and singer.
Through her parents, Grey knew that her ancestry is Jewish, as both come from Jewish families, however beyond that her knowledge of her roots was minimal. Though she knew her grandparents, there was one - her grandfather - who she had never really grown close to. "What I perceived," she said about him "was a sadness in his soul." Grey's hope for her journey was to discover exactly what it was that made her grandfather seem so sad.
Jennifer's grandfather - Israel 'Izzy' Brower - immigrated to the US from Russia in 1907, aged 16. Family legend had it that he made this journey wearing a thick coat lined with the family's silverware. Grey said about his life before this voyage that it must have been difficult, as "you don't end up on a boat as a boy with silverware in your coat because things were just hunky dory."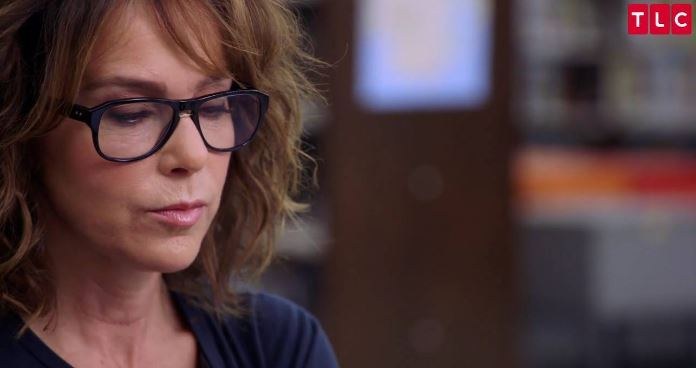 Jennifer Grey learning about her Russian roots
In NYC arrivals records, the Brower family can be found (though with inconsistencies in surname spelling) in 1907, but one figure is notably absent - Israel's mother. Grey's great-grandmother had long been a mystery to her; her mother didn't know her name, and there was no evidence of her having been in the US. The 1910 US census revealed the sad news that Israel's father, Solomon, was in fact widowed, meaning that Grey's great-grandmother died before her husband and children immigrated.
This story of Grey's nameless great-grandmother is a poignant one, providing some of the most emotional moments of the episode as Grey asks how it can be that nobody knew what she was called, what happened to her and why her mother was never told about her own grandmother's life.
For Israel, life in the US was hard. Anti-Semitic feelings in their new community meant finding work difficult, and so Israel entered the professional class, becoming a pharmacist. Not only was this a prestigious position, it also meant that he was not reliant on others for work. In learning about Israel's career, Grey also learns about his status as a conscientious objector during World War I when she is handed a scan of his draft registration card.
As season nine goes from strength to strength, this episode was possibly the most emotional (and emotionally draining!) yet. We can't wait for next week!
You may also like: