If you're like me, you stumble through life powered by 'should'. You 'should' replace the pan you burned when you forgot there was a cottage pie in the oven, you 'should' apologise to your neighbours for the overwhelming smell of charred mince and mashed potato that now permeates their hallway and you absolutely 'should' test the battery in your smoke alarm more often.
Explore our newspaper collection
There is no time of year more overburdened with 'should's than New Year's Day. Each and every year, we feel the pressure to make resolutions that bind us to quitting smoking, getting into shape, learning a new language and a raft of other 'should's that weigh us down until at least January 3rd.
This year I am not going to bother working out my own New Year's resolutions. Instead I intend to steal them from the days of yore, when 'should' concerned itself more with avoiding scurvy than eating fewer pastries. Here are my resolutions for 2016.
Framlingham Weekly News – Saturday 17 January 1920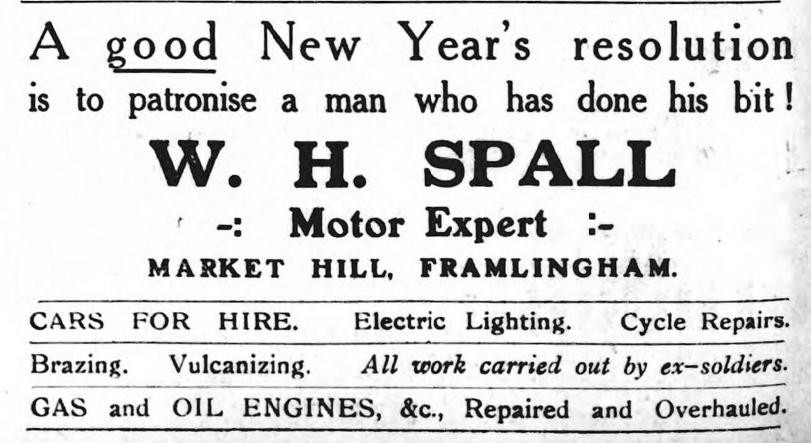 © THE BRITISH LIBRARY BOARD. ALL RIGHTS RESERVED
To start, I will ensure that I am as patronising as possible to all ex-service men and women who are currently employed as mechanics. This is a good New Year's resolution. Not my words, the words of W.H. Spall, and he is a motor expert I thank you very much.
Dundee Courier – Monday 01 January 1940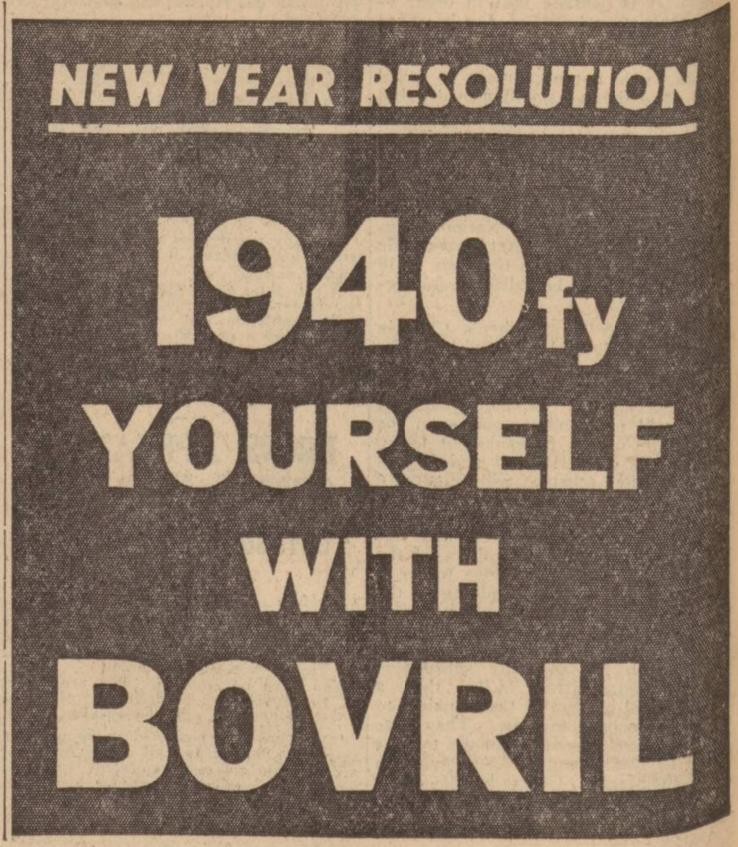 © THE BRITISH LIBRARY BOARD. ALL RIGHTS RESERVED
See, this is why this is such a valuable exercise. Without perusing the papers, I would never even have considered travelling 76 years back in time by harnessing the awesome power of beef tea. I think that's what '1940fy' means anyway, it is to all intents and purposes gibberish.
Derbyshire Times and Chesterfield Herald – Saturday 02 January 1932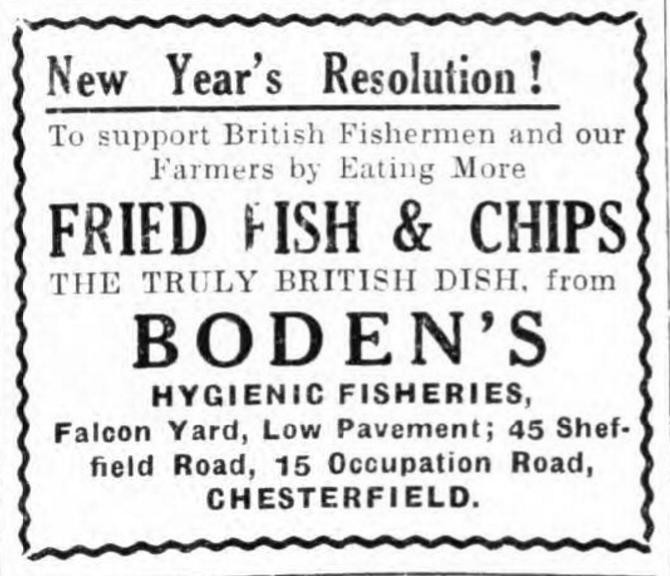 © THE BRITISH LIBRARY BOARD. ALL RIGHTS RESERVED
Bovril and fish and chips, the resolutions of a man determined to have a gout-filled 2016.

Dundee Evening Telegraph – Tuesday 09 January 1912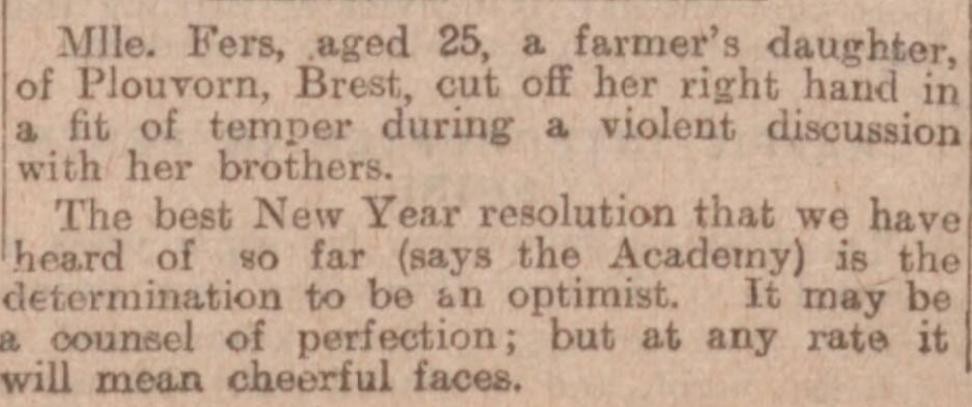 © THE BRITISH LIBRARY BOARD. ALL RIGHTS RESERVED
Why are these articles positioned like this? Is the second article a key learning from the first? Is it advice for anyone else considering amputating an extremity in the heat of the moment or? I'm all for optimism but this seems a little insensitive.

Sunderland Daily Echo and Shipping Gazette – Thursday 31 December 1936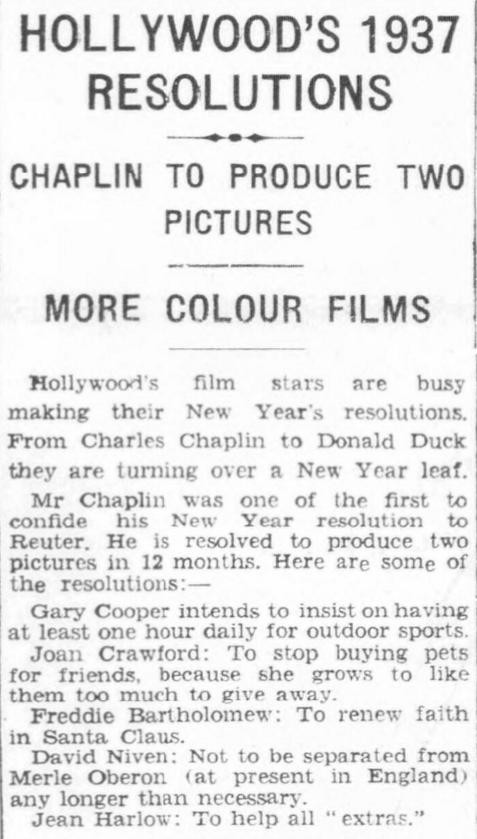 © THE BRITISH LIBRARY BOARD. ALL RIGHTS RESERVED
A bumper crop here from the finest talents in 1930s Hollywood. I can probably go along with Gary Cooper's. I'm also loath to be separated from Merle Oberon for any longer than necessary so Niven's is ok. Freddie Bartholomew's will be tricky given that I am already one of the most prominent champions of Santa in Europe, but I'll do my best. Joan Crawford's is where I draw the line. If you haven't seen the simple pleasure of a friend unwrapping a horse, you simply haven't lived. I'm not depriving myself of that wonderment.

Aberdeen Journal – Saturday 10 January 1925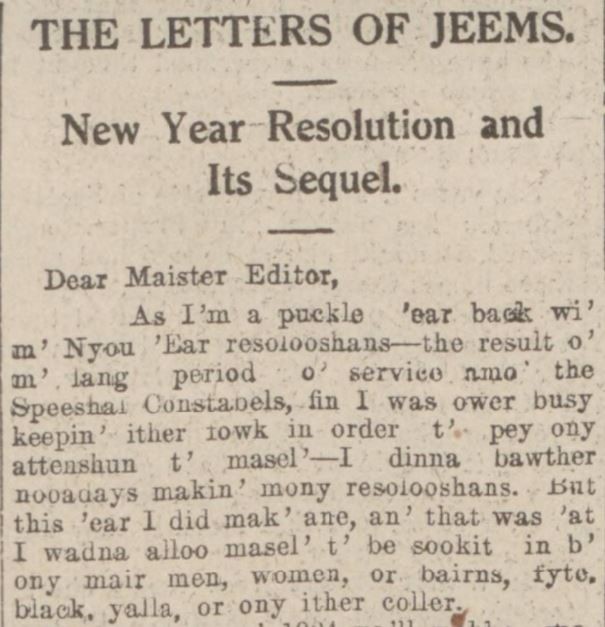 © THE BRITISH LIBRARY BOARD. ALL RIGHTS RESERVED
I…what?