Julie Bowen Discovers Abolitionist Ancestor!
Did you catch the second episode of Who Do You Think You Are? season nine last night? If you missed it, you missed some pretty spectacular revelations from the family tree of Modern Family star Julie Bowen.
Among the many discoveries made on the show, two stand out in particular. The first of which is the news that, on her father's side, Bowen is descended from Francis Julius LeMoyne, a doctor and prolific philanthropist whose social conscience drove him to leave an incredible legacy.
LeMoyne, a native of Washington, PA, was an ardent abolitionist who worked tirelessly for the common good. He founded Washington's first public library, co-founded the Washington Female Seminary and is the namesake of the LeMoyne-Owen College. On top of all this, LeMoyne built the first crematory in the United States in an attempt to prevent sickness in children caused by proximity to decomposing bodies.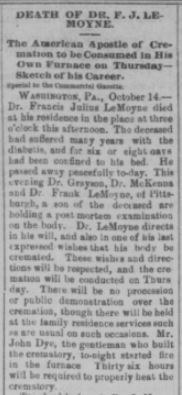 Part of Francis J. LeMoyne's obituary, Steubenville Weekly Herald, October 17, 1879
Copyright NewspaperARCHIVE.com
As every family historian knows, however, not every discovery is a comfortable one. There are dark areas of everyone's tree, and Bowen's is no exception. She discovered that her maternal great-grandfather, a Charles Daniel Frey, was head of the controversial American Protective League (APL) during World War 1. The APL was an organization of private citizens, formed with the mission of rooting out those sympathetic to the German cause during the War.
This meant that the APL - under Frey - raided houses, informed on those that they believed to be German spies and even went so far as to break strikes, disrupt political meetings, conduct surveillance operations and more.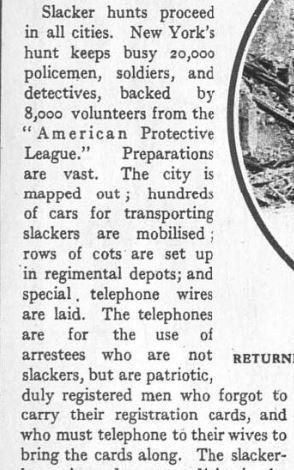 Report of a 'Slacker Hunt' supported by the APL. The Bystander, October 23, 1918
Image © Illustrated London News Group. Image created courtesy of THE BRITISH LIBRARY BOARD.
Bowen seemed shocked at the news that her ancestor had been involved at such a high level in an organization like the APL, saying that Frey is someone that she 'might have to find a way to forgive'.
After the royal revelations in Courteney Cox's episode last week, this might be shaping up to be the show's best ever season!