Locked up abroad: An American diplomat arrested during the 1916 Rising
James M. Sullivan was an Irish immigrant who rose to a prominent role as a U.S. diplomat. After being forced to resign from his position, he traveled back to Ireland and was arrested during the 1916 Rising.
He alleged terrible abuse at the hands of his captors, and his file can be found in our newly released Easter Rising collection.
The documents related to his complaints are remarkable: Because he was well connected and personally knew Secretary of State William Jennings-Bryan and President Woodrow Wilson, his allegations were apparently treated with a high degree of attention.
The numerous statements from Sullivan and his captors paint a revealing picture of the conditions of prisoners detained during the Rising. They also create somewhat of a mystery, because British officials categorically deny almost all of Sullivan's accusations, painting a far rosier picture of his imprisonment.
Was Sullivan really telling the truth? As it turns out, he had somewhat of a checkered past, and some of the explanations by British officers seem reasonable. We'll present the background and evidence, you be the judge!
Historical records of the 1916 Rising
From immigrant to diplomat
James M. Sullivan was born in Killarney in 1873, a fact confirmed in our Irish Roman Catholic Parish Baptisms collection. He immigrated to America at an early age, becoming a lawyer and eventually a diplomat.
He grew up in Brooklyn and studied law at Yale - afterwards, he became a lawyer and an active participant in Tammany Hall politics in New York City. In 1913, he received a diplomatic appointment to the Dominican Republic due to the favor of famous William Jennings-Bryan, who served as the Secretary of State under Woodrow Wilson at the time.
Our newspapers hold a very interesting article regarding his appointment, which appeared in the Dubuque Telegraph Herald, a newspaper from Iowa. The paper gives an unabashedly favorable view of Sullivan's appointment, sarcastically noting that he did not fit the usual stereotypes of a diplomat: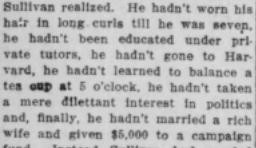 Sullivan came from far more humble, lower class origins than most diplomats, and although he had gone to Yale and was quite successful, was not considered a member of the societal elite. Dubuque Telegraph Herald, October 20, 1913 Copyright: NewspaperARCHIVE.com
The paper raved that "when he couldn't get men to reason together, he batted their heads together." The full article credited Sullivan's brash, strong-arm tactics with essentially ending a civil war in the Dominican Republic, something historically attributed to Woodrow Wilson, not a low level diplomat.
We can assume the bias in this article originates from Richard L. Murphy, editor of the Telegraph Herald at the time - he was a proud Irish American and connected to the Wilson administration. It's quite possible the two were friends, or there was another agenda.
Diplomatic scandal
It seems that Sullivan's somewhat uncultured approach to diplomacy was his undoing - he was soon embroiled in a scandal and recalled to Washington where he was investigated. He stood accused of meddling too much in the Dominican Republic's internal politics, and securing favorable business deals for his relatives.
Humorously, the New York Times also mentioned this incident in Sullivan's 1935 obituary:

Published: August 17, 1935Copyright: The New York Times
Scandalous!
Despite William Jennings-Bryan coming to his defense, Sullivan was forced to resign in 1915, and Woodrow Wilson accepted his resignation. Shortly thereafter, he traveled to Ireland, where he got caught up in a minor "international incident."
Imprisoned during the Rising
On Friday April 28th, 1916, Sullivan was arrested while out buying food for his pregnant wife, who was about to give birth.
He was imprisoned for approximately one week and upon his release immediately lodged a complaint with the U.S. Embassy. Most likely due to his connections with the U.S. State Department and President Woodrow Wilson, his accusations were exhaustively investigated - his file includes his own statement and numerous responses from jailers and others involved in his detention.
He seems to have been arrested simply for being "a well known extremist" which certainly wasn't out of the ordinary for the time.
After his arrest, he asked that the authorities inform his wife that he was okay, and also requested the American Consulate be notified. These requests were harshly denied, and he was put "under lock and key" in wretched conditions: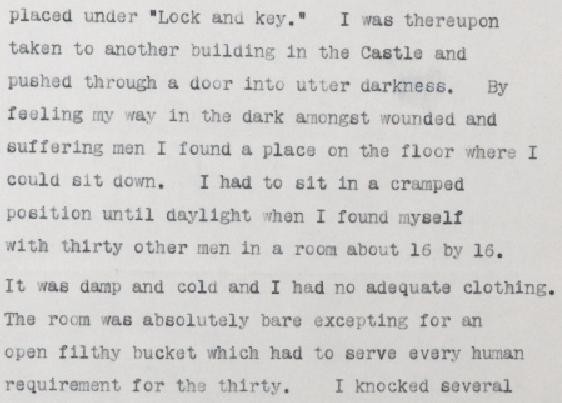 Sullivan's own words describing the conditions of his imprisonment.© Crown Copyright Images reproduced by courtesy of The National Archives, London, England.
The next day, he was given 3 biscuits and 1 ounce of beef, and was informed these were his rations for the next 24 hours. He was eventually brought before a commissioned officer and informed that he would be interned in England due to inflammatory speeches he had given 5 years prior, presumably regarding Irish independence.
Though he was moved between jail cells and even prisons, his conditions rarely improved. Constantly subjected to crowded cells, extremely unsanitary conditions and verbal abuse from his captors, James Sullivan's anger seems well justified.
The British response
He was eventually released, and seems to have immediately complained to the American Consulate. His statement of the ordeal was taken on May 15th, only a few days after his release. The subsequent investigation lasted until August of 1916, and involved multiple statements from individuals involved.
Not surprisingly, the British jailers defended their actions and accused Sullivan of slanderous lies. Our collection contains an item-by-item response to each accusation contained in Mr. Sullivan's statement, and even a detailed overview of the food served to those detained in his jail!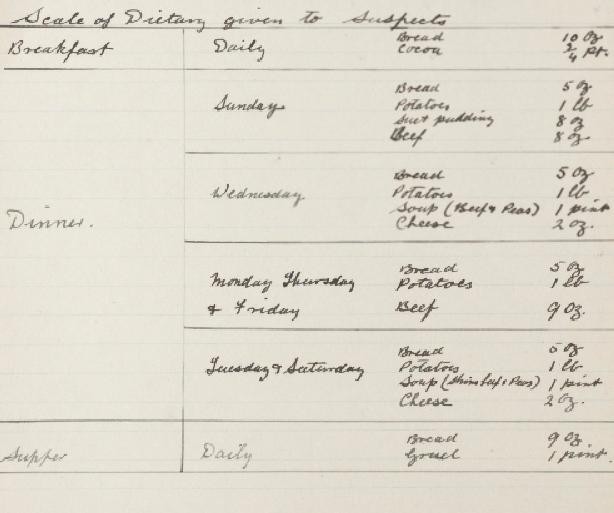 This "menu" may lead one to believe that Sullivan was served far more than 1 oz of beef, but is that really true? Later statements by other officers indicate there was in reality, far less food to go around. © Crown Copyright Images reproduced by courtesy of The National Archives, London, England.
While most of the statements from British personnel downplay Sullivan's complaints, one account reveals things were far from humane in the first jail he was held in (transcribed quote is below the image):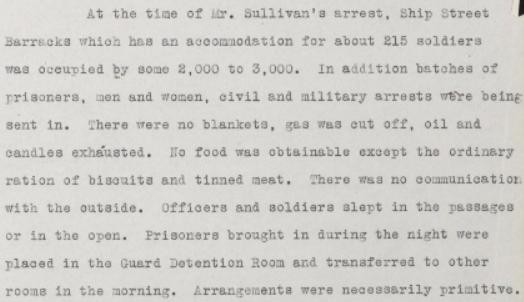 © Crown Copyright Images reproduced by courtesy of The National Archives, London, England.
At the time of Mr. Sullivan's arrest, Ship Street Barracks which has an accommodation for about 215 soldiers was occupied by some 2,000 to 3,000. In addition batches of prisoners, men and women, civil and military arrests were being sent in. There were no blankets, gas was cut off, oil and candles exhausted. No food was obtainable except the ordinary ration of biscuits and tinned meat. There was no communication with the outside. Officers and soldiers slept in the passages or in the open. Prisoners brought in during the night were placed in the Guard Detention Room and transferred to other rooms in the morning. Arrangement were necessarily primitive."

Who do we believe?
100 years later, it's hard to know whose version of the story is more accurate. The fighting was certainly still happening on April 28th, so it's understandable that conditions were crowded and it truly may have been impossible to communicate with Sullivan's wife or the American consulate.
Sullivan's passport was confiscated by the British, so they definitely knew he was really an American. From both accounts, it does appear he was given more attention than an average inmate, so it's very possible that his treatment wasn't nearly as bad as those who were citizens of Ireland. In fact, we can safely assume that - despite probably verbal abuse from guards and disgusting conditions - his treatment was on the better end of the spectrum as far as rebel prisoners were concerned.
It certainly appears that the British officers involved were scrambling to save face during the investigation and likely considered themselves very unfortunate to have apprehended someone with such close ties to the President of the United States.
Ultimately, Sullivan would return to America and live until 1935, when he passed away in St. Petersburg, Florida.