New Records: Byrne's Irish Times Abstracts 1859-1901
Byrne's Irish Times Abstracts 1859-1901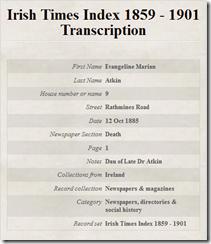 New records alert! 200,000 names in Byrne's Irish Times Abstracts 1859-1901, covering Dublin City and it's Southern suburbs, including births, marriages, deaths, legal cases and property sales.
These records cover the City of Dublin and its southern suburbs from 1859 to 1901 and are based solely on data extracted from the Irish Times. This newspaper was chosen by the data provider because of is exemplary coverage of daily events, from births, marriages and deaths to employment details and legal cases.
More than in many other long developed countries, newspapers in Ireland are of great value to historians and those tracing their Irish ancestors. The depth of coverage, concern for the laws of defamation and the self-interest of advertisers, all help to ensure the veracity of the entries. However the material is relatively inaccessible, being contained in reels of microfilm.
What has been indexed?
There are entries for virtually every building in every street in Dublin and its Southern suburbs.
People
Births

Marriages

Deaths

Accidents

Employment

Suicides

Social activities

Criminal and civil law cases
Property
Sales

Lettings

Households

Lodgings

Prices

Sanitary conditions

Names of occupants (both current and previous, historical facts)
What has not been indexed?
Records of the police

the army

various churches and sports
(the records of these organizations are reasonably intact)
Why is it valuable for research?
The destruction of the Public Records Office in Dublin in 1922 with its circa 25 miles of shelved records created an almost unbridgeable gap. However old newspapers of the time remain almost intact but it is only with dedication or luck that particular items can be found in the many reels of microfilm.
Particular attention has been paid to the poor as few records were left by them. Also the deterioration of once fashionable streets with single family homes into densely crowded tenements has been given particular attention. If it was recorded in the Irish Times, it is here.
About the data-provider
Peter F. Byrne is a member of the English Bar and is licensed to practice law in the United States (California). He was educated in Dublin and at London University. He is an enthusiastic genealogist and historian with a particular interest in the history of Dublin.