NEW RECORDS: Findmypast.com Collections Head North with Debut of Canadian Books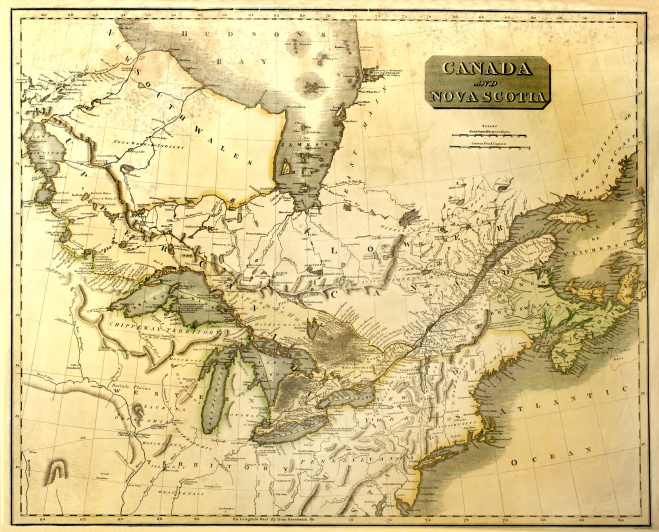 Addition from Archives CD Books Canada Provides 200 Name-rich, Searchable Volumes
Findmypast.com, an international leader in online family history, today announced the recent addition of Canadian Books from Archives CD Books Canada to the site. The collection of books cover numerous subjects in 200 volumes that span nearly three centuries of North American heritage from across the continent, including nine Canadian provinces. The Canadian Books are now available in findmypast.com's continually growing collection of US and Canadian resources as a core resource for Canadian and Scotch-Irish researchers.
Dating back to the 1600s, the Canadian Books boast 71,000 pages of items such as military, religious, occupational and immigration records, business directories, published genealogies and BMDs. While a primary Canadian resource, its scope of literature crosses over various nationalities and US territories. With titles such as Sketches of Irish soldiers, The Scotch-Irish of California, and German-Canadian folklore the collection is valuable for people with Canadian ancestry and those who can trace their origins back to the UK or Europe.
The books feature a sizeable amount of military records with various nominal rolls and rolls of honour relating mostly to the First World War, such as The Royal Montreal Regiment, 14th Battalion, University of Toronto Roll of Service 1914-1918 and 31st Canadian Infantry CEF 1914-1919.
"The vast amount of information in these books touch upon almost every aspect of daily life in the past," said D. Joshua Taylor, lead genealogist for findmypast.com, "as a fundamental backbone for Canadian research, this addition furthers our mission to bring together strong resources from all parts of the English-speaking world that your ancestors migrated to."
This collection of Canadian Books is accessible on all findmypast international sites through a World Subscription.
See below for a complete list of the Canadian Books collection on findmypast.com:
A McCurdy Family History

Andrew Jackson.

British Columbia, Canada- British Columbia from the Earliest Times to the Present, Biographical (vol. 3)

British Columbia, Canada- British Columbia from the Earliest Times to the Present, Biographical (vol. 4)

British Columbia, Canada- Influence of the War of 1812 upon the Settlement of the Canadian West

British Columbia, Canada- On Canada's Frontier

British Columbia, Canada- Sunset Canada - British Columbia and Beyond

British Columbia, Canada- The Gold Stripe, nos 1-3, 1919

British Columbia, Canada- Year Book, 1903

Bush Life in the Ottawa Valley.

Canada- "Canada," 1916

Canada- 13th Battalion Royal Highlanders of Canada, 1914 - 1919

Canada- 1837 Rebellion Losses, Claimants for Damages, 1849

Canada- 24th Battalion, C.E.F., Victoria Rifles of Canada, 1914 - 1919

Canada- 2nd Canadian Heavy Battery, 1914-1919

Canada- 42nd Battalion, C.E.F. Royal Highlanders of Canada

Canada- A History of the War of 1812

Canada- Barristers and Solicitors, 1919

Canada- Canada's Hundred Days

Canada- Canadian Militia, 1919

Canada- Elected Representatives and Civil Servants of the Canadian Dominion Government, 1919

Canada- First World War, photographs of 72 military unit badges.

Canada- First World War Honor Roll of the Canadian Bank of Commerce

Canada- First World War, Honour Roll of Bank of Hamilton & Standard Bank of Canada

Canada- Foreign Consuls, 1919

Canada- From the Rideau to the Rhine and Back

Canada- Gazetteer and Business Directory, 1930

Canada- History of the 16th Battalion CEF, 1914-1919

Canada- History of the 31st Canadian Infantry Battalion C.E.F.,  1914-1919

Canada- History of the Canadian Forces, 1914-19, Medical Services

Canada- History of the Twentieth Canadian Battalion (Central Ontario Regiment) C.E.F., 1914 - 1918

Canada- Letters from the Front, 1920

Canada- List of Orders and Awards, 1919

Canada- Listings from the Wesleyan - Methodist Almanac for Canada, 1845

Canada- Lovell's Canadian Dominion Directory, 1871

Canada- Nationwide (1872 and 1894), Quebec (1853)

Canada- Obituaries from The Canadian Annual Review of Public Affairs, 1906

Canada- Officers and Men in the First Canadian Contingent, 1914

Canada- Official History of the Canadian Forces in The Great War

Canada- Patents of Canada, 1824-1849

Canada- Pathfinders of the West

Canada- Presbyterian Pioneer Missionaries

Canada- Provincial Government Personnel List, 1919

Canada- Railways, Steamships & Steamboats in Canada

Canada- Regimental History of the Governor General's Foot Guards

Canada- Royal Montreal Regiment, 14th Battalion, C. E. F, 1914-1925

Canada- Royal Montreal Regiment, 1925-1945

Canada- Story of the Sixty-Sixth C.F.A.

Canada- The Canada Directory, 1853/1854

Canada- The Century Cyclopedia of Names

Canada- The Clergy of Canada, 1919

Canada- The Irishman in Canada

Canada- The Loyalists of America and Their Times from 1620 to 1816

Canada- The Peace River Country

Canada- The Scotch-Irish in Canada.

Canada- The Tragic Story of the Empress of Ireland (and other great sea disasters)

Canada- Three Years in Canada

Canada- Thrilling Experiences in the War in South Africa

Canada- Who, What & When in Canada (before the 20th Century)

Canada- Work of the Canadian Archives, 1908 - 1913

Capt. Joseph Brant's Status as a Chief, and some of His Descendants

Chief Smoke Johnson.

Ireland- Facts About Ulster

Ireland- Sketches of Irish Soldiers in Every Land

Manitoba, Canada- 1951 List of Electors for Rural Municipality of South Norfolk

Manitoba, Canada- Provincial Telephone Directory #119, December 1947

New Brunswick Canada- New Brunswick in the 1940's

New Brunswick, Canada- The First Fifty Years of the Church of England in the Province of New Brunswick, 1783-1833

Nova Scotia, Canada- A Compendium of the Shipping of Yarmouth, 1761-1902

Nova Scotia, Canada- A History of the County of Antigonish

Nova Scotia, Canada- Cape Breton, Canada

Nova Scotia, Canada- Eastern District Telephone Directory, 1922

Nova Scotia, Canada- Historical and Genealogical Record of the First Settlers of Colchester County

Nova Scotia, Canada- History of Nova Scotia (vol. 3)

Nova Scotia, Canada- Louisbourg, an Historical Sketch.

Nova Scotia, Canada- Nova Scotia in its Historical, Mercantile and Industrial Relations

Nova Scotia, Canada- One Hundred Years with the Baptists of  Amherst

Nova Scotia, Canada- Relief Map & Directory, 1931

Nova Scotia, Canada- Ships of War, Lost on the Coast of Nova Scotia and Sable Island, during the Eighteenth Century

Nova Scotia, Canada- The History of the Presbyterian Church in Cape Breton

Nova Scotia, Canada- The Royal Province of New Scotland and her Baronets

Nova Scotia, Canada- Yarmouth Past and Present, A Book of Reminiscences

Nova Scotia, Canada- Yarmouth...a Sequel to Campbells History

Nova Scotia, Canada, A Chapter in the History of the Township of Onslow

Nova Society, Nova Scotia's Part in the Great War

Nova Scotia- Halifax & District Telephone Directory, 1950

Obituary of a Noted Anthropologist (Dr. A. F. Chamberlain).

Ontario, Canada- A Biographical History of Waterloo Township and other Townships of the County

Ontario, Canada- A History of Simcoe County

Ontario, Canada- A History of St. John's Church, Smiths Falls

Ontario, Canada- A History of the County of Grey

Ontario, Canada- Annual Report of St. Paul's Church, Hamilton, 1905 - 1939

Ontario, Canada- Baptism records of Rev. John Langhorn(Church of England)  of Fredericksburgh, 1787-1813

Ontario, Canada- Baptism register of Rev. Robert McDowall (Presbyterian) of Fredericksburgh, 1800-1841

Ontario, Canada- Baptisms in St. Mark's and St. Andrew's Churches, Niagara.

Ontario, Canada- Belleville Directory, 1940

Ontario, Canada- Bench and Bar in the Early Days, London

Ontario, Canada- Berlin Celebration of Cityhood

Ontario, Canada- Burial records of Rev. John Langhorn.(Church of England)of Fredericksburgh, 1787-1813

Ontario, Canada- Canada.  Its Defences, Condition, and Resources

Ontario, Canada- Church of England Synod Proceedings, Extracted Personnel Data, 1944

Ontario, Canada- Commemorative Biographical Record of the County of Lambton

Ontario, Canada- Commemorative Biographical Record of the County of York

Ontario, Canada- David Zeisberger and his Delaware Indians

Ontario, Canada- Diary of a Voyage from Scotland to Canada, 1833

Ontario, Canada- Directory of Smiths Falls, 1948

Ontario, Canada- Down the Years with Our Lady of Grace Parish, 1863 - 1955

Ontario, Canada- Early Days at Port Ryerse

Ontario, Canada- Early Records of Burials in St. Mark's and St. Andrew's Churches

Ontario, Canada- Early Records of Weddings at St. Mark's and St. Andrew's Churches, Niagara

Ontario, Canada- Feudalism in Upper Canada  (McNab Township, Renfrew Co), 1823 - 1843

Ontario, Canada- First World War, London's Honor Roll

Ontario, Canada- Fleming's Farm and Live Stock Almanac, 1916

Ontario, Canada- Galt, Guelph, Kitchener-Waterloo, Telephone Directory, November 1958

Ontario, Canada- Gleanings from the Sheriff's Records, London

Ontario, Canada- Golden Jubilee, the T. Eaton Co. Ltd., 1869 - 1919

Ontario, Canada- Governor Simcoe's tour through Southern Ontario

Ontario, Canada- Hamilton Centennial 1846 - 1946

Ontario, Canada- Historical Sketch of Markham Township, 1793 - 1950

Ontario, Canada- Historical Sketches of the County of Elgin

Ontario, Canada- History of  Toronto and County of York, Ontario

Ontario, Canada- History of Leeds & Grenville from 1749 to 1879

Ontario, Canada- History of the County of Bruce

Ontario, Canada- History of the County of Lennox and Addington

Ontario, Canada- History of the County of Middlesex, Canada

Ontario, Canada- History of the County of Perth from 1825 to 1902

Ontario, Canada- History of the Hospital for the Insane, Penetanguishene

Ontario, Canada- History of the Ottawa Valley

Ontario, Canada- History of the Settlement of Upper Canada

Ontario, Canada- Illustrated Historical Atlas of Frontenac, Lennox and Addington Counties

Ontario, Canada- Inscriptions & Graves in the Niagara Peninsula

Ontario, Canada- Land Settlement in Upper Canada 1783-1840

Ontario, Canada- Local History of the Town of Brockville

Ontario, Canada- Marriage records of Rev. John Langhorn (Church of England) of Fredericksburgh, 1789-1813

Ontario, Canada- Marriage register of Rev. Robert McDowall (Presbyterian) of Fredericksburgh, 1800-1836

Ontario, Canada- Marriage register of Stephen Conger, Jusitce of the Peace of Hallowell, Prince Edward County

Ontario, Canada- Midland High School Review, Year Book, 1932

Ontario, Canada- Ontario County; A Short Sketch of its Settlement, Physical Features and Resources

Ontario, Canada- Ontario, Canada- German-Canadian Folk-Lore

Ontario, Canada- Original constitution and membership, Ontario Historical Society, 1899

Ontario, Canada- Ottawa City Directory, 1861-1862

Ontario, Canada- Ottawa City Directory, 1909

Ontario, Canada- Ottawa City Directory, 1926

Ontario, Canada- Ottawa Past and Present

Ontario, Canada- Past and Present Fortifications at Kingston

Ontario, Canada- Past Years in Pickering

Ontario, Canada- Pembroke Ontario's Centenary

Ontario, Canada- Pioneer Life in Zorra

Ontario, Canada- Pioneer Papers nos. 1-6, Simcoe County Early History

Ontario, Canada- Pioneer Politicians, London

Ontario, Canada- Pioneer Sketches in the District of Bathurst

Ontario, Canada- Provincial Government Personnel List, 1919

Ontario, Canada- Queens University Summer School Prospectus, 1943

Ontario, Canada- Recollections and Records of Toronto of Old

Ontario, Canada- Remarks on negotiation of the US -Canada border between St. Regis and Sault Ste. Marie.

Ontario, Canada- Reminiscences of earlier years in Brant

Ontario, Canada- Reminiscences of the First Settlers in the County of Brant

Ontario, Canada- Report of the Ottawa and Hull Fire Relief Fund

Ontario, Canada- Roll of Pupils of Upper Canada College, Toronto, 1830-1916

Ontario, Canada- Rural Directory for the Electoral District of  Lincoln, January 1929

Ontario, Canada- Shanty, Forest and River Life

Ontario, Canada- Stormont, Dundas and Glengarry- A History

Ontario, Canada- The Cameron Rolls, 1812

Ontario, Canada- The Canadian Biographical Dictionary,1880.

Ontario, Canada- The Caradoc Academy

Ontario, Canada- The Ethnographical Elements of Ontario

Ontario, Canada- The Great Western Railway

Ontario, Canada- The History of the County of Welland, Ontario

Ontario, Canada- The Hub and the Spokes - The Capital and its Environs

Ontario, Canada- The London Grammar School and the Collegiate Institute

Ontario, Canada- The Magnet (vol. 8, no. 1), Jarvis Collegiate Instiute Yearbook, 1926

Ontario, Canada- The Migration of Voyageurs from Drummond Island to Penetanguishene in 1828.

Ontario, Canada- The Naming of London Streets

Ontario, Canada- The Parish Register of Kingston (Ontario) Upper Canada

Ontario, Canada- The Pioneers of Old Ontario

Ontario, Canada- The Proudfoot Papers per L&M.H.S.

Ontario, Canada- The Settlement of London

Ontario, Canada- The Settlement of the County of Grenville

Ontario, Canada- The Settlers of Lobo Township

Ontario, Canada- The Settlers of March Township

Ontario, Canada- The Society of Friends of Lobo Township

Ontario, Canada- The Story of Dundas

Ontario, Canada- The Story of St. Andrew's Presbyterian Church, Cobourg

Ontario, Canada- The Township of Scarboro, 1796 - 1896

Ontario, Canada- The Village of London

Ontario, Canada- The War Book of Upper Canada College, Toronto, 1914-1919

Ontario, Canada- The Western University

Ontario, Canada- The White Chief of the Ottawa

Ontario, Canada- Toon O' Maxwell—An Owen Settlement in Lambton County

Ontario, Canada- Toronto & the Home District Directory, 1837

Ontario, Canada- Toronto, Hamilton & London, Society Blue Book , 1900

Ontario, Canada- Torontonensis - The year book of the University of Toronto (vol. 17), 1915

Ontario, Canada- Torontonensis - The year book of the University of Toronto (vol. 38), 1936

Ontario, Canada- Toronto's 100 Years

Ontario, Canada- Tribal Divisions of the Indians of Ontario

Ontario, Canada- United Empire Loyalists of the old Johnstown District

Ontario, Canada- University of Toronto Roll of Service, 1914-1918

Ontario, Canada- University of Toronto, Commencement Program, 1947

Ontario, Canada- Vernon's London Directory, 1944

Ontario, Canada- War of 1812-15

Ontario, Canada- Welland County Minutes, 1936

Ontario, Canada, Ottawa & Kingston City Directory, 1875

Ontario, CanadaThe Fathers of London Township

Ontario, London Public Schools, 1848-1871

Quebec, Canada- A History of the Eastern Townships

Quebec, Canada- Histoire de Longueuil et de la famille de Longueuil

Quebec, Canada- L'Ile d'Orleans

Quebec, Canada- Lovell's Business & Professional Directory, 1890-1891

Quebec, Canada- McGill University at War, 1914-1918 and 1939-1945

Quebec, Canada- McGill University, Directory of Graduates. 1946

Quebec, Canada- Pioneers of the Upper Ottawa and the Humors of the Valley

Quebec, Canada- Sketches of some Early Shefford Pioneers

Quebec, Canada- Storied Province of Quebec - Biographies (vols. 3-5)

Quebec, Canada- Storied Province of Quebec - History (vols. 1-2)

Quebec, Canada- The Call to Arms

Quebec, Canada- The History of the Parish of Hull Quebec, 1823-1923

Reminiscences by Judge William Elliott

Richard John Uniacke, a Sketch.

Robert Wilson, Pioneer Teacher (London, Ontario)

Saskatchewan, Canada- History of Saskatchewan and its People - Biographies)

Saskatchewan, Canada- History of Saskatchewan and its People - Histories

Saskatchewan, Canada- Saskatoon Telephone Directory, 1944

Saskatchewan, Canada- The Greyston

Sketch of Peter Teeple, Loyalist and Pioneer, 1762 - 1847

Some descendants of Joseph Brant

The Bramshott Souvenir Magazine

The Gilbert Family History (vol. 5), Ancestry of William Forbes

The Gilbert Family History (vol. 6), Ancestry of Ezra Holton

The Gilbert Family History (vols. 1 & 2), Ancestry of  Nancy Treadway & Melvin Moffatt

The Gilbert Family History (vols. 3 & 4), Ancestry of Daniel Britton & Sally Wood

The Gilbert Family History, (vols. 7 & 8), Ancestry of  Solomon Gilbert & Thankful Haskell

The Reverend Richard Bradford

The Scotch - Irish in East Tennessee.

The Scotch-Irish in South-Western Pennsylvania.

The Scotch-Irish of California

The Scotch-Irish of Kentucky

The Voyages and Discoveries of the Cabots.

The Winslow Papers, 1776-1826

United Kingdom- Attleborough in War Time

United Kingdom- London in the Olden Time

United States- Officers And Members Of The Scotch-Irish Society Of America, 1891

United States- Our Pledge to Posterity

United States- Patriotism of The Scotch-Irish.

United States- The Scotch-Irish of The Bench And Bar

United States- The Scotch-Irish People- Their Influence in the Formation of the Government of the United States.

United States- The Scotch-Irish Race Among the Nations

United States/Canada- Directory of the Biscuit and Cracker Bakers of the United States and the Dominion of Canada, 1885

United States/Canada- Lovell's Gazetteer of British North America, 1874

United States/Canada- The Blue Book, Textile Directory, 1897-1898

United States/Canada- The Scotch-Irish in the General Synod of the Reformed Presbyterian Church of North America
To learn more about findmypast.com or to get started on your own family history:
Like findmypast on Facebook at https://www.facebook.com/findmypastus

Follow findmypast on Twitter at https://twitter.com/findmypastus

Follow findmypast on Pinterest at http://pinterest.com/findmypastus/