Odd Jobs for Australia and New Zealand in British Passenger Lists
More than a few people have lusted after the gadgets and shroud of secrecy that defines the life of the Dark Knight. While a family history search may not reveal whether your ancestor was a superhero, here at findmypast.com we found more than a few batmen and bird boys listed as job titles for British passengers emigrating to Australia and New Zealand.

The 1911 England & Wales census also on findmypast.com gives insight into a variety of occupations that have lost significance in a modern world. The records include entertainingly ambiguous job titles, including knockers-up, snobs, chocolate dippers, devils, hokey-pokey men, and bondagers.
"Despite what may come to mind, a 'knocker up' was somebody employed to give the alarm call to factory workers, and a 'snob' was a bootmaker and repairer to the wealthy," said Emma Kelly, findmypast's marketing executive for Australia and New Zealand. "A 'batman' is actually a personal servant of an army officer, not a caped crusading superhero. There may have been a need for more devils too, which are actually printer's errand boys."
Travelers a century ago flocked on passenger ships from Great Britain to Australia and New Zealand bringing distinct professions to their new homes.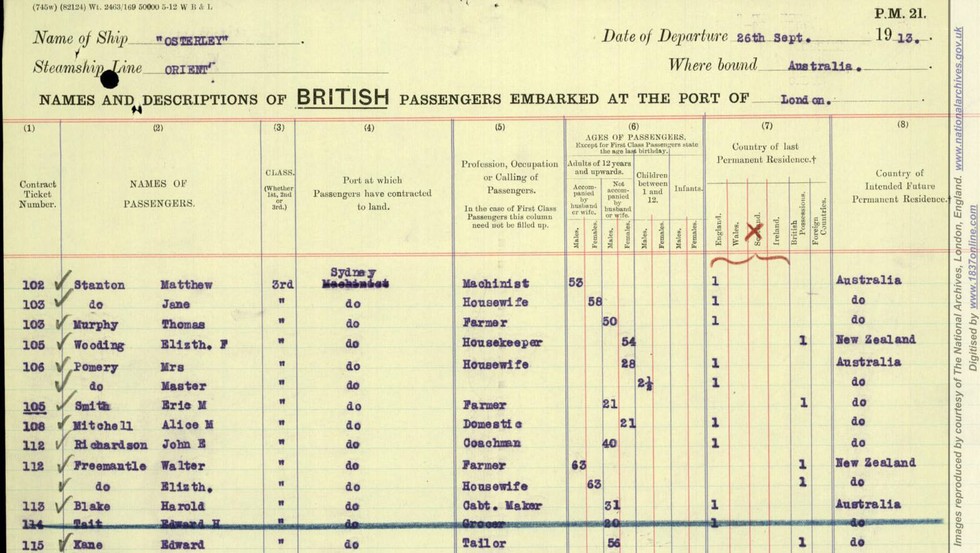 Ship passenger lists showed an abundance of laborers, domestic servants and railway workers, which were today's equivalent of the cashier, office clerk, and food service employee.
Perhaps less familiar professions found on passenger lists in 1911 included cricket bat maker, felt hatter, and lapidary specialist, a term for a person a gem artist.
These detailed passenger lists on findmypast.com illustrate the melting pot that defines the varied roots of ancestors that relocated Down Under. The lists contain 24 million names across 1890-1960 and help many family historians in the U.S. bridge the gap between their British roots and Australian or New Zealand heritage.