Paul Nixon's Despatches: Uncovering gems in soldiers' service records
We noticed, when we were transcribing the service and pension records that now comprise our British Army Service Records 1914-1920 collection, that tucked away in some men's service records were what appeared to be random lists of men. In some cases one of the names on the list was the man whose file we were looking at, but in many cases these lists bore no relation to the subject at all. We took the decision to index these lists, wherever we found them, and by doing so generated a further 600,000 names which otherwise would have been lost for ever.
I was researching a man for my WW1 Remembrance blog and alighted on Sergeant Reginald Horton of the 15th West Yorkshire Regiment (1st Leeds Pals) who died of wounds on the 12th November 1918, a day after the Armistice was signed. He'd been wounded on 3rd May 1917 near Arras and died as a result of these wounds in a German prisoner of war camp 18 months later. No service record survives for this man but there is a fragment – one of these randomly inserted lists – which we indexed and which provides fascinating information.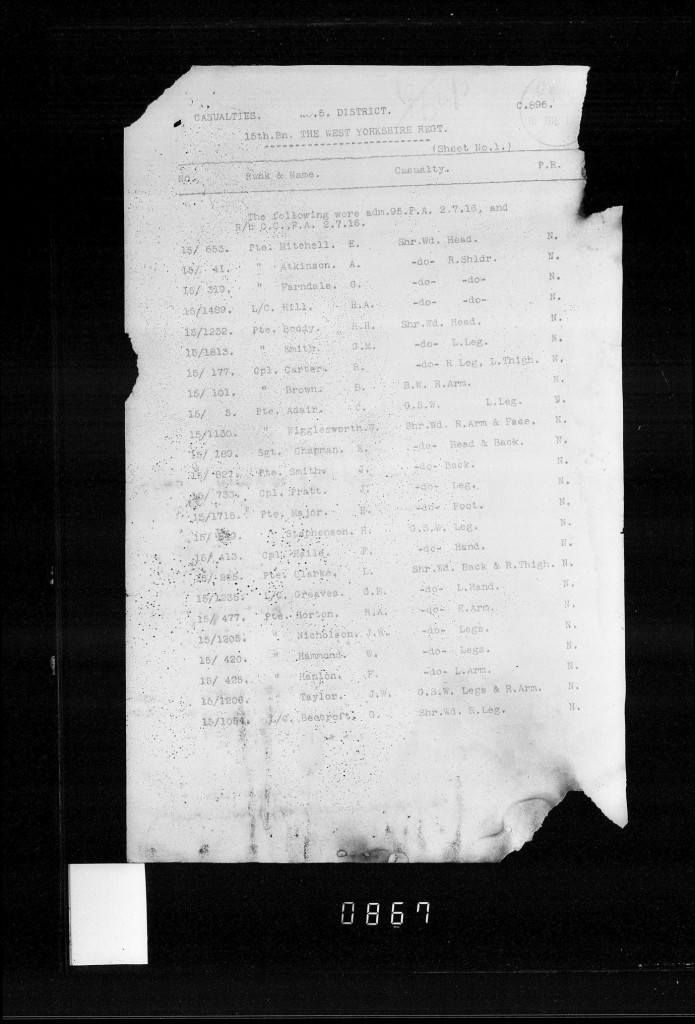 What we have here is a partial list of 24 men from the 1st Leeds Pals who were wounded in the attack on Serre on the 1st July 1916. I was surprised to note that the majority of the men listed here (19) were admitted with shrapnel wounds rather than gunshot wounds from the undamaged machine guns which were brought up from those deep German dugouts on the 1st July 1916 and brought into action with such devastating effect. Private Reginald Horton is here with shrapnel wound to his right arm.

This is the only information that we have found that survives in First World War service records for Reginald, and yet what crucial information it is. The 1st Leeds Pals had close to 250 men killed in action or died of wounds as a result of their unsuccessful advance that day, and many more, like Reginald, were wounded badly enough to be sent back home to England.
With these record fragments, Findmypast provides context to where they are located. By looking at the transcription for this record (below) I can see that this image appears within the record for 1601 John Albert Hatton of the London Regiment. Knowing this enables me to call up John Hatton's record to see if there is any additional contextual information that could help me understand more about Private Horton's wounding. We know that the information about Reginald appears on frame 0867 and so quickly navigating to the right image within John Hatton's record presents no problems.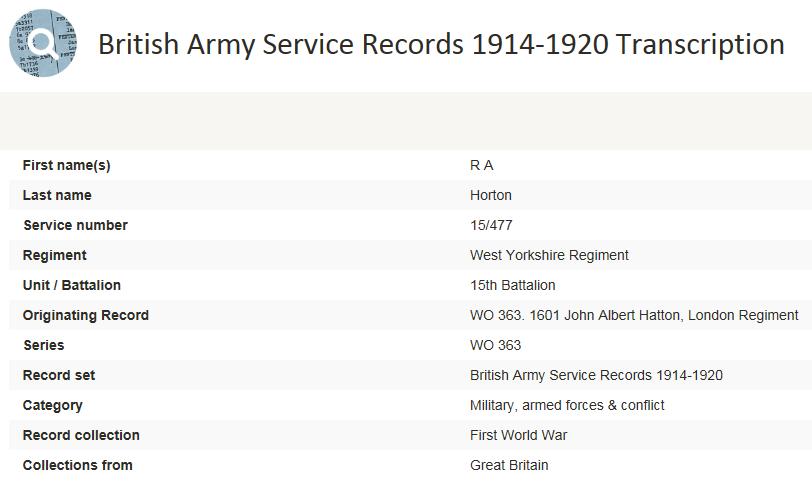 As for Reginald, he has the unhappy distinction of being wounded in two major British offensives. I am guessing that after his wounding in July 1916 he would have been sent back to England where he recovered well enough to be returned to his battalion. Between the two woundings he was also obviously promoted.
On 3rd May 1917, the 15th West Yorkshire Regiment attacked with an under-strength contingent of 547 officers and men. The war diary notes, in characteristically under-stated fashion, "As the day advanced it was realized we had lost heavily, and only three officers came back." The diary records that four officers and 15 Other Ranks were killed, with four officers and 384 other ranks either wounded or missing. Reginald was one of 262 men reported missing. He would later be picked up by the Germans and would spend time in four prisoner of war camps, finally dying of his wounds in Doberitz camp. He is buried under a Commonwealth War Graves Commission headstone in the Berlin South-West Cemetery.
What's the most interesting military record you've found when researching your family history? Tell us in the comments.
More about Paul: Paul Nixon has been researching British military history for nearly 35 years (and he's not finished yet). As well as working in the licensing team at Findmypast, he also publishes a number of military blogs including one on Army Service Numbers 1881-1918, British Army Medals and a remembrance blog for the dead of the First World War: WW1 Remembrance.