Presidents in the Papers: Former Presidents in Their Own Words
This year's presidential election has been – at least for the past 18 months – ever-present on our televisions, social networks and newspapers. The rhetoric from all candidates has been reported on in great detail, and with this in mind, we thought we'd delve into our collections of historic newspapers for insights into how former presidents were portrayed in the media.
What we found was a wealth of quotes, speeches and polemics from former presidents that show how much – and, in some cases, how little – has changed since the days of George Washington. We've pulled together some of our favorites below.
The Chester Chronicle – Friday June 26 1789
On June 26, 1789, the British newspaper The Chester Chronicle printed an address to George Washington from the House of Representatives, in which they congratulated him on his appointment as president, saying about the American people that 'You have long held the first place in their esteem; you have often received tokens of their affection; you now possess the only proof that remains of their reverence for your wisdom, and their confidence in their virtues. You enjoy the highest, because the truest honour, of being the first magistrate, by the unanimous choice of the freest people on the face of the earth.'
Washington's response was characteristic.
'Gentlemen,' he wrote 'your very affectionate address produces emotions which I know not how to express. I feel that my past endeavours in the service of my country are far overpaid by its goodness; and I fear much that my future ones may not fulfil your kind anticipation. All that I can promise is, that they will be invariably directed by an honest and ardent zeal. Of this resource, my heart assures me. For all beyond, I rely on the wisdom and patriotism of those with whom I am to co-operate, and a continuance of the blessings of heaven on our beloved country. G. Washington.'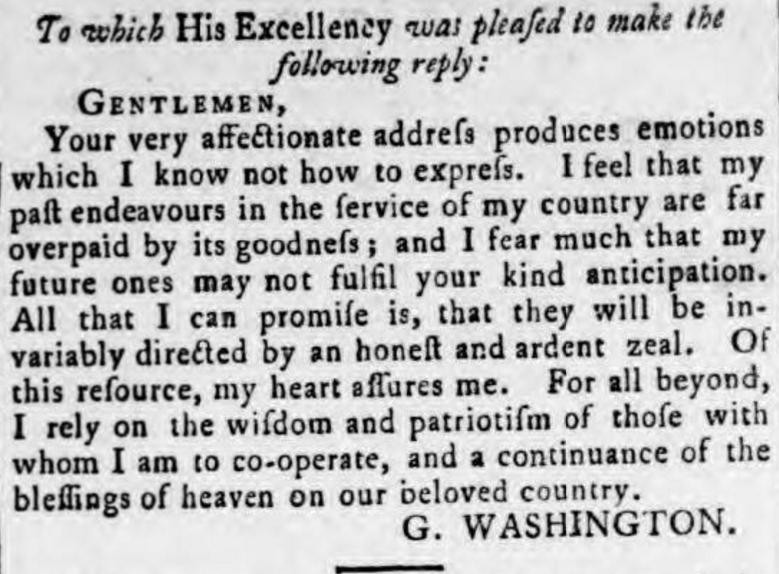 President George Washington's address in The Chester Chronicle – Friday June 26 1789
Paisley Herald and Refrewshire Advertiser – Saturday, March 23 1861
In March of 1861, newspapers around the world printed detailed accounts of President Lincoln's inauguration. The Paisley Herald and Renfrewshire Advertiser not only gave a retrospective of the day's schedule and highlights (William H. Seward's speech being received by one spectator who was quoted as saying 'I am a Virginian, and a southern man all over, but I'll trust that man anywhere. I've watched his course for a long time, and I know he's honest.'), it also quoted President Lincoln's speech in its entirety.
Unsurprisingly, the issue of breaks in the Union are the primary focus of the President's speech, which ends on an imploring note.
'In your hands, my dissatisfied fellow-countrymen, and not in mine, is the momentous issue of civil war. The government will not assail you. You can have no conflict without you yourselves being the aggressors. You have no oath registered in Heaven to destroy the Government, while I shall have the most solemn one to "preserve, protect and defend" it. I am loth to close. We are not enemies but friends. We must not be enemies. Though passion may have strained, it must not break our bonds of affection. The mystic chords of memory stretching from every battle-field and patriot's grave to every living heart and hearthstone all over this broad land, will yet swell the chorus of the Union, when again touched, as surely they will be, by the better angels of our nature.'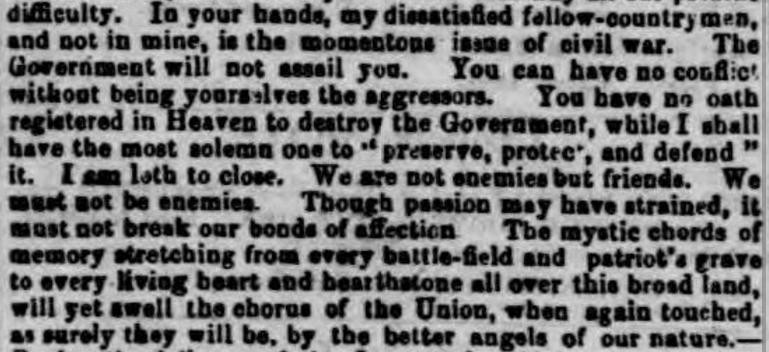 President Lincoln's inauguration
Belfast Commercial Chronicle – Monday, April 18 1825
President John Quincy Adams spoke at length during his inauguration speech of the incredible progress made in America since the implementation of the Constitution 36 years earlier.
'Since that period, a population of four millions has multiplied to twelve; a territory bounded by the Mississippi, has been extended from sea to sea; new states have been admitted to the Union, in numbers nearly equal to those of the first Confederation; treaties of peace, amity and commerce, have been concluded with the principal dominions of the earth; the people of other nations, inhabitants of regions acquired, not by conquest but by compact, have been united with us in the participation of our rights and duties, of our burdens and blessings; the forest has fallen by the axe of our woodmen; the soil has been made to teem by the tillage of our farmers; the dominion of man over physical nature has been extended by the intervention of our artists; liberty and law have marched hand in hand; all the purposes of human association have been accomplished as effectively as under any government on the globe; and at a cost little exceeding, in a whole generation, the expenditure of other nations in a single year.'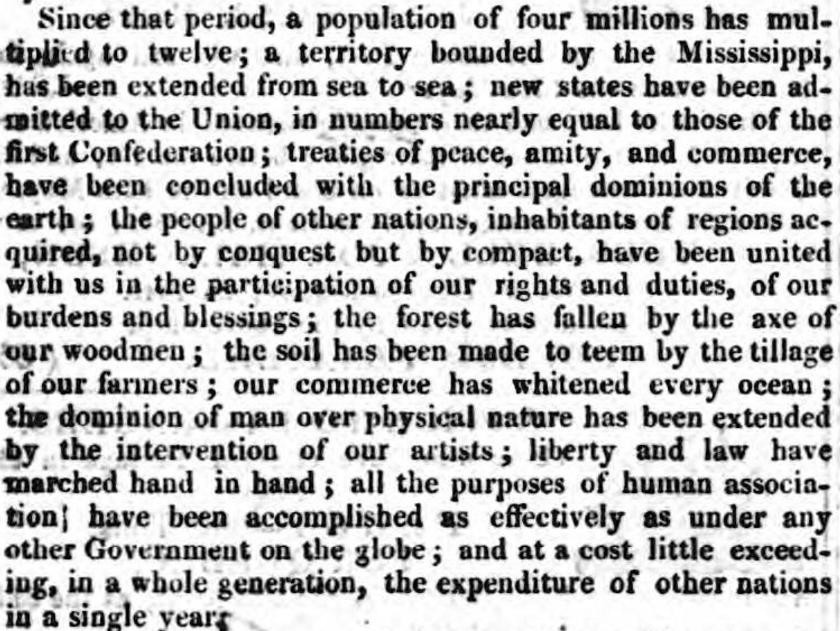 President John Quincy Adams inauguration speech
He went on:
'Of the two great political parties which have divided the opinions and feelings of our country, the candid and the just will now admit, that both have contributed splendid talents, spotless integrity, ardent patriotism, and disinterested sacrifices, to the formation and administration of this Government; and that both have required a liberal indulgence for a portion of human infirmity and error.'

President John Quincy Adams inauguration speech
Falkirk Herald – Wednesday, March 8 1905
Upon his re-election for a second term, President Theodore Roosevelt addressed the American people directly, stating:
'My fellow citizens. No people on earth have more cause to be thankful than ours, and this is said reverently, in no spirit of boastfulness in our own strength, but with gratitude to the Giver of Good, who has blessed us with the conditions which have enabled us to achieve so large a measure of wellbeing and of happiness. To us as a people it has been granted to lay the foundations of our national life in a new continent. We are the heirs of the ages, and yet we have had to pay few of the penalties which in old countries are exacted by the dead hand of a bygone civilisation.'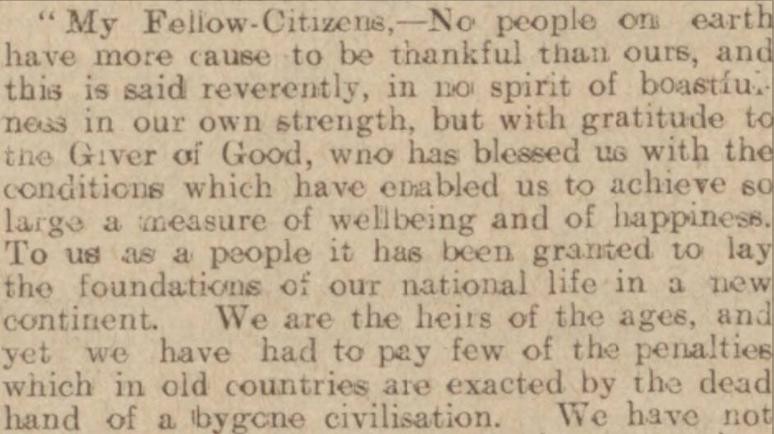 President Theodore Roosevelt in Falkirk Herald – Wednesday, March 8 1905
In his speech, he touched upon the responsibilities of the American people, the role they were to play internationally and, finally, the future. He concluded:
'…we have faith that we shall not prove false to the memories of the men of the mighty past. They did their work, they left us the splendid heritage we now enjoy. We in our turn have an assured confidence that we shall be able to leave this heritage unwasted and enlarged to our children and our children's children. To do so we must show, not merely in great crises, but in the everyday affairs of life, the qualities of practical intelligence, of courage, of hardihood and endurance and, above all, the power of devotion to a lofty ideal, which made great the men who founded this Republic in the days of Washington, which made great the men who preserved this Republic in the days of Abraham Lincoln.'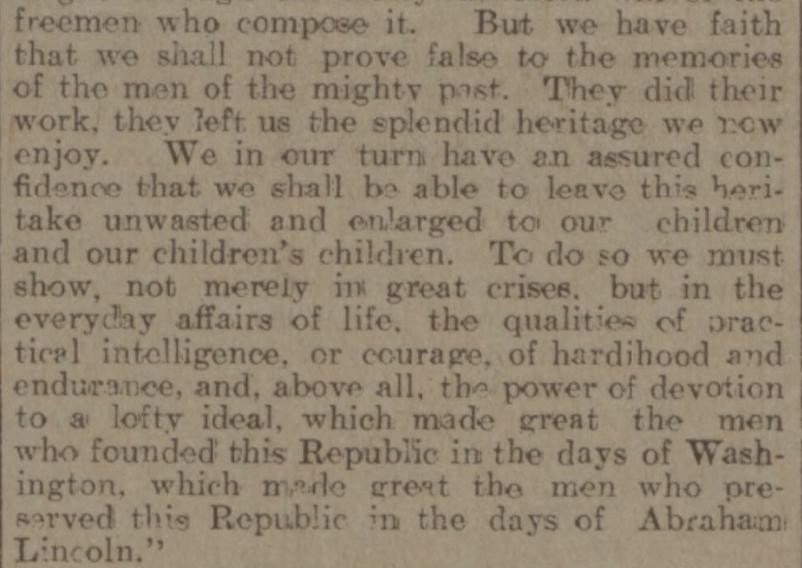 President Theodore Roosevelt in Falkirk Herald – Wednesday, March 8 1905
Have you found any stirring Presidential stories in the newspapers? Share them in the comments!