Rich resources in Richmond
The National Genealogy Society Family History Conference came to historical Richmond, Virginia this past week and as usual, the event served up some excellent genealogical activities and resources to all who visited.
The conference took place in two different but adjacent locations – The Greater Richmond Convention Centre and the Richmond Marriott Hotel. The latter of which was primarily used for talks and breakfast, lunch and dinner events. Its hotel rooms were also, of course, sold out for the duration of the event as an estimated 2,200 people congregated on the Virginia state capital for their annual fix of all things genealogy.
As platinum sponsors, findmypast kicked off proceedings on day one of the conference with our VIP breakfast. The who's who of American genealogy gathered for some light bites and to listen to our lead genealogist, D. Joshua Taylor discuss all the latest happenings at findmypast including the arrival of PERSI, our 100in100 campaign and our fantastic British and Irish collections, which continue to grow on weekly basis.
In the exhibit hall, the findmypast booth, like most others, was buzzing throughout the week. Newcomers to the show were fascinated to see the huge range of British and Irish records available on findmypast whilst the more seasoned visitors were interested in learning more about the latest features and updates to the website. A real treat for all who visited was our fantastic show offer of a one month World subscription completely free. Plenty more got just as excited about the "Kiss me my ancestors were…" buttons which we gave away in their hundreds!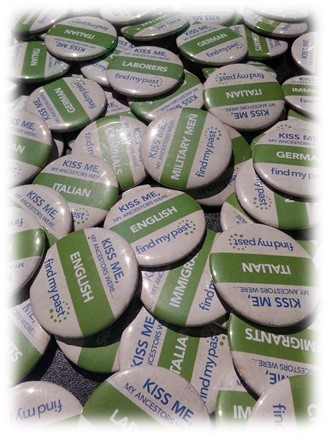 The information sessions form as integral a part of the NGS Family History Conference as the exhibits. There were ample opportunities to learn more on just about anything you could think of related to genealogy. From blogging to brick walls, DNA to death records, there truly was something to suit all interests, which is one of the main reasons the NGS Family History Conference is so important to the US family history community. Long may it continue!
We are already planning for Missouri 2015 and hope to see you there too. Can't wait until 2015? You can meet the team in Burbank, California at the Jamboree this coming June and in San Antonio, Texas at the 2014 Federation of Genealogical Societies Conference in August.