Ripper Series Part 2: Dr Forbes Winslow and his hunt for the killer
Rumours and theories about the identity of the notorious Victorian murderer Jack the Ripper have been whispered, shouted, and otherwise bandied about ever since his grisly reign of terror nearly 130 years ago in London's Whitechapel. While the truth has never been conclusively revealed, the investigation is by no means over. In our exclusive series, findmypast explores the history surrounding the Ripper's iconic legacy.
Lyttelton Stewart Forbes Winslow was born in Marylebone in 1844 to the eminent yet controversial psychiatrist Forbes Benignus Winslow and his wife Susan. He had a rather unorthodox childhood, growing up in his father's privately owned asylums along with his brother, Forbes Edward, and his sister Susanna Frances. He was educated at Rugby School before attending and receiving degrees from both Oxford and Cambridge universities.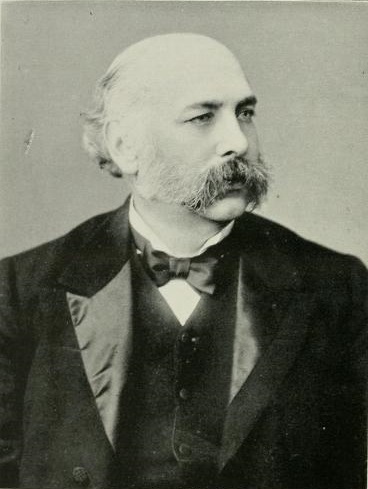 Lyttelton Stewart Forbes Winslow
In 1871 he qualified as a physician and followed in his father's footsteps by dedicating his career to proving that crime and alcohol abuse were caused by mental instability. He was involved in a number of very high profile cases such as the trials of baby murderer Amelia Dyer and the Brighton Line murderer, Percy Lefroy Mapleton.
In 1878 his reputation and career took a blow from which they never fully recovered when he attempted to have Mrs Georgina Weldon, a popular aspiring opera singer, falsely committed to a lunatic asylum at the request of her estranged husband. Mrs Weldon sued Winslow along with her husband. The court case was widely publicized and caused public outrage. Weldon went on to become a campaigner against the 'lunacy laws', while Winslow was viewed as an embarrassment by the medical establishment.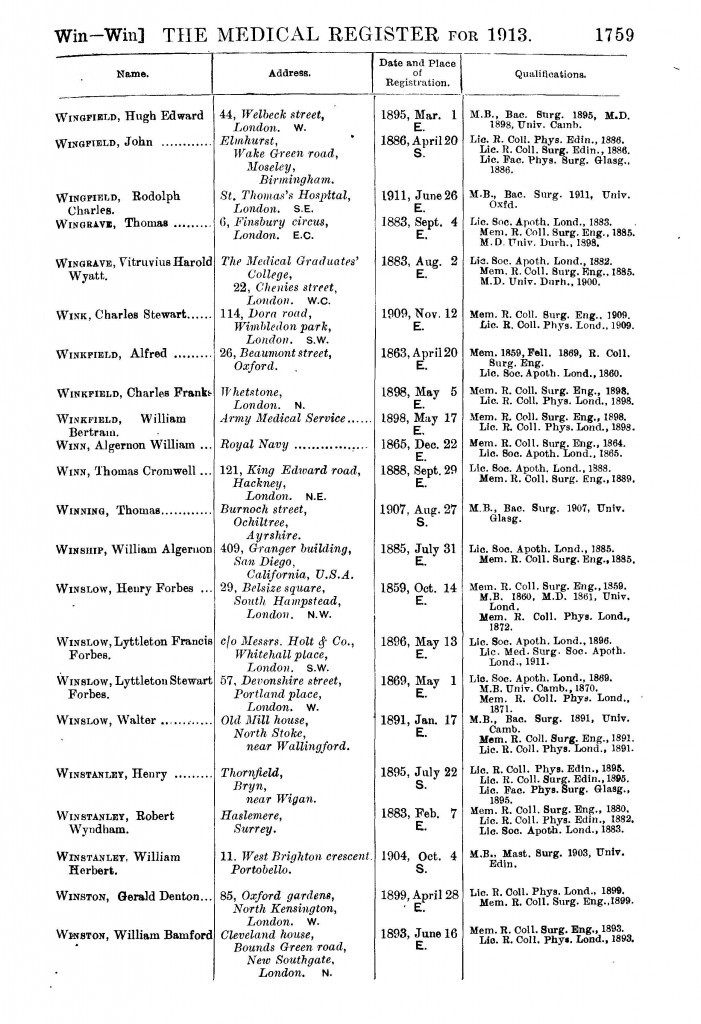 Forbes Winslow in a 1913 Medical Register
With his career in tatters and a family feud resulting in him losing control of the family's asylums, Winslow turned his attention to detective work. He eventually came to believe that he knew the identity of Jack the Ripper. He claimed that all he needed to solve the case and end the killings was to be given the command of a team of six police constables. Scotland Yard, however, were less than forthcoming in their support.
Winslow even took it upon himself to patrol the streets of Whitechapel and question prostitutes, patrons and the owners of lodging houses in his hunt for clues. He claimed that frightened women flocked to him with information and viewed him as a figure of authority in the case.
Winslow's claims became increasingly outlandish and according to newspaper reports from the time, in October 1895 Winslow claimed to have received a blood stained note reading "next week you will hear of me – Jack the Ripper". A few weeks later, Winslow claimed that he could now positively identify the killer.
He gave a series of interviews to the press in which he gave highly detailed character profiles which he presented as fact rather than theory. He claimed to be in possession of certain clues that the police had not found and was openly critical of their investigations. He gave a lecture in New York where he claimed the Ripper was "a young man, of slight build, with light hair and blue eyes" who was "a medical student from a good family" who studied very hard and attended early service every morning at St. Pauls.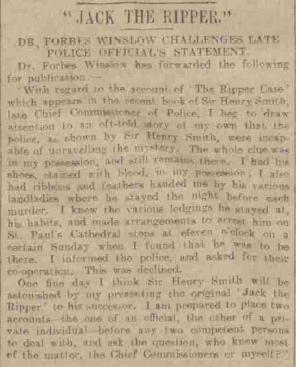 Winslow challenging the police in the press
In one such interview printed in the Dundee Courier on 20th September 1899 he claimed to not only "possess tangible proof of identity", but that he was "convinced that he could affect his arrest in a week". He further discredited the police by swearing that he did "not intend to call upon the assistance of the police" and would handle the matter himself.
These claims caused great excitement in the city and were widely reported. This time he had gone too far. His constant agitation and interference in the case meant that by now the police viewed him not only a source of great annoyance, but now also a cause for suspicion. He was interviewed and confronted about his claims by the chief inspector of Scotland Yard and was forced to backtrack.
Winslow's chief suspect turned out to be a Canadian named G. Wentworth Smith. Smith displayed a number of odd habits such as writing essays on the evils of prostitution, keeping a number of loaded guns in his room and frequently talking to himself. He had been heard by his landlord expressing extreme views on the punishment of immodest women and was reported to Forbes who then went to the police. Smith was fully investigated and the police found the accusations against him to be baseless. Winslow would have none of it and remained convinced that Smith was indeed the Ripper, even claiming that it was his intervention that had caused the killings to stop.
In later life, Winslow published his memoirs, a book on mental health and established the British Hospital for Mental Disorders in London. He died at his home in Devonshire Street, Portland Place, London of a heart attack aged 69 in 1913, leaving behind a widow, three sons and a daughter.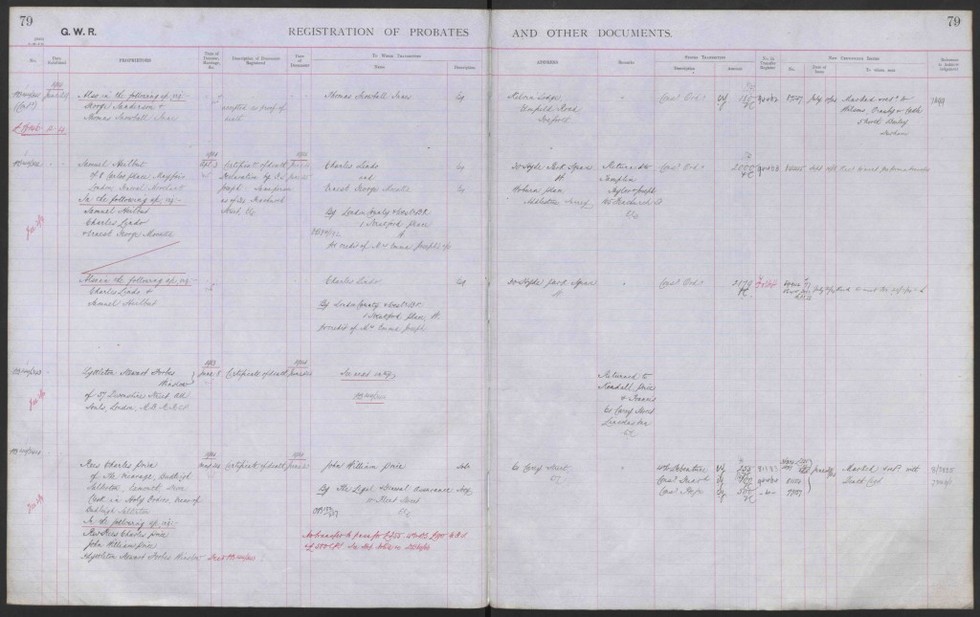 Winslow's death recorded in the G.W.O shareholders registrations of probate