Smoke & Steam: A railroad family
Guest post by Findmypast Ambassador, Shannon Combs-Bennett
Trains are in my blood. I spent hours working on model train layouts with my dad as a child. At four I was meticulously gluing scenery to papier-mâché mountains and making rows of tombstones for the town cemetery the train would go by. But it wasn't just that. I can remember my first train ride on an old steam powered train through the hills of Southern Indiana.
The sounds of the track, clickity-clack, clickity-clack. The smell of the air with smoke and wood drifting by. Laughing with my family at the sites and how loud the whistle was. Those child hood memories are wonderful, but that's not why I say I have trains in my blood. That is because of the 4 generations of Baltimore & Ohio (B&O) railroad workers in my family.
Start exploring your ancestors' story with a trial membership
The trains were a way of life in my family. While the yard and depot were gone by the time I was little, the town I grew up in was very much a train town. Everyone who was my father's generation or older had a connection to the railroad. They worked on it, they provided services for it, or benefited from having it in the town. A part of the town died when the railroad closed up shop.
My family story with the railroad starts in the 1850s. According to the memoirs of my 2nd great grandfather that is when my 3rd great grandparents, his father and mother, John Brennan and Bridget Gerharty emigrated from Ireland to the United States. Their son William Brennan wrote that they were originally from County Galway, but unfortunately that was it. His parents, died while he was still very young. I speculate that he learned some of the family history from his uncle Timothy Brennan, whom he lived with a short time when he was in his 20s.
I know John and Bridget lived in Baltimore (where their oldest son Timothy was born about 1858), then moved to Nashville (where my 2nd great grandfather William was born about 1860), and finally Madison, Indiana (where the youngest, Mary, was born about 1862). At some point in their journey John began working with the railroad. It makes sense to think it was in Baltimore, but I have not verified it.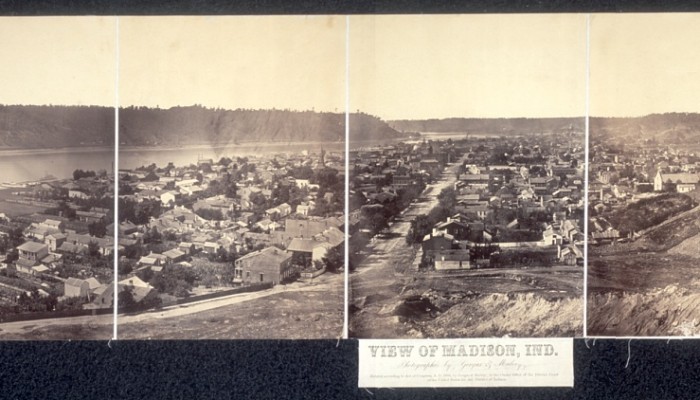 Madison, Indiana ca. 1866. Image courtesy Library of Congress.
From William's account we know he was building the railroad line near Madison, Indiana when tragedy struck the family. Bridget died in 1862 leaving John with an infant and 2 boys under the age of 5. Without much choice John sent the children to Catholic orphanages in Vincennes, Indiana. The boys to Highland and the girl to the Sisters of Providence. They never saw their father again. In 1875 the boys received a telegram from their uncle, T. H. Brennan, that their father was killed in Kansas City, Missouri working for the Kansas City, Fort Scott, and Gulf Railroad.
William also went to work for the railroad. According to his B&O railroad employment records he received his first month's wages as a trackman on 1 January 1888 for $35. A little over a year later he became the yard clerk and then eventually billing clerk where he stayed until his retirement on 1 July 1923 after 35 years of service.
He had two sons, William and Timothy, who also worked for the B&O railroad. My great grandfather Timothy started his apprenticeship about age 12 and became the youngest tool and dye maker in his region. Unfortunately Timothy's employment records were burned in a fire at the B&O headquarters in Baltimore but thanks to this newspaper clipping I found in the U.S. Newspaper Collection, I know in 1917 he and my great grandmother traveled from Indiana to the Washington, D.C. Navy Yard to work.

Timothy worked at the railroad until his retirement over 40 years later.
Finally my Grandfather Paul Combs, who married Timothy's eldest daughter Ruth, also worked for the B&O railroad as a track supervisor

through WWII. He was considered essential personnel to keep the railroad moving and functioning properly and was not permitted to go into the armed forces. My grandfather did not, however, make the railroad his career. He went on to other endeavors including serving his community as a representative in the Indiana General Assembly. Even though around home you would hear the old timers telling stories about how he was a golden glove boxer who was cheated out of his chance to fight in the 1936 Olympics.
The B&O shops closed in 1965 and now there is little left of the 60 acre complex in the small town of Washington, Indiana.[i] What's left is memories, lots and lots of memories. My dad can tell the most amazing stories about growing up on the wrong side of the tracks sprinkled in with the stories his grandfather told him not only about his experience on the railroad but those of his father and his grandfather before him.
I can't help but look at trains and railroads and feel a sense of pride. My family helped build those. Their blood sweat and tears went into many miles of track and car parts. It gives me a sense of pride to know that they worked to make this nation run.
"Genealogy is more than names and dates, it is getting to know our ancestors." Shannon Combs-Bennett is a researcher, speaker, and author based out of Virginia who writes the blog, Trials and Tribulations of a Self-Taught Family Historian chronicling her adventures in genealogy. Shannon has written on a wide variety of subjects from genetics to methodology. Learn more about her at https://about.me/tntfamhist, and follower her on Twitter @tntfamhist.
[1] Dewey, Frank. "Washington, Indiana – A Small Town with Two Railroads and Four Depots." CSX. 2010-2012.