Steamboat Walt - Disney travels in Passenger Lists
There are many famous names and figures amongst the Passenger Lists, from every conceivable walk of life. One man, who appears twice in the our UK Passenger Lists, was a giant of the film industry, whose surname is synonymous with both a hugely lucrative entertainment empire and a cartoon mouse.
Happy birthday to the iconic film producer, director, screenwriter, voice actor, animator, entrepreneur, entertainer, international icon and philanthropist, Walt Disney! He was born on Dec. 5, 1901.
Walter Elias Disney is listed first on Dec. 7 1946, aboard the Queen Elizabeth, sailing to New York. He is travelling with his wife, Lillian, as well as Perce and June Pearce.
UK Passenger Lists 1949
Perce Pearce was a writer and producer, working with Disney on feature films such as Fantasia and Bambi. Both are stated as having 119 Wardour Street in Soho, the centre of the British Film business, as their last UK address.
Disney also appears in 1949, once again sailing to New York aboard the Queen Elizabeth. This time, as well as Lillian, his two daughters are travelling with him. He is listed as a 'Film Producer', and once more 119 Wardour Street is stated as his last UK address.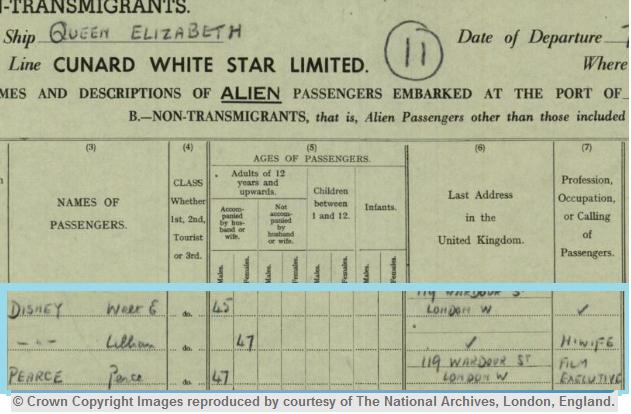 Learn more about our Passenger lists leaving the UK 1890-1960 on findmypast.com!