Earlier this month, three of our U.S. team members traveled to Providence, Rhode Island for the New England Regional Genealogy Consortium 2015 Conference. This bi-annual event always promises to be an amazing one, and this year was no exception.
Boasting a full house with around 1000 attendees, the three day conference was non-stop for all of us. We were delighted to sponsor the Tech Day program, which featured a lunch program in which our Director of Family History, D. Joshua Taylor, was able to update the attendees on the happenings at Findmypast. It was certainly an enjoyable hour, and it was gratifying for our team to see so many of our friends in New England engaged in our products and partnerships.
Congratulations to Jeanne Burnell and Carol Harker who were the recipients of a 12 month World subscription to Findmypast!
The event featured many outstanding speakers on toopics ranging from New England research to technology to standard methodology. If you are in the area, and did not attend, you will certainly want to watch their website and social media for information on the 2017 conference. For those who did attend, be sure to complete the survey currently available on their website (see link above) and enter to win a registration for the next event!
We had a fantastic trip in New England, and even got the chance to see a local cemetery. To our friends at NERGC, thank you so much for hosting this incredible conference!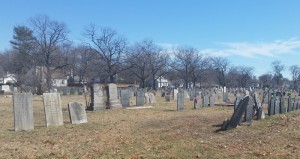 Providence, RI Cemetery, with graves dating to the 1650s