The Family Business Traced Through The Newspapers
Shannon Combs-Bennett is a respected professional genealogist, currently working at The National Society Colonial Dames XVII Century in Washington D.C. among other roles and projects. We asked Shannon for an account of her experiences using the Findmypast historic newspaper collection. Here's what she told us.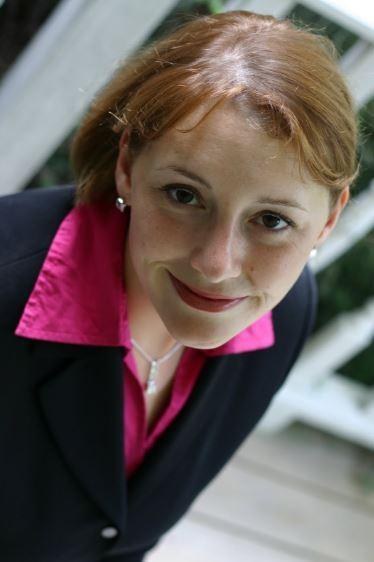 Shannon Combs-Bennett
I love getting to know my ancestors on a personal level. Names, dates, and places will only tell you so much about a person. Those vital statistics do nothing, however, to give you a sense of what they were like. Or, for instance, what it was like when and where they lived. I find researching in newspapers a great way to get to know my ancestors a little bit better.
Now, don't get me wrong, I am not a wonder kid at finding my ancestors in papers. Many times, I am far from that! What I do, however, is use papers to discover what their lives were like. Knowing what the world was like for them can give great insights into why they did things. For instance, did you have a family that moved inexplicably? There could be a clue in the newspaper. Maybe there was a land sale, an epidemic, a natural disaster, and many other reasons.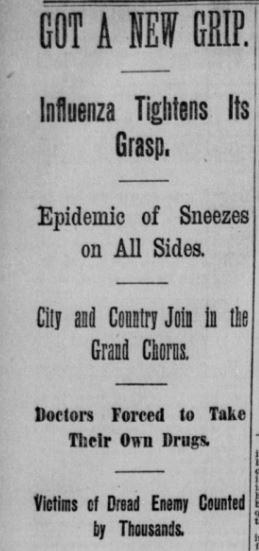 News of an influenza epidemic, Boston Daily Globe December 27, 1889
Over the years, I have learned many interesting facts about my family, and filled in many more holes in my family history. For instance, my 3rd great grandmother Sarah Elizabeth (nee Duley) Bline owned a series of hotels. My father and grandmother told me the stories about the Bline family that were passed down through the family. However, I wanted to know more about the hotels (The Globe, The City, and The Cottage), where they were located, who stayed there, and so much more.
From all accounts, Sarah was an integral part of the community. For nearly 10 years I could track her in the "Court Allowances" section of the local newspapers. In these ledger reports from the county clerk's office it listed the amount of money she was paid for boarding the jury members during trials. She made a nice secondary income from these services to the community ranging from $2 - $25.
She purchased the first hotel after the death of her husband in 1899. The first advertisement I found in a paper was for the City Hotel in 1907. This was her second hotel which she purchased with the profits from the boarding house she ran. According to the ad there were clean beds and meals available at her newly refurbished establishment. Plus, on Sunday, you could have a meal at the hotel for $0.25. Quite the bargain!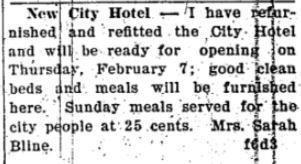 Washington Herald February 6, 1907
One of the best finds about Sarah was the report of her 66th birthday party. I know from family stories she always cooked for these events, from all accounts she was an excellent cook. Plus, the family and the guests would have stayed in one of her hotels, most likely the City Hotel mentioned in the article. This report, however, had extra meaning and a surprise. At the end was a list of guests, many of whom were family listing how they were related to the birthday girl.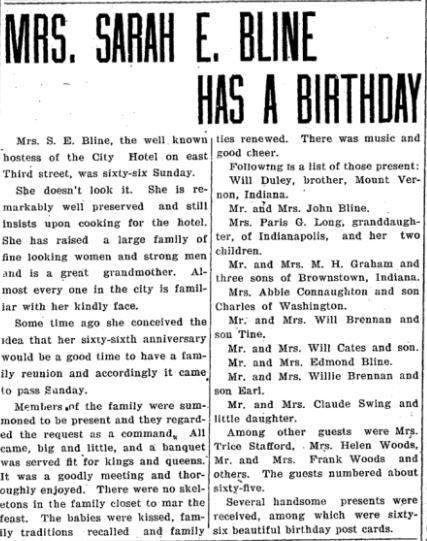 Washington Daviess County Democrat June 5, 1909
Two years later I find Sarah, now also listed as the proprietor of the Cottage Hotel falling and breaking her arm. Goodness knows how she did that, and at the age of 68, but they had an entry about it in the newspaper.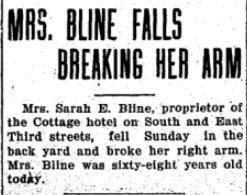 Washington Daviess County Democrat June 3, 1911
One of the more frightening articles I read was when her Boarding House was quarantined due to small pox. I do not think there was an epidemic in the town (I have found no evidence for one) but to know that your family was in such a situation is still frightening. Obviously, they lived through the event, since I am here writing this post, but I can now imagine what was happening in the town at this period of time. In her place a business, now quarantined, was the 2nd case in town. The panic must have been real, with thoughts of who would be next.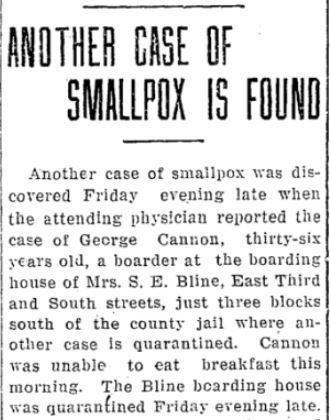 Daviess County Democrat November 29, 1913
Sarah worked in her hotels until she suffered a stroke in 1915. A year later she passed away. However, the hotels did not leave the family for another generation. Her oldest daughter took up running The City Hotel until she could no longer work it herself. Just like her mother.
You may also like: