The magnificent courage of Bill Millin, the D-Day piper who played on the beach during the Normandy landings
"I didn't think of being shot, how many Germans there were or anything other than the smell of seasickness on me.
We all got up on deck and we stood in the freezing wind watching the shoreline. Then the order came to get ashore and I was very pleased."
At findmypast, we believe human stories are the most precious reward of studying history. We are always astonished and humbled by the tremendous examples of courage that appear in our military records, pop up in newspapers, or are simply passed down through families from generation to generation.
On this poignant anniversary, we'd like to raise a salute to Bill Millin, one of so many remarkable heroes.
An impossible mission
Bill Millin was personal piper to Simon Fraser, 15th Lord Lovat, commander of 1 Special Service Brigade at D-Day. He was famous for playing the pipes under heavy fire as troops advanced up the beach.
The use of bagpipes was restricted to rear areas during World War 2. On 6 June 1944 Lord Lovat ignored these orders and ordered Millin, then aged 21, to play.
When Private Millin protested and cited the regulations, Lord Lovat replied: "Ah, but that's the English War Office. You and I are both Scottish, and that doesn't apply."
Millin obeyed. Armed with nothing but a sgian-dubh or 'black knife' sheathed inside his sock, he played "Hielan' Laddie" and "The Road to the Isles" as his comrades fell around him on Sword Beach. He wore the same Cameron tartan kilt his father had worn in Flanders during World War I.
He later claimed that "not once" did he believe he was going to die.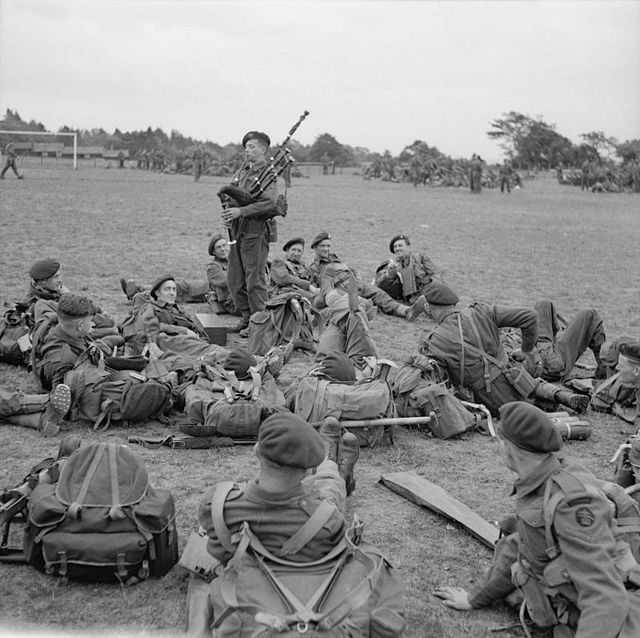 Advancing up the Normandy beach
Lovat and Millin advanced from Sword Beach to Pegasus Bridge, which had been defended by men of the 2nd Battalion the Ox & Bucks Light Infantry (6th Airborne Division), who had landed in the early hours by glider.
Lovat's commandos arrived at a little past 1pm at Pegasus Bridge, although the rendezvous time in the plan was noon.
To the sound of Millin's bagpipes, the commandos marched across Pegasus Bridge. Twelve fell, shot through their berets.
Millin's bagpipes were punctured by shrapnel, but he simply pulled another set out of his rucksack and continued playing.
A miraculous escape
Millin's D-Day bagpipes were later donated to the Pegasus Bridge Museum.
It was four decades before Bill discovered why he had escaped death so miraculously on that day.
"I met a German commander at a dday reunion and asked why they hadn't shot me," he recalled.
'The commander just tapped his head and said "We thought you were a 'Dummkopf ', or off your head. Why waste bullets on a Dummkopf?"
Discover your heroic military ancestors today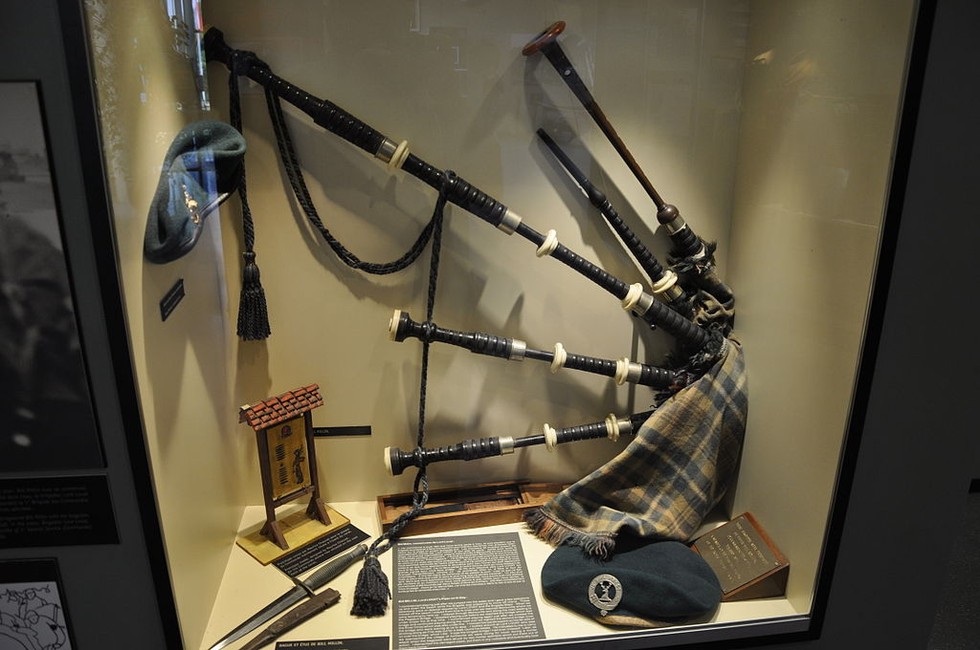 A set of Millin's bagpipes is exhibited at the Memorial Museum of Pegasus Bridge in Ranville, France
Bill Millin: Before and after World War 2
Before the War
Millin was born in Regina, Saskatchewan, Canada on 14 July 1922 to a father of Scottish origin who returned to Glasgow as a policeman when William was three.
He joined the Territorial Army in Fort William, where his family had moved, and played in the pipe bands of the Highland Light Infantry and the Queen's Own Cameron Highlanders before volunteering as a commando and training with Lovat at Achnacarry along with French, Dutch, Belgian, Polish, Norwegian, and Czechoslovakian troops.
After the War
Millin saw further action with 1 SSB in the Netherlands and Germany before being demobbed (demobilised) in 1946 and going to work on Lord Lovat's highland estate.
He made regular trips back to Normandy for commemoration ceremonies. France awarded him a Croix d'Honneur award for gallantry in June 2009.
Millin, who suffered a stroke in 2003, died in hospital in Torbay on 17 August 2010, aged 88.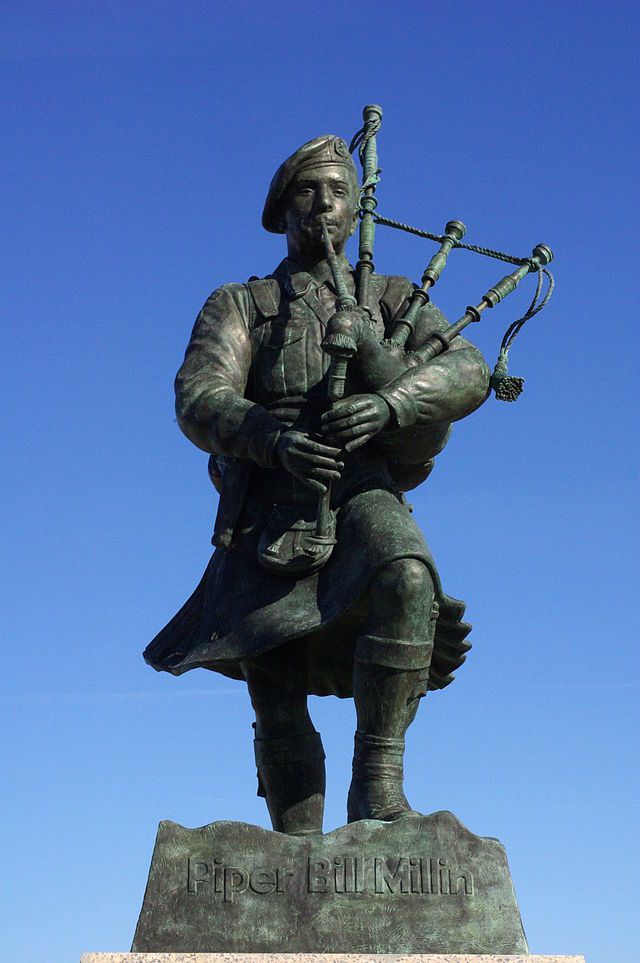 A bronze life-size statue of Piper Bill Millin was unveiled on 8 June 2013 at Colleville-Montgomery, near Sword Beach, in France