Our exclusive Easter Rising & Ireland Under Martial Law 1916-1921 collection contains top-secret War Office documents exposing British raids on suspected rebels' houses.
Explore the Easter Rising records
Michael Collins, a young Irishman who became heavily involved in the Rising, and later a prominent figure during the War of Independence, can be traced through raid reports and other top secret War Office communications. These all demonstrate the urgency of the WO's desire to capture Collins at any cost...

A rising republican rebel
Nicknamed "The Big Fellow" as a boy due to his tendency to take on ambitious challenges far beyond his years, Michael became a member of the Irish Republican Brotherhood (IRB) in his late teens, and by 1916, was highly respected by his colleagues for his intelligence and organisational skills. For these he was made financial advisor to Count Plunkett, father of one of the Rising's ringleaders, Joseph Plunkett.

Collins served as Plunkett's aide-de-camp at the General Post Office where the rebellion was based, and was arrested and imprisoned alongside thousands of others at Frongoch internment camp in Wales.
After the Rising: Sinn Fein and the War of Independence
Michael rose to greater prominence in the IRB following the executions of the 1916 leadership, and eagerly anticipating the chance to fight for his country again, took advantage of the opportunity to network with other republicans in prison.
In 1917 following his release, Collins became a leader in the post-Rising Irish independence movement, and by October was a member of the Sinn Fein executive.
Below are just a few records from the archives documenting the struggle which followed, until Collins was assassinated in Cork during the Irish Civil War in 1922.
On 4 December 1919, he was recommended for deportation in this secret communication from the Lieutenant General: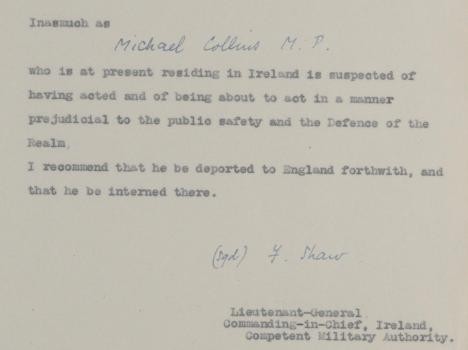 WO35/95 Image 4
A wanted man
As activities on both sides escalated, Collins created an assassination unit called The Squad, exclusively dedicated to killing British informants and agents. The British reacted in kind, and in 1920 offered a £10,000 bounty for information leading to Michael's capture or death.

This report, dated 27 October 1920, discloses details of a raid carried out at Munster & Leinster bank Dame Street Branch, during which £3,940 19s 1d in cash and £16,279 8s 4d was confiscated from the Collins' account.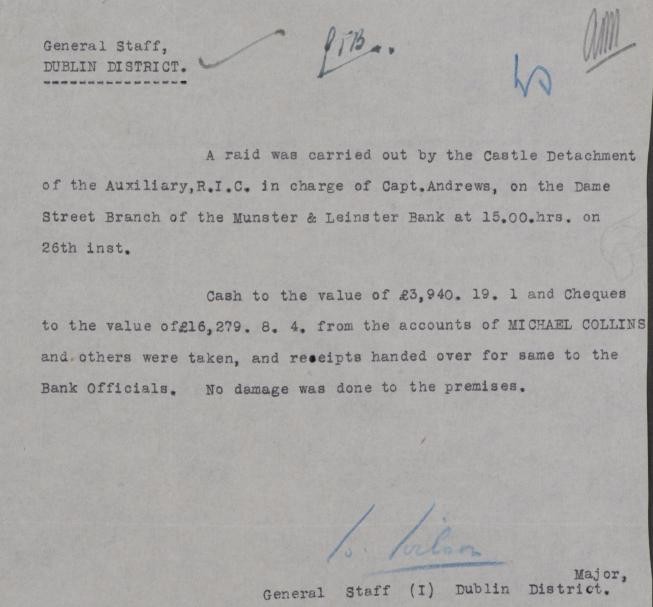 WO35/70
On 2 November 1920, an order was sent to search Earl Street and arrest Michael Collins. This report to raid 19 Merrion Square was issued on the same day, ordering a search for "arms, explosives, and seditious literature" stating that if any were found, "all male adults implicated" should be arrested.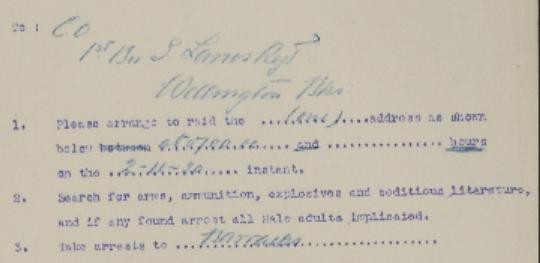 WO35/72
In December, the War Office ordered that Vaughan's Hotel should be searched, based on a suspicion that Michael Collins was there…

WO35/80
In the same month, this search of Fagan's Public House showed that Michael Collins had been there. The party found a back room with a meal prepared for one person and a bed ready, but Collins was already gone.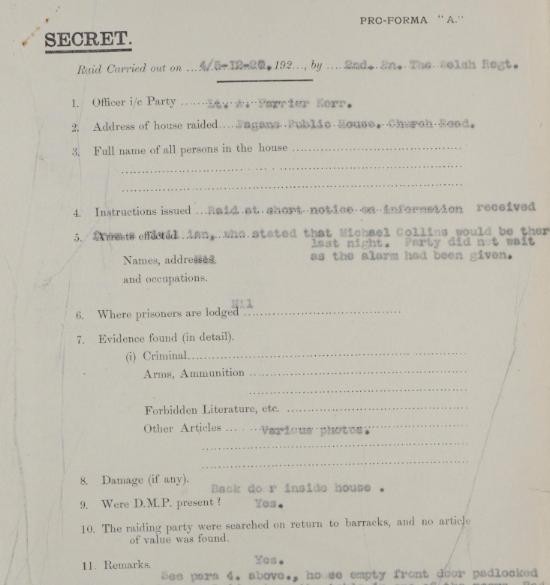 WO35/75
On 16 December 1920, Father Matthews' home was raided with an order to arrest Cathal Brugha, Michael Collins, Father Dominic O'Connor, Richard Mulcahy. The men weren't found, however they had left four revolvers, a rifle and ammunition behind.

WO35/81