Thousands of British women found love during the Second World War. American and Canadian troops stationed in Britain during the War gained a reputation as being 'overpaid, overfed, oversexed and over here'.
British women married these servicemen in huge numbers, with approximately 100,000 wedding Americans and a further 45,000 marrying Canadians. Once the war was over and peace secured the women faced a new challenge.
These women, who often had young children, had to travel with their new husbands back to America or Canada to begin their married life, away from the unreal wartime existence that they had been enduring.
The relocation of thousands of British women was a cause of controversy, not least because they were seen by some as taking the valuable places of homesick servicemen on board ships.
The first ship used for transporting the so-called 'war brides' was the S.S. Argentina. 452 war brides made the journey to America aboard her, and can now be seen in the exclusive 1940s Passenger Lists live on findmypast.com
In the Passenger Lists you can find an exceptional level of detail, including the U.K address of the women and the name and address of the American serviceman of whom they were a dependent. Below is an image from the S.S. Argentina List.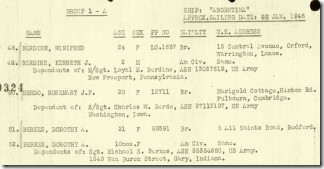 Conditions on board were deeply unpleasant, many of the women and children had caught a 'camp fever' during their stay at an assembly point before sailing. The arduous journey was only the beginning of the adventure for the new brides, and their children.
A long standing legal wrangle in Canada has recently been making headlines, as children of war brides seek to be recognized as Canadian citizens, a right denied them through a change of legislation.