October is a month worth celebrating because it's Family History Month, which means that we here at Findmypast will be celebrating all month long with a series of helpful tips, guides, and how to's for your genealogy research. Family History Month began back in 2001 as an initiative to promote and celebrate family history research. Senator Orrin Hatch, of Utah, was the person who introduced the idea to Congress and explained the importance of family history research to him in that "by searching for our roots, we come closer together as a human family."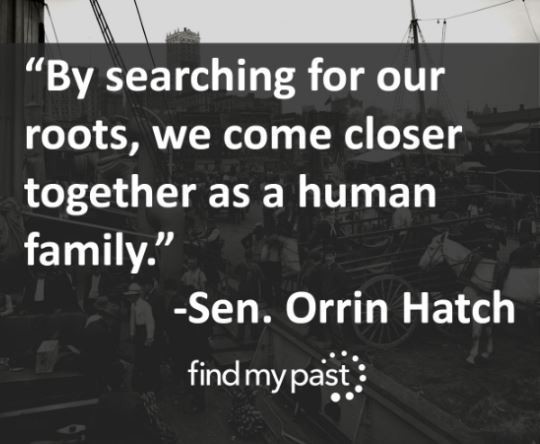 "By searching for our roots, we come closer together as a human family," -Sen. Orrin Hatch
Every week this month we will be sharing new tips targeted to help you with your genealogy research from your early American ancestors to your ancestors overseas. If you've faced brick walls in your early American family research or don't know how to trace your ancestors overseas, we'll be covering those concepts in detail.
What we'll be covering this month
Be sure to follow us on Twitter and Like us on Facebook so that you don't miss a tip. We'll be posting additional tips and information on those feeds too as well as answering some of your questions.
Week 1: Tracing your first American ancestors
This week we will be sharing helpful tips, strategies, resources, and guides to help you track down your first American ancestors. As you know, American genealogy can be it's own beast so this week we'll be tackling how to overcome some of those tough brick walls you may hit with your initial US and Canada family history research.
Week 2: Crossing the Atlantic with Findmypast
This week we will be covering how to trace your ancestors who migrated to North America from overseas, specifically from Britain and Ireland. Tracing your ancestors overseas can seem like an impossible task with its own set of brick walls to overcome, but with our tips and help, we'll have you crossing the pond in no time.
Week 3: Your last British and Irish ancestors
If you've ever struggled with your family history research once you've crossed the pond, then you're not alone. This week's tips and guides will help you trace your British and Irish ancestors to help you get started beyond North America. This week's tips and guides will focus primarily on using the essential British and Irish records to further your family history search and will help you with tips and strategies for researching UK and Irish record sets.
Week 4: Beyond the census: Parish records, early newspapers and other resources to get you back further
Now that you've traced your family across the seas and in the essential British and Irish records, where do you search next? This week we'll focus on searching beyond 1841 and overcoming the challenges associated with records beyond the census. We'll teach you how to navigate the parish records, how to make best use of early newspapers, and how to tackle other record sets that can get you even further back in your research and help you overcome some of those remaining, tough to break down, brick walls.
Join us on Facebook and Twitter where we'll be posting helpful and fun content all month long and take this month to celebrate what family history research really means to you and make time for yourself to overcome some of those brick walls in your research.