Your ancestor's epic journey to foreign shores: Passenger lists on Findmypast
When our ancestors first arrived on the shores of America, many were filled with hope – with the promise of a new life, a new start. They were chasing what we've now come to call the "American Dream;" the promise of a better life in a new land. This concept, combined with poverty, war, religious discrimination, famine, and a thousand other reasons, brought them to the United States in droves.
To obtain this dream, however, they first had to make the journey. By 1910, 12.5 million immigrants lived in the United States; researching your immigrant ancestor and their life would not be complete without telling the story of the voyage, and for that, many of us turn to passenger lists.
At Findmypast, you will find a variety of collections that may assist you in this process, and there is more than one way to search these records. You might start with the individual collections, such as the "Irish Famine Immigrants," the "Germans to America," or the "Passenger Lists Leaving the UK 1890-1960."
No matter which course you choose, do not overlook the "Immigration & Travel" page, which includes a good deal of background information, links to specific resources, and general "good to know" for the U.S., Ireland, the United Kingdom, and Australia.
How do you find them?
You will find that our passenger lists cover every possible port of entry - from Hawaii to Massachusetts. And there is much you can learn from just one record, so this is a pursuit worthy of our time as family historians.
Several years ago, I was able to locate an index entry for my 2nd great grandparents, Julius and Pauline Kitzmann. At least, I thought it was them – but I was never really sure. Which is why I was so excited to see the "Passenger Lists Leaving the UK" collection on Findmypast – I could finally make another attempt at locating their exact arrival circumstances.
I already have a good start on this family, and can provide a handful of important details to my search. I have estimated birth and death dates for both Julius and Pauline, and I know of their three daughters: Karoline, Emma, and Lydia. I have the most information on Emma, as she is my great grandmother.
Search immigration & travel logs - free until July 6th

There are a few different ways to search on Findmypast for passenger lists and other immigration records. By taking advantage of the various search options and filters provided, I was able to search from a very broad scope and slowly refine the search to narrow my results. Because of the somewhat unusual surname I was looking for, I started just by searching for "Kitzmann" to see what would come up; but also made sure the "name variants" box was checked. This simple step allows for a much broader search and brings back many more possibilities.
Since this simple search resulted in over 12,000 possibilities, it was important for me to add more information, to narrow down the list. I did so by adding the first name for Julius Kitzmann, again making sure that the name variants box was checked for his first name as well. This brought my search to a more reasonable 228 results.
I could continue to filter this search using what I know of the Kitzmann family – birth dates, the names of the children and Pauline.
Taking my time, I worked through the first few results, and came across this passenger list from the Dominion, which left Liverpool, England on November 12, 1908.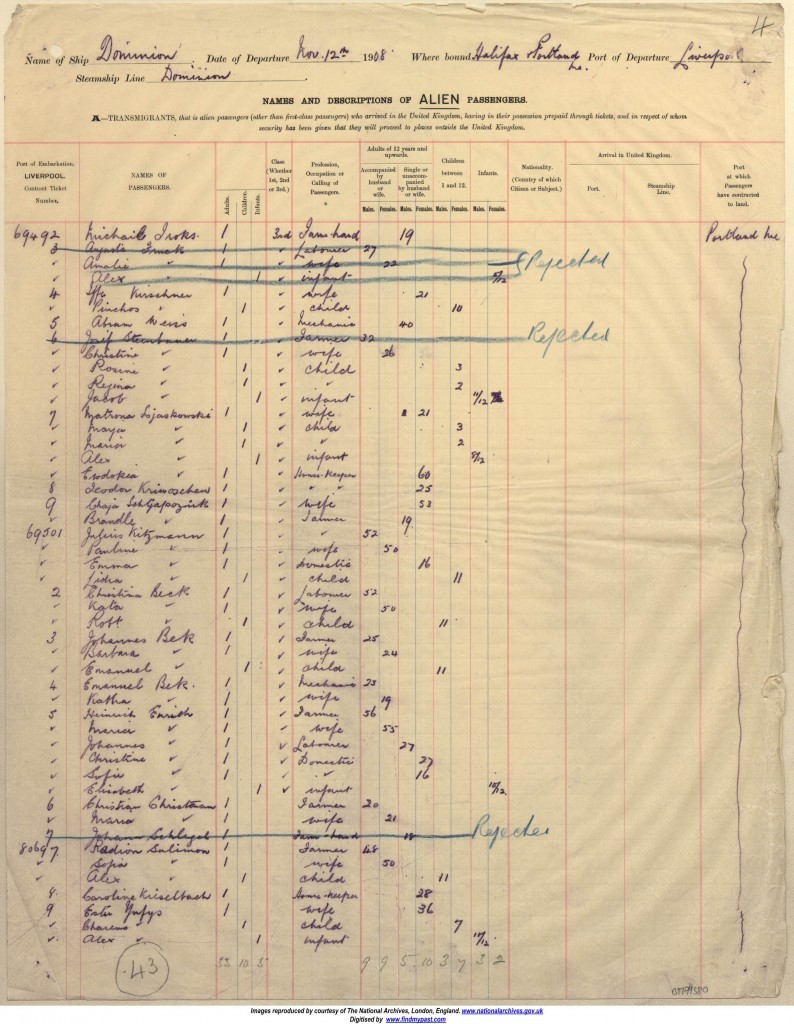 Passenger list for Kitzmann family on board the Dominion in 1908.
Julius and Pauline traveled with two of their daughters – Emma, my great-grandmother, and her younger sister Lidia, and they came over in 3rd class. Julius is listed as a farmer, and to my surprise, Emma is listed as a "Domestic" at the age of 16 years. Although Karoline is not listed, by the time of this voyage, she would have been approximately 26 years of age. It is likely that she was married and either stayed home in Poland, or traveled under her married name – a name that I have yet to identify.
This one record gives me plenty of information to continue my research – such as the name of the vessel, its other 170 passengers, the shipping line it served with, and even the ticket number for the Kitzmann family.
Discover your immigrant ancestor's journey

How do I know?
As we work through the research process, it is essential that we constantly ask ourselves the question, "How do I know that?" How can I say with certainty that the record identified above is actually the Kitzmann family I'm interested in?
Each source must be weighed and compared. In this case, my search for Emma Kitzmann in the Immigration & Travel category on Findmypast resulted in 116 possibilities. There are several variables that I was able to use to determine the validity of this record. First, I already knew both of her parent's names, and I knew that everyone in the family was born outside of the United States or Canada, which ended up being their ultimate destination. I had the approximate ages of both Emma and her sister, Lidia, and I knew that Julius ended up farming in Alberta. All of these clues matched the information on this particular passenger list.
As I continue to learn more about the Kitzmann family, and their time in both Canada and the United States, I can continue to compare and contrast the information with what I have already learned of them. Data analysis is an important and continuous part of the research process, and so this passenger list will be continuously evaluated to ensure that it is indeed my Kitzmann family.
This example appears to be fairly clear – the names, dates, and locations all match. I am fairly confident in my evaluation of this record and that it is indeed my 2nd great grandparents. Determining a level of confidence for other results, though, can be more difficult. For example, I found Julius Katzmann also listed on this passenger record: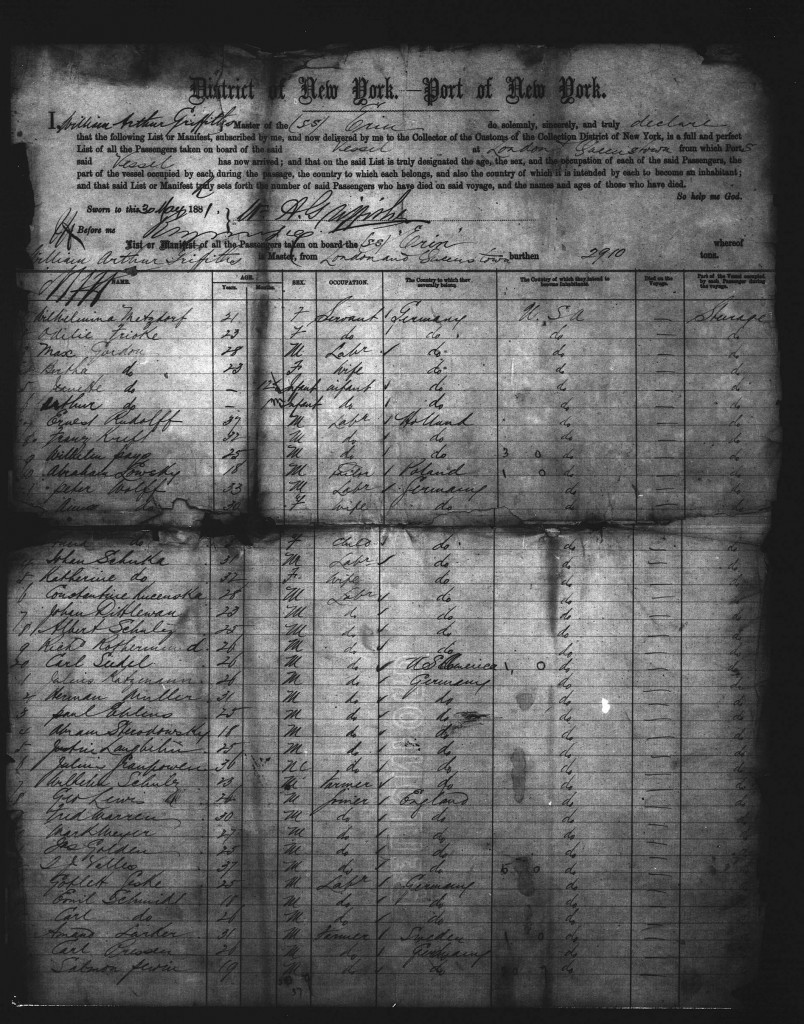 Is this passenger list also Julius Kitzmann?
From the Port of New York, there really is no way to know if this is the same man or not, listed here arriving in 1881. It's certainly possible that he traveled across the Atlantic before bringing over the rest of his family. Is it, however, likely? Would he have been able to produce sufficient funds for an earlier voyage? In this record, the surname is also spelled slightly different – Katzmann versus Kitzmann. Is that enough of a difference to disregard this possibility? Not to me. I will save this image and its information in my files on the Katzmann family, and perhaps someday will be able to either definitively connect it, or set it aside as negative evidence.
When using passenger lists, it's important to remember that not all records are from oceanic ports. You will also find border crossings, passport applications, and other travel related documents in the collections available on Findmypast. Pursuing these types of travel documents can add a great deal of content to your family history; so start today!
Learn more about immigration and travel records
Passenger list search tips (you are here)